Tailgating at a University of Texas football game is about as American as you can get. You'll find fans of all generations tossing the pigskin, slinging back Shiners and tending to smoking grills.
University of Texas Longhorn fans take football seriously. Nationally known for their high energy and team spirit, fans live for home games and tailgating. Join in the excitement and follow these five steps to bleed burnt orange with the best of 'em.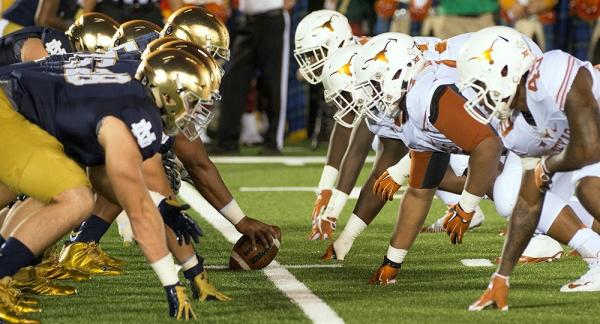 Step 1: Get Your Gear 
Score your burnt orange gear at the University Co-op, where you'll find UT-emblazoned cowboy boots, pants, dresses, jerseys, and even a toaster that will singe a tasty hook 'em horns logo into your breakfast.
For souvenir tee shirts, stop by Tyler's on the Drag. This store sells surfer-themed clothes and accessories with a focus on Austin culture and art. Other shops in West Campus sell game day approved burnt orange merchandise such as c.jane and Longhorn Fashions.
Step 2: Know Your Cheer
Now that you've got your gear and the lay of the land, repeat after us: "Hook 'em horns!" You're on your way to some winning fall Saturdays in Austin.
Step 3: Pre-Game Party
Texas tailgating is a serious affair and nobody does it like the Texas Exes, the official alumni association of UT who roll big-rig BBQ pits in to fill just about every parking lot from I-35 to West Campus
For one of the most iconic tailgates in Austin, hit the hardcore Scholz Garten scene. Visit the Beir Garten for a pre-game pint, weinerscnitzel, bratwurst and old-fashioned Texas barbecue.
Don't miss an opportunity to tailgate with local Austin musicians at Longhorn City Limits concert series. Before each home game, Texas music legends will take to the stage at the LBJ Lawn, near the northeast corner of DKR Texas Memorial Stadium, for a free show featuring Stubb's BBQ and drink specials for sale.
Step 4: Game Time
If you're lucky enough to have tickets… you're in for a treat. It is worth noting that as of 2015, you can now get a beer, or wine, inside Darrell K Royal - Texas Memorial Stadium. Pop into the University of Texas Alumni Center for a taste of UT legacy. The center is open to all after halftime.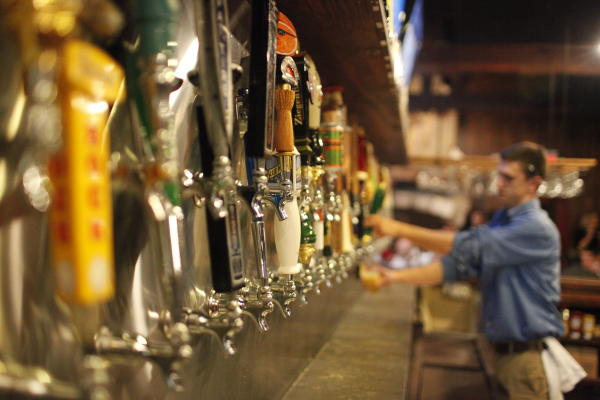 Cain & Abels. Courtesy of Austin Landmarks.
Where to Watch
There are tons of choices for watching the game around the city. Considered one of the top sports bars in the country, Austin-based Pluckers Wing Bar satisfies ravished fans with delicious wings and non-stop sports.
Another classic spot to catch the game is The Tavern, serving up some pretty sweet bar food, pints and good times since 1933.
South Austin's Black Sheep Lodge is a fan favorite for football fans and their dogs - game days bring in a lively crowd. Cheer on your favorite team, from north campus at Doc's Motorworks on 38th. Chow down on all day breakfast brunch items and Texas beers on tap as TVs blast football games in the background.
The bustling scene at Posse East will make you scream "hook 'em horns" in no time. Order some tacos y mas at this diner-style bar that's been around for over 40 years. Or get a juicy steak at Cover 3 to celebrate the Longhorns' victory.
Grab a pitcher and throw some darts at the Crown & Anchor Pub, just north of the stadium. Choose from more than 30 taps and 100 bottles/cans, ciders and wine and nosh on their famed burgers, cheese fries and nachos.
Step 5: Explore Campus!
Be sure to explore the University of Texas neighborhood for your post-game revelry. Celebrate with friends at West Campus hot spot Cain & Abel's, grab a slice from Salvation Pizza, play a round of two of pool with the locals at The Local then finish the night with a stack of Austin's tastiest pancakes from Kerbey Lane (Insider Tip: The Guadalupe location is open 24 hours!).