University of Texas Longhorn fans take football seriously. Nationally known for their high energy and team spirit, Longhorn fans live for home games and Saturday tailgating. Join in the excitement and bleed burnt orange with the best of em.
Here's your winning strategy for cheering like a local: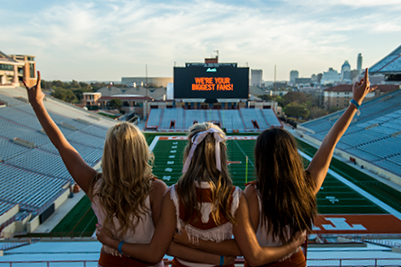 First thing's first, get your burnt orange gear at the University Co-op. This isn't your average T-shirt shop. The Co-op carries UT-emblazoned cowboy boots, pants, dresses, jerseys, necklaces, bottle openers - even a toaster that will singe a tasty Hook em Horns logo into your breakfast.
Don your fresh UT colors and hit the hardcore Scholz Garten tailgate scene. The Austin game day headquarters has been the top UT fan gathering spot since the university's first intercollegiate game. Visit the beir garten for a pre-game pint, weinerscnitzel, bratwurst and old-fashioned Texas BBQ.
Even tailgating is bigger in Texas. Walk the University of Texas parking lots for a street-party-style tailgate scene. You'll find fans of all generations tossing the pigskin, slinging back Shiners and tending to smoking grills starting at 7 a.m. on game days.
Pop into the University of Texas Alumni Center for a taste of UT legacy during halftime (or find a member to take you before the game. The center is open to all after halftime). Rub elbows with the Longhorn one percent at the University of Texas Club, where you'll find an exclusive members-only bar and gaggles of cheering UT alum.
Grab a pitcher and throw some darts at the Crown & Anchor Pub. Choose from more than 30 taps and 100 bottles/cans, ciders and wine, and nosh on their famed burgers, cheese fries and nachos. Grab a treat for Fido on the dog-friendly patio and watch the game on one of five big-screens.
Get your picture taken with Bevo - UT's massive longhorn mascot - at the Moncrief-Neuhaus Athletics Center tailgate before the game. Take advantage of photo opportunities with Texas Cheer and Hook 'Em (cartoon version of Bevo) at the LBJ Tailgate (note: tickets cannot be purchased to the Moncrief- Neuhaus tailgate, but they can be purchased to the LBJ Tailgate).
Watch the UT football team storm the North end zone approximately two hours prior to kick-off or book a 90-minute stadium tour. UT Athletics provides guided tours as well as self-guided tours of Darrell K Royal-Texas Memorial Stadium, covering UT historic memorials, the storied tunnel and more.
Click here for the full UT Football game schedule.
Contributed by Kristen Pankratz, ACVB Marketing Intern