The Long Center for the Performing Arts is a performing arts venue located along Lady Bird Lake in downtown Austin. Check out this Q&A with Marketing Manager, Wendi Reichstein.
Tell us about The Long Center for the Performing Arts. What makes the venue great?
The Long Center for the Performing Arts, known as Austin's Creative Home, houses the Symphony, Opera, and Ballet, in addition to several concerts, speaking engagements, plays and musicals, and more throughout the year.
The Long Center provides a fantastic overall live entertainment experience visitors can come as they are, to a welcoming and friendly atmosphere. Combined with an unparalleled view of the city from the outdoor terrace, visiting the Long Center is a magical experience where memories are made.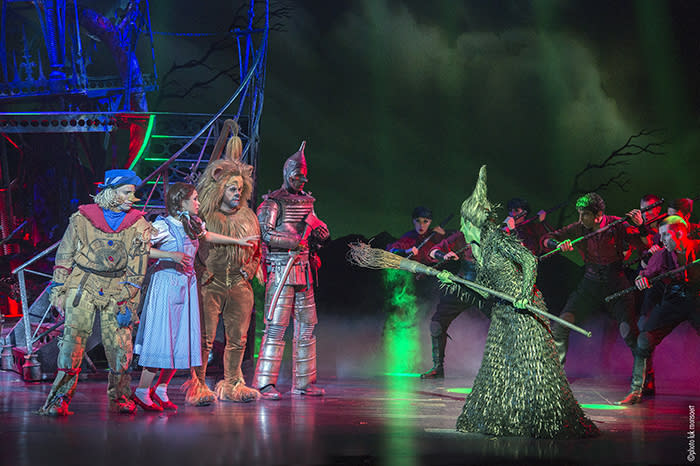 The Wizard of Oz at the Long Center for Performing Arts
How and where can visitors experience the Long Center/upcoming events?
Attending a show at the Long Center is easy. Simply contact the Long Center 3M Box Office at (512) 474-5664 (LONG) for information or browse our event listings. Parking for the Long Center is available either in our shared garage with the Palmer Event Center or along the surrounding city streets. With diverse programming appealing to all ages, visiting the Long Center is one of Austins best things to do.
Also remember to follow us on Facebook, Twitter, and Instagram for contests, behind-the-scenes photos and videos, and much more.
Where are some of your favorite places to experience art & culture in Austin?
Every inch of the Long Center is utilized for arts and culture! From our intimate Rollins Studio Theatre where we house Tapestry Dance, Pollyanna Theatre, and Austin Shakespeare, to the 2,442 seater Dell Hall where everyone from Kristen Chenoweth, to Tony Bennett, to The Blues Brothers have performed, to our City Terrace (voted Best View in Austin!) where you can find us watching movies during the summer, sampling Austin's newest food trucks, or just enjoying the view before a show - we're all about making memories here.
What is your favorite place to eat in town?
Chez Zee American Bistro is one of our favorite pre-show dinner spots. Known for their famous Austin brunch, delicious drinks, and incredible desserts, its the perfect place to experience Austin food. We're also partial to our restaurant partners El Alma and Flour and Vine.
Any other tips for first-time Austin visitors?
Our City Terrace is the perfect place to snap some photos against the beautiful Austin skyline!
What's in store for the rest of 2015 and 2016?
The Long Center is proudly in its eighth performing arts season, with a bill that includes Rudolph the Red Nosed Reindeer the Musical, Blue Man Group, Riverdance, and The Wizard of Oz. Learn more and buy tickets at thelongcenter.org/events.