Mark your calendars for May 13-14 and May 20-21 - it's West Austin Studio Tour time.
This annual free, self-guided tour - a Big Medium program - invites the public to discover new artistic talent, see working studios, learn about artists' tools, techniques and inspirations and explore galleries.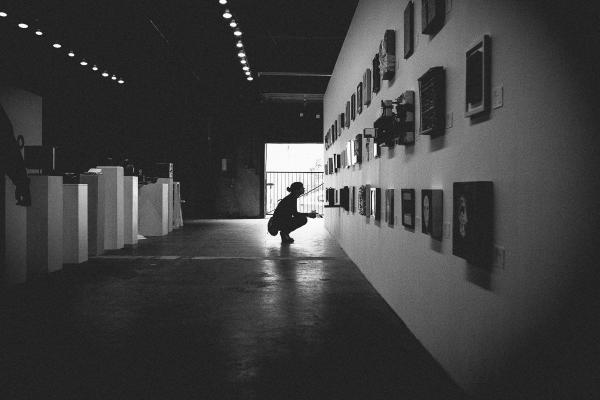 Credit Andrew Reiner.
Immerse yourself in West Austin's insanely talented and diversely creative arts community. Here's a small sampling of what you'll find at this year's event:
Artists & Studios
Witness artist inspiration.
Melissa Grimes
Grimes will be showing large and small abstracts in oil, handmade porcelain toys and figurines, as well as framed silkscreen prints, figure paintings, collages and watercolors. Experience her work in one of the five rooms of her 1889 Victorian house in South Austin.
Madeline Irvine
Madeline Irvine is an inter-disciplinary artist whose focus is the natural world. Working intuitively, she uses an open range of media to express and develop the original conception of the work. At WEST, she'll be showing her salt paintings and drawings, floating light sculptures, time-lapse video and photography.
Jason Webb
Jason's paintings of discarded possessions or abandoned places is a series of paintings which take as their subject matter piles of bulky trash set out on curbs for city collection and disposal. The depicted objects or structures, exhausted of their utility, are reminders of the transitory nature of existence.
John Paul Rosenberg - Co-Lab Projects
Rosenberg challenges art historic traditions to create agency and find freedom within systems. Remnants of vintage materials, throwaway tarps and used drop cloths play a dictatorial role in his latest series. These pieces are selected by their historic context or disposable use: traces of stains, seams and underlying textures that inspire a copoiesis – a collaborative dialogue with the material.
Ted Carey
Since his sculptural work often relies on the context of the given environment, the documentation proves as important as the object itself. This documentation is essentially the permanence granted to the gestural and ephemeral pieces he creates and performs. Carey utilizes found objects and experiments with themes of tension (both physical and mental).
Cynthia Pierce
Cynthia's deepest desire is to make things, and her studio becomes a playground where each bowl and painting can stand complete. She works with Grolleg Porcelain in search of the perfect bowl. During WEST, experience scenes of "Texana" where cattle, horses and dirty dominate her canvases.
Happenings
Attend celebrations, competitions and parties.
Art and storytelling come together at the Dougherty Arts Center system where various artist exhibitions will be on show throughout the West Austin Studio Tour.
Tickets are now available for Due West, the 2017 studio tour kickoff party and fundraiser on May 11. Artist talks, live performance art and complimentary food and drinks will be provided by local artisans.
Coming This Fall: East Austin Studio Tours
Keep your ears open for East Austin Studio Tour this fall. Typically held in November, this round celebrates East Austin's extraordinary creative culture and allows you to see art in the work space in which it's created.