Fall is knocking on Austin's door and local restaurants, bars and breweries are spinning out pints, plates and cones showcasing the season's bounty. Get your fall fill with these 30+ picks for local fall food and beverages:
A Harvest Feast
This hearty gourd makes its way into autumn-inspired breakfasts, lunches and dinners. And, obviously, ultra-decadent desserts.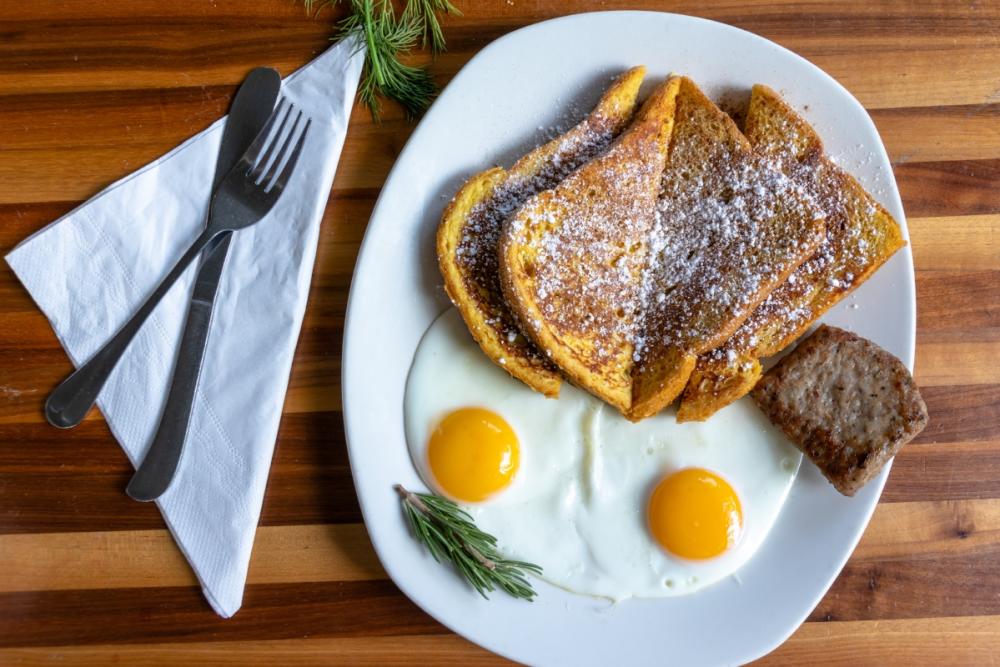 Pumpkin French Toast. Courtesy of Kerbey Lane Cafe.
1. Breakfast star Kerbey Lane Cafe rolls out a special fall menu loaded with pumpkin classics each year. Order the pumpkin French toast made with their homemade pumpkin bread for breakfast. Or, for lunch, try the chicken and pancakes, featuring fried all-natural chicken breast, cinnamon-beignet pancakes, maple buffalo sauce and powdered sugar
2. Known for their creative milkshakes and burgers, Hopdoddy introduces a wacky-meets-delicious shake flavor and burger creation every couple of weeks. Look forward to unexpected creations this season, including the au jus burger, piled high with caramelized onion mostrada, horseradish mayo, provelone cheese and au jus.
3. Meanwhile, at Picnik, the health-conscious crowd can enjoy a pumpkin pie oatmeal or the harvest hash, made with roasted sweet potato, spinach, Brussels sprouts and a poached egg, while they sip on a paleo-friendly, whey protein-filled pumpkin spice latte: a seasonal twist on the cafe's famous butter coffee.
4. Argentine-focused Buenos Aires Café gets into the swing with seasonal menus updated daily. Inquire about their fall empanadas and the gnocchi quartet with pumpkin-cinnamon, sweet potato-chipotle, cilantro-jalapeno and potato-herb gnocchi.
5. Make a harvest feast out of the homemade pumpkin ravioli at north Austin's Andiamo Ristorante, served with a brown butter and sage sauce and paired nicely with the pumpkin panna cotta.
6. For a serious sit-down-and-savor, order the Orange is the New Quail orange spiced quail, bacon, bok choy, fennel, black rice, black garlic vin) at Swift's Attic.
7. A modern take on the traditional tamale, the Local Farm Tamale from The Carillon is crafted with wild mushrooms, paired with a pumpkin seed mole and topped with charred and pickled cebollitas.
Pumpkin Sweets
With autumn comes some of our favorite things: gorgeous patio weather, festival season, rich dishes and all things pumpkin.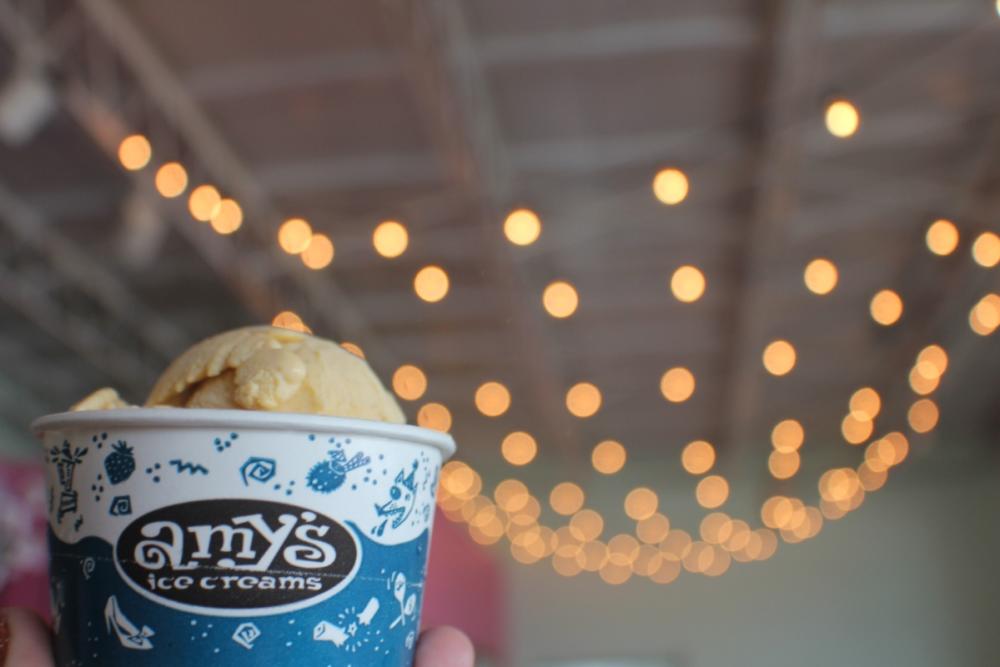 Pumpkin Ice Cream. Courtesy of Amy's Ice Creams.
8. Looking to satisfy your sweet tooth? Relish a scoop of pumpkin ice cream in a cone or a salted caramel pumpkin ice cream cake from Amy's Ice Creams.
9. Locals know to snag pumpkin empanadas from 24-hour La Mexicana Bakery on South First Street.
10. Don't miss the cream cheese filled, bourbon infused syrup and sweet cream drizzle atop Snooze's delectable smashin' pumpkin pancakes, or go savory with the sweet potato hash that's topped with savory soffritto and Tuscan kale this fall.
11. Hyde Park's Quack's 43rd Street Bakery, stock up on luscious pumpkin tea bread or a slice of pumpkin pie to pair with a spiced chai latte.
12. Check out the seasonal scoops at Lick Honest Ice Creams, where flavors range from Hazel's Pumpkin Pie and Spiced Sweet Potato Pie to Caramel Corn and Caramel Apple Cake.
In a Bowl
Scarves and boots go great with spoonfuls of comfort food. Get your ladle of fall happiness here: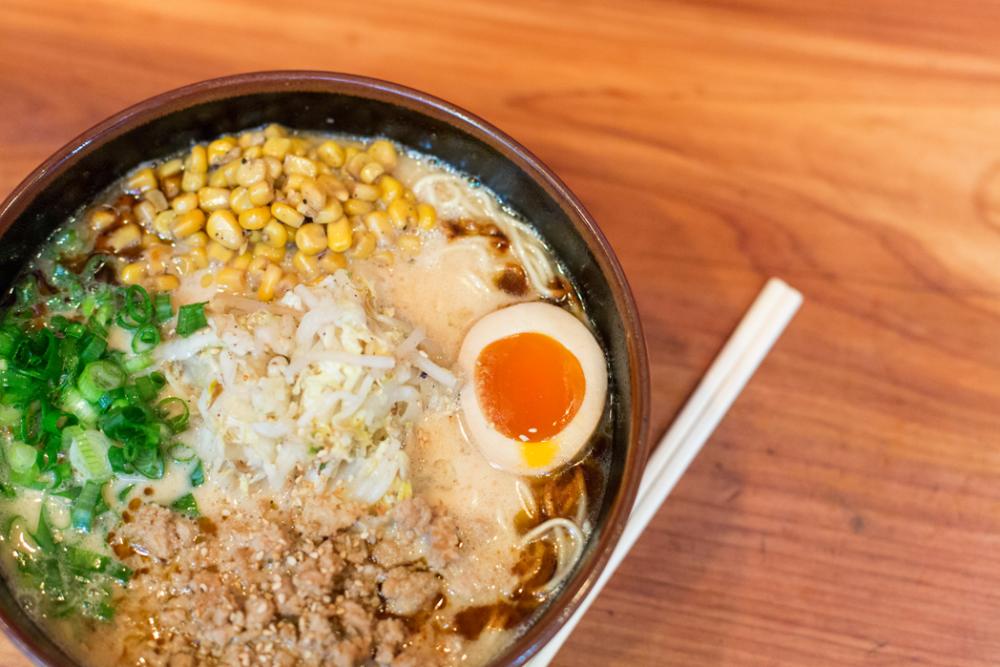 Ramen Tatsu-Ya. Credit Kristen Kaiser.
13. South Congress original Lucy's Fried Chicken makes a mean bowl of West Texas-style chili loaded with beef and pork and served with diced onions, cheddar, jalapeno and crackers. (Hint: it's even better with a side of tequila-butter cornbread muffins.)
14. Sustainable salad bistro Vinaigrette servies up a rotating menu of specialty soups throughout the month of October. Warm up with flavors like a classic Cajun gumbo or a hearty, vegan mushroom stew.
15. At Ramen Tatsu-Ya, warm up over a steaming bowl of ramen noodles swimming in pork bone broth alongside chasu, ajitama, woodear mushrooms and scallions.
16. Campus-area hit Texas Chili Parlor dishes up hot bowls of classic Texas-style red to the masses.
Fall Cocktails and Brews
Bourbon, bitters, spice and smoke all take center stage this season.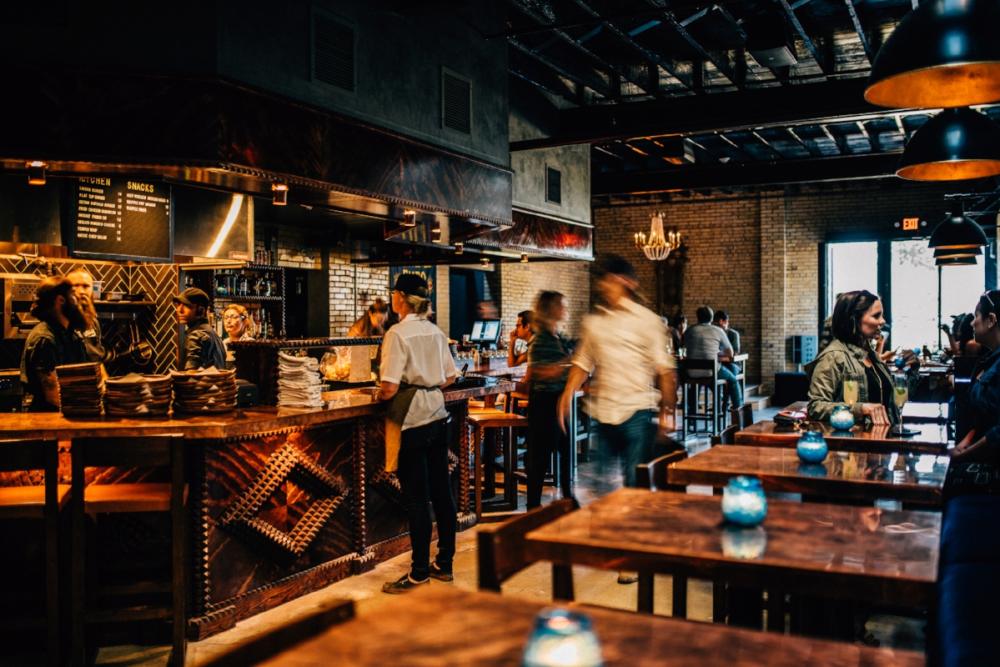 Native Bar & Kitchen. Credit Charles Reagan Hackleman.
17. Tucked inside the Western, bohemian-chic themed Native Experiential Hostel, Native Bar & Kitchen serves up a delightful Trust Fall cocktail, where smoky mezcal, robust rye whiskey and herbaceous yellow chartreuse mingle with orange and Angostura bitters. 
18. Try the new fall flavors at Whisler's with the Ocho de Copas, blending mezcal, cynar, strawberry-fig syrup, citrus and pecan bitters for a truly Austin flavor palate.
19. Or, for an inventive take on Halloween night, try the Black Pearl at The Roosevelt Room. Made with Johnnie Walker Black Label, Talisker Storm, Smith & Cross rum, Barolo Chinato, walnut liqueur, Abbott's bitters, charcoal powder, and edible liquid silver served in a small treasure chest which emits clove smoke after opening.
20. Get your Fig Manhattan made with house cherry-vanilla bitters and fig foam at Peche.
21. Garage's new fall cocktail menu is full of cozy flavors like clove, maple and star anise. Favorites include the Autumn Sonata with hibiscus rye, Thai basil, orange  and lime, and the beautiful Maiden Voyage with Santa Teresa 1796 Solera Rum, Wild Turkey 101 bourbon, lime, orgeat, velvet falernum & clove.
22. Prefer to drink your whiskey neat? Try the new Seven Grand bar downtown, where you can tour the whiskeys of the world from your seat at the impressive bar.
23. Try the Lil' Smokey at Hill Country-inspired Pitchfork Pretty, made with Balcones Single Malt, Pimento Bitters, and Salers Gentiane Liqueur.
24. Cozy up to the Pumpkin Spice Russian at Jacoby's Restaurant & Mercantile, made with vodka, Kahlua, pumpkin puree, cream and pumpkin pie spice.
25. For on-point pints that embrace fall's flavors, visit Live Oak Brewing Company and ask for a malty Oaktoberfest. For something on the sweeter side, try the holiday pie-esque Pumpkin Pecan Massacre from Infamous Brewing Company.
26. For non-alcoholic pumpkin perks, order the basic witch latte from Cuvee Coffee, made with homemade pumpkin caramel, espresso and milk. Find more linger-worthy Austin coffee shops on the Austin Insider Blog.
Goes Great with a Tailgate
Beer and chili's best fall friend? Football, of course. Dig into shareable plates of comfort eats at these game-friendly Austin spots.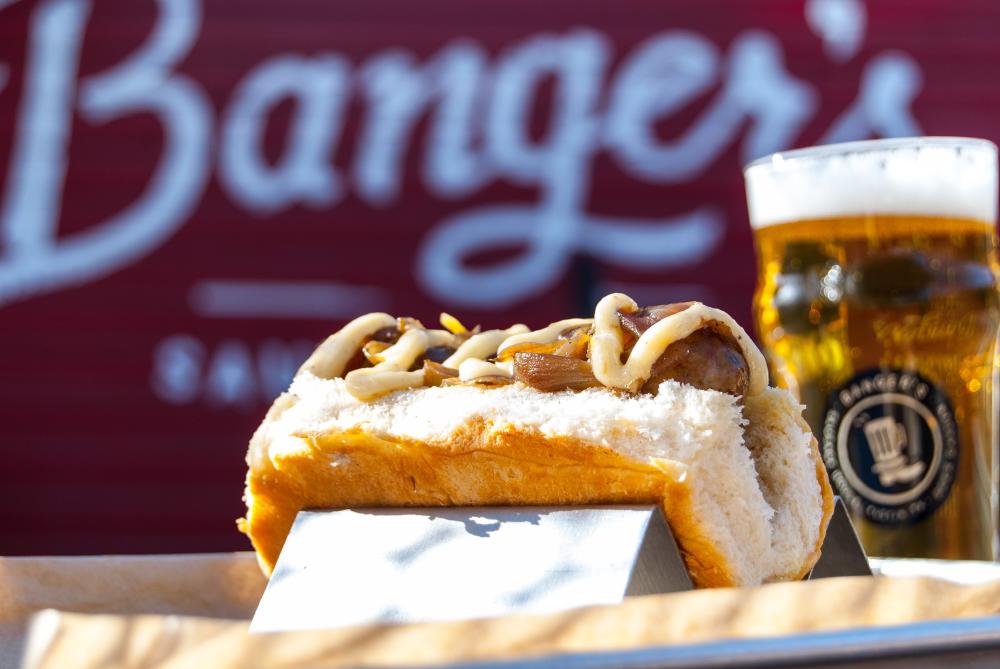 Courtesy of Banger's Sausage House & Beer Garden.
27. Put a German spin on your day at Banger's Sausage House and Beer Garden. The Rainey Street backyard hosts Austin's largest tap wall and 30 housemade sausages.
28. Choose from a huge, rotating selection of craft drafts, cans/bottles, ciders and cocktails and nosh on famed burgers and cheese fries at Doc's Motorworks. 
29. Order the hand-twisted pretzel with housemade beer cheese and the classic bratwurst (pork and veal sausage topped with Brooklyn Lager mustard and kraut) at Easy Tiger Bake Shop and Beer Garden.
30. Have an early game? Pick up an order of authentic Czech-style kolaches from the new Batch Craft Beer & Kolaches. Meat kolaches feature barbecue sausage or brisket from Micklethwaits and special seasonal fruit kolaches, like the apple and sweet cheese kolache, will provide a cure for even the most intense hangover. Prost!
31. Join the sea of burnt orange at the Scholz Garten tailgate party. Visit the Beir Garten for a pint, weinerscnitzel, bratwurst and old-fashioned Texas barbecue.
32. Savor the temperate fall weather in Austin at Red's Porch, where fans can sip on a frozen 'rita while enjoying the Southern Chicken Fried Chicken.
33. Irish enthusiasts and alumni unite at B.D. Riley's to cheer on Notre Dame and New England teams with perfectly poured pints of Guinness.
Share your fall foodie snaps with us using #TrueAustin on Twitter or Instagram!