Fall is knocking on Austin's door and local restaurants, bars and breweries are spinning out pints, plates and cones showcasing the season's bounty. Get your fall fill with these 30 picks for local fall food and beverages.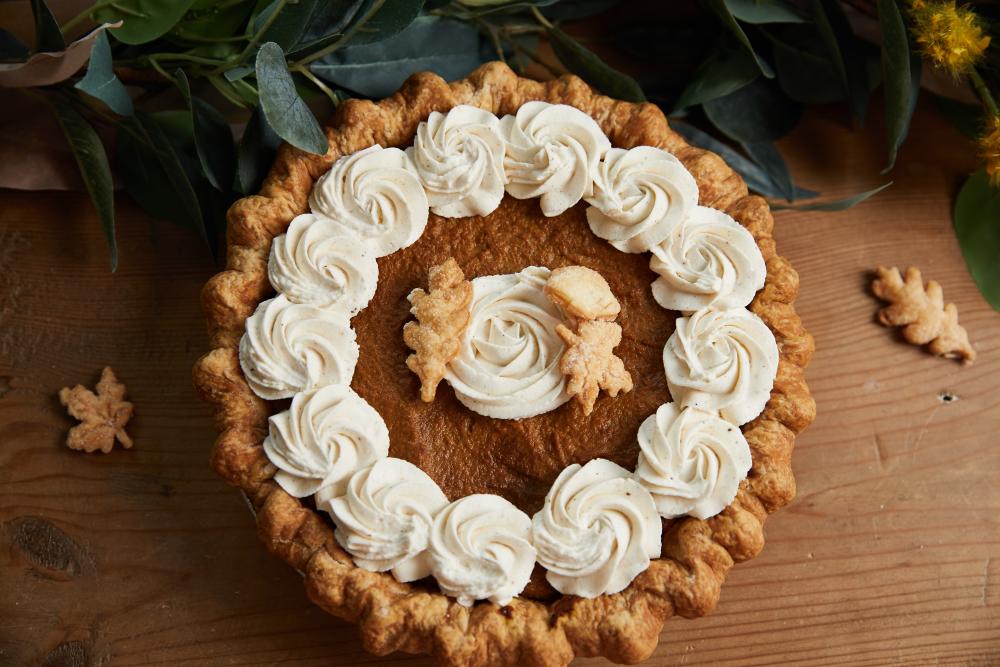 Tiny Pies. Credit Annie Ray Photography.
Pumpkin Sweets
With autumn comes some of our favorite things: gorgeous patio weather, festival season, rich dishes and all things pumpkin.
1. Looking to satisfy your sweet tooth? Relish the pumpkin pie shake, or a slice of spooky graveyard pie made with vegan ice cream from Sweet Ritual.
2. Locals know to snag pumpkin empanadas from 24-hour La Mexicana Bakery on South First Street.
3. Stock up on tasty bite-sized (or full-sized) pies from Austin's Tiny Pies, with fall flavors ranging from pumpkin chai and turtle pecan to apple bourbon cobbler and more.
4. Check out the seasonal scoops at Lick Honest Ice Creams (starting October 22), where seasonal flavors range from Hazel's Pumpkin Pie and Vegan No Egg 'Nog to Candied Pecan & Bourbon and Caramel Apple Cake.
5. Even if it doesn't yet feel like fall outside, go all in with the fall baked goods from Bakery Lorraine. Try treats like caramel apple macarons, pumpkin spice muffins, Phantom of the Opera cake and more from the Domain NORTHSIDE bakery and pastry shop.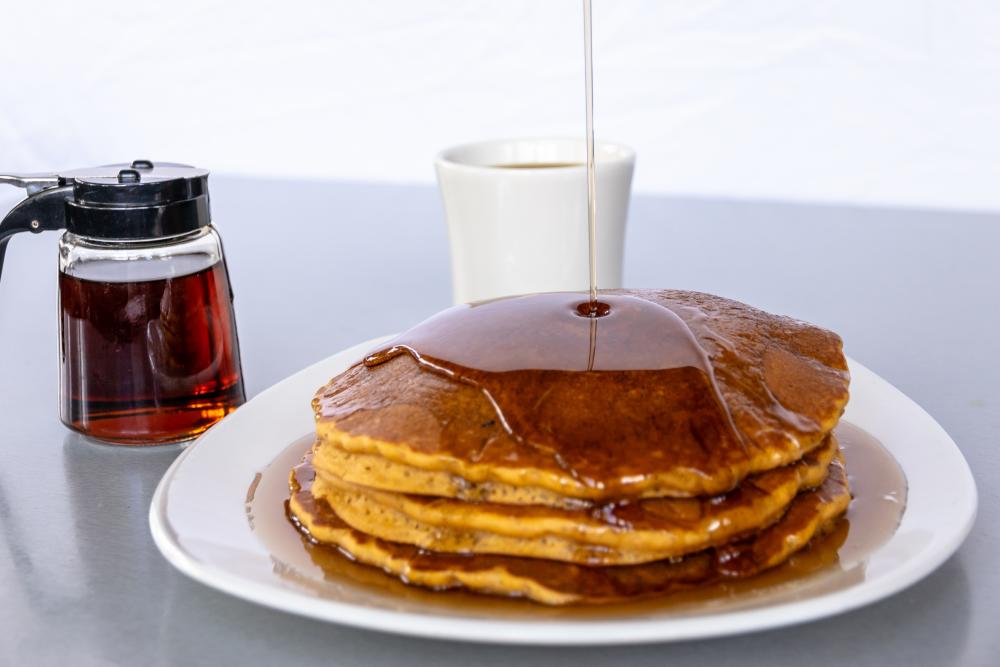 Pumpkin French Toast. Courtesy of Kerbey Lane Cafe.
A Harvest Feast
Hearty gourds make their way into autumn-inspired breakfasts, lunches and dinners. And, obviously, ultra-decadent desserts.
6. Breakfast star Kerbey Lane Cafe rolls out a special fall menu loaded with pumpkin classics each year. Order the pumpkin French toast made with their homemade pumpkin bread for breakfast. Or try the pastrami hash, made with house-cured pastrami, home fries, green bell pepper and white onion, sautéed & topped with two sunny side up eggs.
7. Meanwhile, at Picnik, the health-conscious crowd can enjoy the harvest hash (made with roasted sweet potato, spinach, Brussels sprouts, poached eggs & more) while they sip on a paleo-friendly, whey protein-filled pumpkin spice latte: a seasonal twist on the cafe's famous butter coffee.
8. South Congress eatery Aba is getting into the swing with seasonal items like the savory pumpkin hummus, lamb ragu and seasonal cocktails.
9. Lakeway Resort & Spa's autumn menu offers savory creations like the beet & citrus fennel salad, made with roasted beets, red onions, orange and grapefruit segments, fennel, charred lemon vinaigrette.
10. For a serious sit-down-and-savor, order the olive butter poached kampachi from Aviary Wine & Kitchen, covered in a rich charred olive soubise, marinated fennel and blistered peppers. It's sure to give you those warm fall feelings!
11. Back again for Fall, Italian favorite Andiamo Ristorante is featuring their homemade ravioli filled with roasted pumpkin and ricotta cheese, sauteed with sage and nutmeg in a brown butter sauce.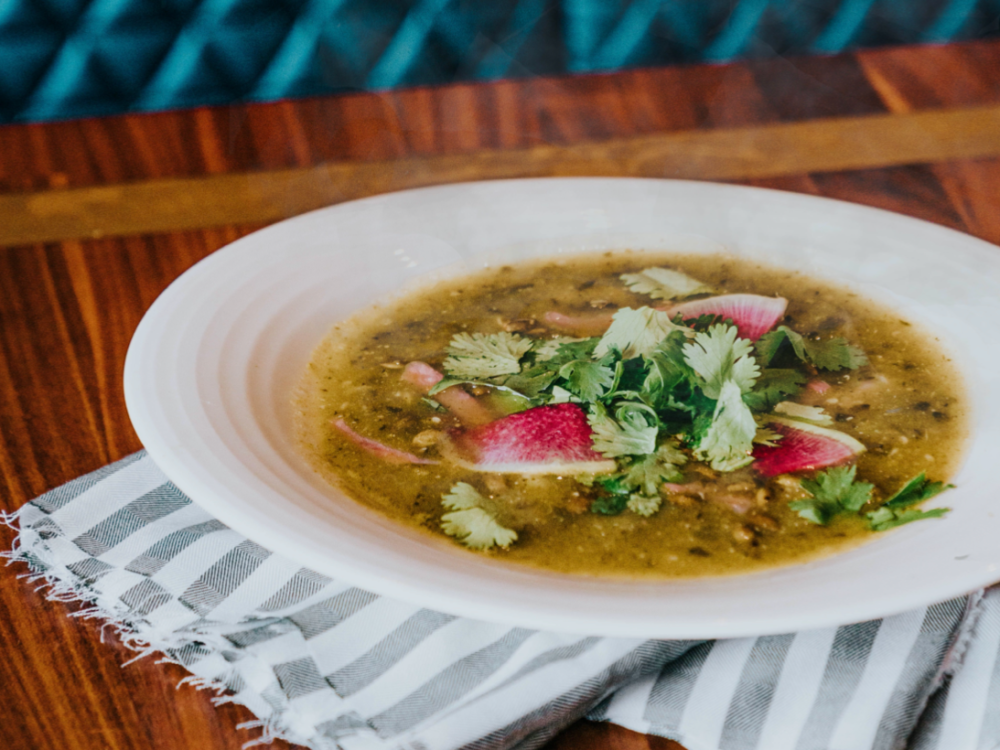 Courtesy of Local Foods.
In a Bowl
Scarves and boots go great with spoonfuls of comfort food. Get your ladle of fall happiness here:
12. Warm your belly with the chicken posolé from pop up Local Foods. The gluten-free soup is made with poblano, green chile, pumpkin seeds and hominy, providing a satisfying bite.
13. Café No Se's fall menu includes seasonal cocktails like the flannel shirt (scotch, apple cider and allspice dram) and dishes like the greenhouse lettuces salad with avocado, goat cheese, kabocha squash, pickled cranberry, radish, sunflower seed cracker and pomegranate vinaigrette.
14. As the weather starts to cool down, turn to Sazan Ramen to keep you warm. Sazan offers creamy paitan ramen, steamies dumplings, curry chicken wings, takoyaki, and more. 
15. Campus-area hit Texas Chili Parlor dishes up hot bowls of classic Texas-style red to the masses.
16. South Congress original Lucy's Fried Chicken makes a mean bowl of West Texas-style chili loaded with beef and pork and served with diced onions, cheddar, jalapeno and crackers. (Hint: it's even better with a side of tequila-butter cornbread muffins.)
17. Warm up over a steaming bowl of ramen on the patio at Ramen Tatsu-Ya, with noodles swimming in pork bone broth alongside chasu, ajitama, woodear mushrooms and scallions.
18. Looking for a quick-but-hearty meal on the go? Stop by The Soup Peddler for a savory soup like chicken tortilla (loaded with veggies and topped with pepper jack and tortilla chips) or the Frito pie-style veggie chili with Fritos, fresh jalapeno, and pepper jack.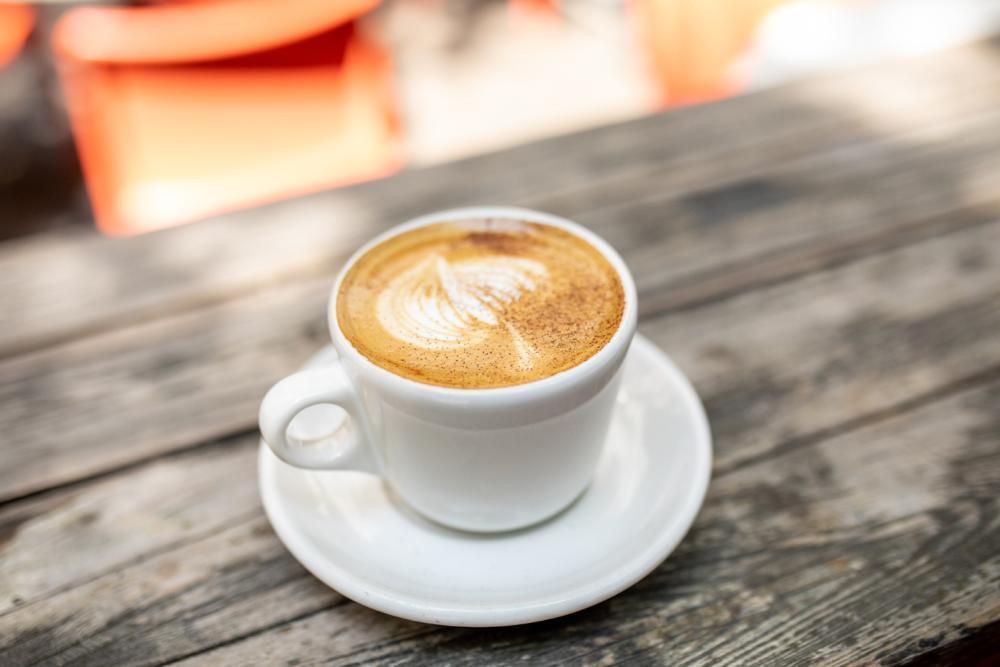 Jo's Coffee. Credit Julia Keim.
Fall Cocktails and Brews
Bourbon, bitters, spice and smoke all take center stage this season.
19. Walton's Fancy & Staple is taking on everyone's favorite seasonal sipper with an optional boozy twist. Enjoy the new adult pumpkin spice latte, either hot or iced and made with Frangelico and Kahlua. Pair it with one of their seasonal pastries for the perfect pumpkin spice spread.
20. It's hard to beat the Good Hearted Old Fashioned (buffalo trace, orange, drunken cherry, angostura) at Moonshine, but the Bourbon Slush is a pretty great alternative for those warm fall afternoons in Austin. Made with bourbon, sweet tea, lemonade, amarena.
21. Try the special fall beverages at Olive & June, like the Radio Flyer, blending bourbon, solerno, amaro, cranberry and lemon for the perfect balance of warm flavors.
22. For non-alcoholic pumpkin perks, order the Jack O Lantern Latte or the Sweater Weather (made with cold brew and house-made chai) from Jo's Coffee in the 2ND Street District. Find more linger-worthy Austin coffee shops on the Austin Insider Blog.
23. Fill your stein with the Bavarian style Oktoberfest lager from Real Ale Brewing, made with the highest quality German malt, hops, and yeast. Or, try the Coffee Porter, perfect for breakfast, lunch or dinner.
24. Dripping Springs Distilling's new seasonal cocktails are arriving just in time for the season of patio brunches and festive events. Specials include the hot toddy (1876 Bourbon, earl grey, lemon, ginger, cinnamon honey), cranberry-lime sparkler (Dripping Springs Vodka, cranberry, fresh lime, sparkling water, sugared cranberries), bourbon apple cider (1876 Bourbon, house cider, squeeze lemon, cinnamon stick garnish) and others.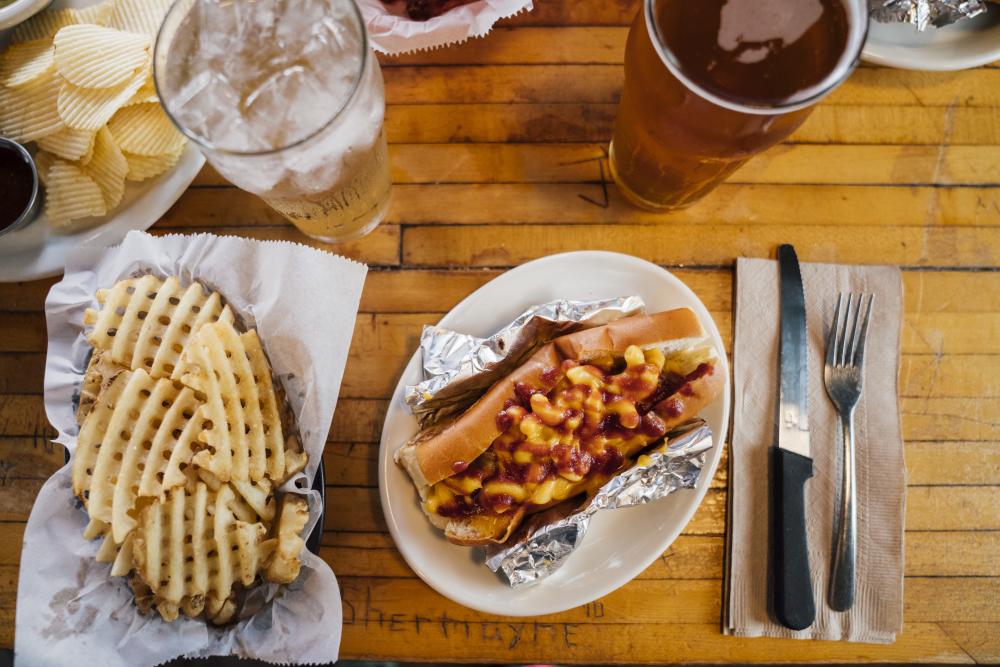 Courtesy of Scholz Garten.
Great with a Tailgate
Beer and chili's best fall friend? Football, of course. Dig into shareable plates of comfort eats at these game-friendly Austin spots.
25. Savor the temperate fall weather in Austin at Scholz Garten, where fans can watch the game from spacious patio tables over tasty, traditional German bites. Enjoy fried, soft-dough pretzels with all the dipping sauces to share; or bratwursts and sides of sauerkraut, rotkohl, and German potato salad.
26. Watching the big game from home? Order fajitas for the group with Trudy's Parillada, including .5 lb fajita chicken, .5 lb fajita steak, six blackened shrimp, jalapeño sausage, fajita veggies, roasted jalapeños, and all the fixin's.
27. Or, go straight to the source and order the classic bratwurst (pork and veal sausage topped with mustard and kraut) or a hot pastrami sandwich on Hill Country rye at the Easy Tiger South Lamar location.
28. Have an early game? Pick up an order of authentic Czech-style kolaches from the new Batch Craft Beer & Kolaches. Don't miss savory meat kolaches like the jalapeno sausage kolache and special seasonal fruit kolaches, like the apple and sweet cheese kolache. Prost!
29. Take your tailgate to the next level by ordering a custom seafood boil with TLC's Boil Buckets. Choose form five different boils with offerings ranging from lobster, king crab, mussels, littleneck clams, snow crab, andouille sausage, shrimp and more.
30. Irish enthusiasts and alumni unite at B.D. Riley's to cheer on Notre Dame and New England teams with perfectly poured pints of Guinness.
Share your fall foodie snaps with us using #TrueAustin on Twitter or Instagram!