Fall is knocking on Austin's door and local restaurants, bars and breweries are spinning out pints, plates and cones showcasing the season's bounty. Get your fall fill with these 30 picks for local fall food and beverages: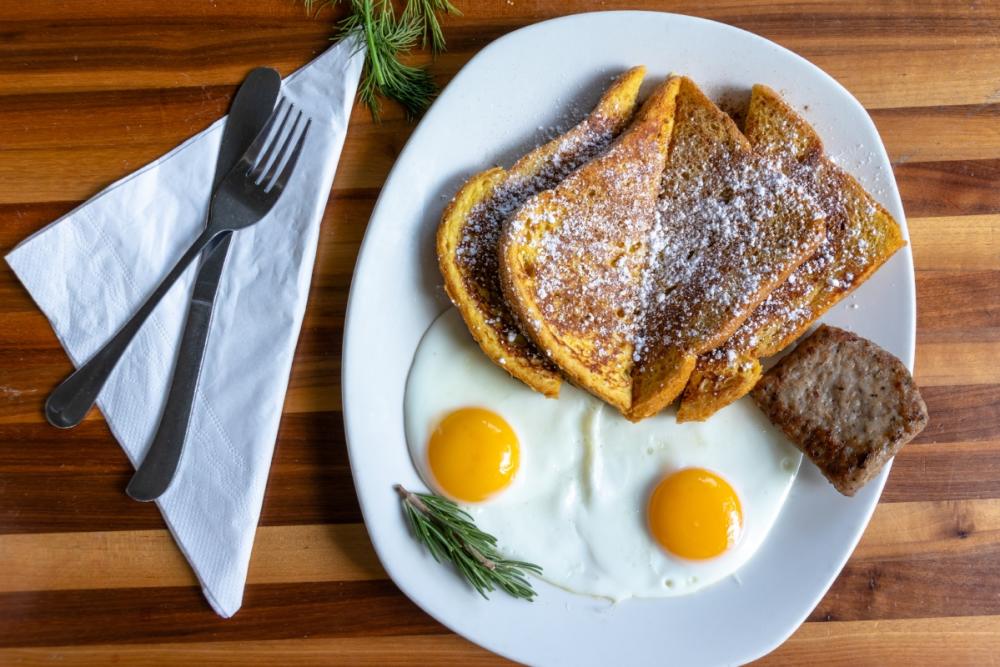 Pumpkin French Toast. Courtesy of Kerbey Lane Cafe.
A Harvest Feast
This hearty gourd makes its way into autumn-inspired breakfasts, lunches and dinners. And, obviously, ultra-decadent desserts.
1. Breakfast star Kerbey Lane Cafe rolls out a special fall menu loaded with pumpkin classics each year. Order the pumpkin French toast made with their homemade pumpkin bread for breakfast. Or, for lunch, try the chicken and pancakes, featuring fried all-natural chicken breast, cinnamon-beignet pancakes, maple buffalo sauce and powdered sugar
2. Meanwhile, at Picnik, the health-conscious crowd can enjoy a pumpkin pie oatmeal or the harvest hash, made with roasted sweet potato, spinach, Brussels sprouts and a poached egg, while they sip on a paleo-friendly, whey protein-filled pumpkin spice latte: a seasonal twist on the cafe's famous butter coffee.
3. Sonesta Bee Cave's Hill Country eatery, Meridian 98, is getting into the swing with a seasonal menu, focused on locally sourced ingredients. Savor the sweet and rich butternut squash flatbread or share the Texas antelope sliders with a glass of red.
4. For a serious sit-down-and-savor, order the dry-aged Mangalitsa pork chop with pear butter and a hazelnut relish at L'oca d'Oro.
5. Chef Bryce Gilmore continues to focus on relationships with local farmers and ranchers this fall. Special menu offerings at Sour Duck Market include fried sweet potatoes, made with goat cheese onion dip, hoja santa and pistachio, and the roasted butternut salad, with pecan crumble, apple cider vinaigrette, pear, bacon bits and charred onion.
6. Keep an eye on the rotating menu at hyper-local Eden East, where autumn pre-fixe items have included a cold smoked butternut soup and fried okra pickles, harvested from the 5-acre family farm onsite.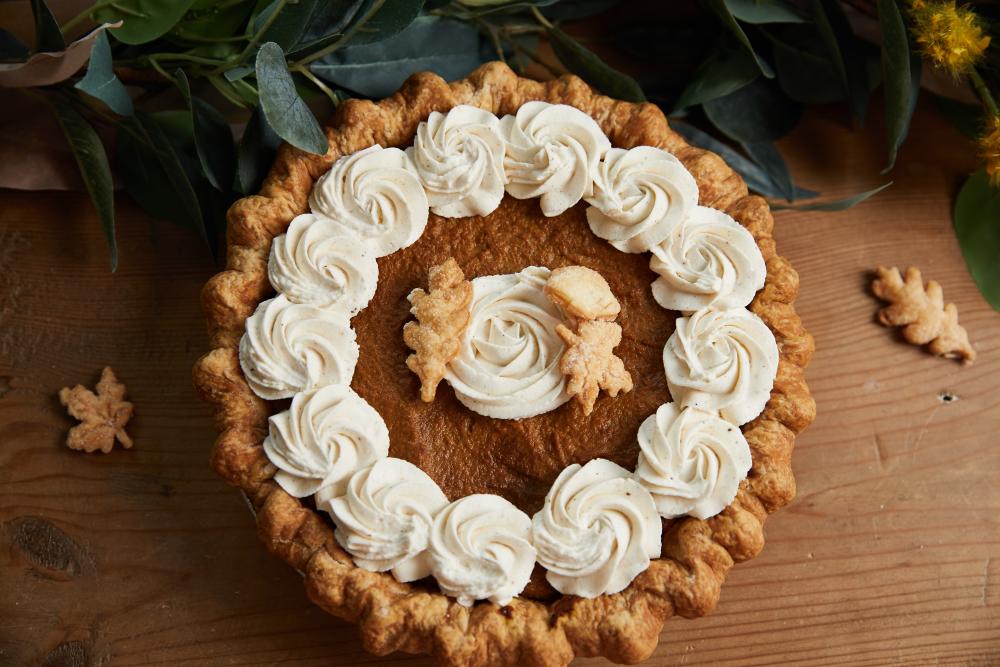 Tiny Pies. Credit Annie Ray Photography.
Pumpkin Sweets
With autumn comes some of our favorite things: gorgeous patio weather, festival season, rich dishes and all things pumpkin.
7. Looking to satisfy your sweet tooth? Relish a scoop of miso pumpkin praline vegan ice cream with spooky sprinkles or salted caramel swirl in a cone from Sweet Ritual.
8. Locals know to snag pumpkin empanadas from 24-hour La Mexicana Bakery on South First Street.
9. Stock up on tasty bite-sized pies from Austin's Tiny Pies, with fall flavors ranging from pumpkin chai and turtle pecan to apple bourbon cranberry and vegan pear cranberry.
10. Check out the seasonal scoops at Lick Honest Ice Creams, where flavors range from Hazel's Pumpkin Pie and Spiced Sweet Potato Pie to Caramel Corn and Caramel Apple Cake.
11. Even if it doesn't yet feel like fall outside, go all in with the pumpkin spice latte whoopie pie from Irene's.
12. Keep cool in warm fall temperatures and keep the kiddos happy with a pumpkin pie snow cone from Casey's New Orleans Snowballs (yes, you heard that right!).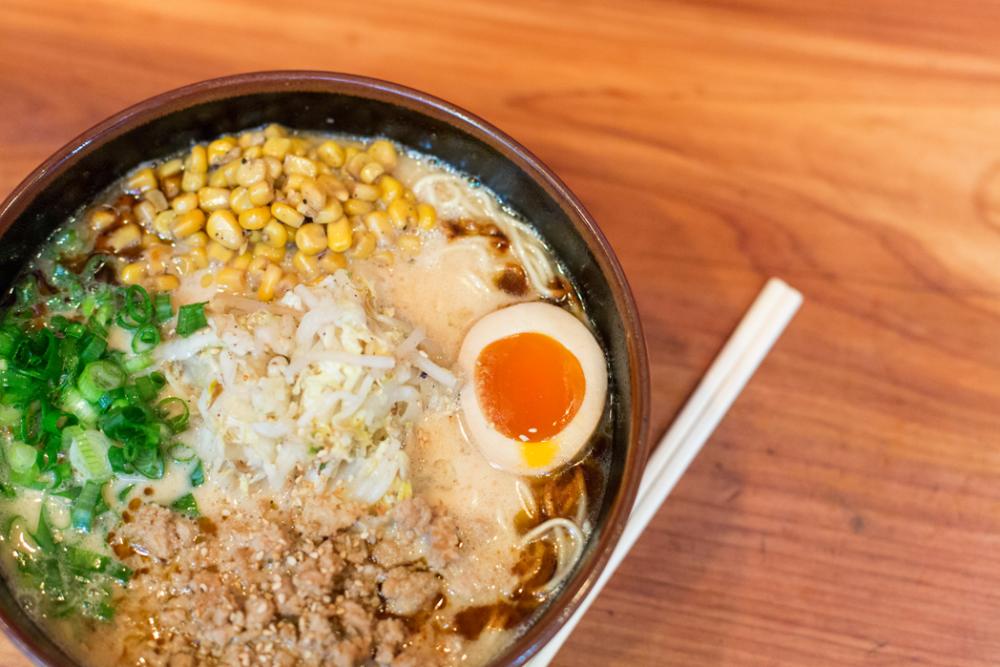 Ramen Tatsu-Ya. Credit Kristen Kaiser.
In a Bowl
Scarves and boots go great with spoonfuls of comfort food. Get your ladle of fall happiness here:
13. Blenders & Bowls' fall menu includes the cinnamon crunch bowl (blended apple, banana, avocado, spinach, coconut water and cinnamon, topped with granola, apple, banana, almond butter and honey), the fall bowl (blended açaí, pumpkin, banana, vanilla bean, cinnamon and vanilla almond milk, and topped with hemp granola, apples, dates, strawberries, walnuts and local Round Rock Honey) and more.
14. Local seafood-centric Salt Traders Coastal Cooking is featuring a butternut squash bisque for the month of October, loaded with roasted corn, gulf shrimp, lump blue crab and is topped with basil oil and sherry.
15. Campus-area hit Texas Chili Parlor dishes up hot bowls of classic Texas-style red to the masses.
16. South Congress original Lucy's Fried Chicken makes a mean bowl of West Texas-style chili loaded with beef and pork and served with diced onions, cheddar, jalapeno and crackers. (Hint: it's even better with a side of tequila-butter cornbread muffins.)
17. Warm up over a steaming bowl of ramen at Ramen Tatsu-Ya, with noodles swimming in pork bone broth alongside chasu, ajitama, woodear mushrooms and scallions.
18. Looking for a quick-but-hearty meal on the go? Stop by The Soup Peddler for a savory soup like chicken tortilla (loaded with veggies and topped with pepper jack and tortilla chips) or the Frito pie-style veggie chili with Fritos, fresh jalapeno, and pepper jack.

Jo's Coffee. Credit Julia Keim.
Fall Cocktails and Brews
Bourbon, bitters, spice and smoke all take center stage this season.
19. Take an autumn day trip into the Hill Country and visit the only sotol distillery in the country, Desert Door. Try the Cedar Chopper made with Desert Door Original Texas Sotol, apple cider, lime, agave and rosemary.
20. For something on the sweeter side, try the Strawberry Raspberry Redbud Berliner Weisse from Independence Brewing Co., celebrating peak berry harvest season in the Lone Star State.
21. Try the new fall flavors at Olive & June with the Whiskey Mornings, Coffee Nights, blending Red Eye  Coffee Rye, local 9 Banded Whiskey, St. Germaine, anise, almond and grapefruit for the perfect balance of warm flavors.
22. For non-alcoholic pumpkin perks, order the Pumpkin Pie Latte from Jo's Coffee in the 2ND Street District, or mix it up with the Golden Fog Turmeric latte and the Fall Maple Latte. Find more linger-worthy Austin coffee shops on the Austin Insider Blog.
23. For on-point pints that embrace fall's flavors, visit Black Star Co-op Pub & Brewery and ask for their Oktoberfest Märzen lager, brewed with local Blacklands Malt.
24. Cozy up to the Barrel Aged Black Manhattan at Velouria, made with Black Feather Whiskey, amaro, and black walnut bitters.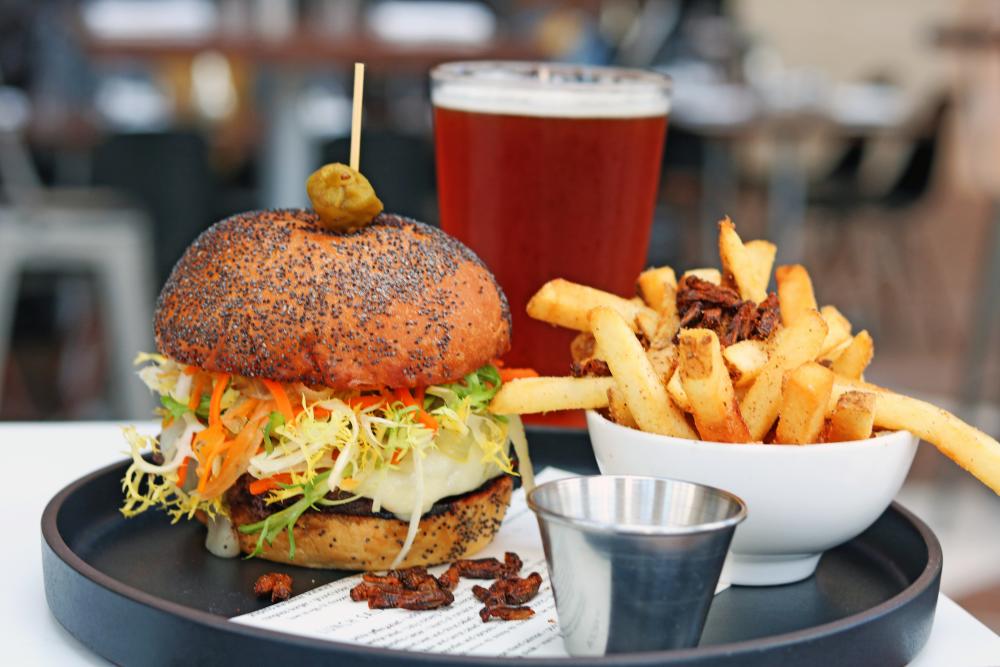 Grim Reaper Burger. Courtesy of Second Bar + Kitchen.
Goes Great with a Tailgate
Beer and chili's best fall friend? Football, of course. Dig into shareable plates of comfort eats at these game-friendly Austin spots.
25. If you're looking for a place to chow down and watch the Longhorns, head to Zilker Brewing Company and enjoy game-time specials like $1 off select pints and $4 off select pitchers or $5 chicken sandwiches from the Spicy Boys food trailer on the patio.
26. Order the hand-twisted pretzel with housemade beer cheese and the classic bratwurst (pork and veal sausage topped with Live Oak Big Bark mustard and kraut) at Easy Tiger Bake Shop and Beer Garden.
27. Irish enthusiasts and alumni unite at B.D. Riley's to cheer on Notre Dame and New England teams with perfectly poured pints of Guinness.
28. Have an early game? Pick up an order of authentic Czech-style kolaches from the new Batch Craft Beer & Kolaches. Meat kolaches feature barbecue sausage or brisket from Micklethwait and special seasonal fruit kolaches, like the apple and sweet cheese kolache, will provide a cure for even the most intense hangover. Prost!
29.  Dress up your gameday fare by pairing the October-special Grim Reaper Burger from Second Bar and Kitchen at Domain NORTHSIDE with 4th Tap Brewing's House of Torment Pumpkin Ale. The burger features ghost pepper cheddar, habanero carrot slaw, house pickled padron pepper, sweet and sour cricket fries and beef fat aioli.
30. Savor the temperate fall weather in Austin at Red's Porch, where fans can sip on a frozen 'rita while enjoying the Southern Chicken Fried Chicken.
Share your fall foodie snaps with us using #TrueAustin on Twitter or Instagram!