Fall is knocking on Austin's door and local restaurants, bars and breweries are spinning out pints, plates and cones showcasing the season's bounty. Get your fall fill with these 30 picks for local fall food and beverages.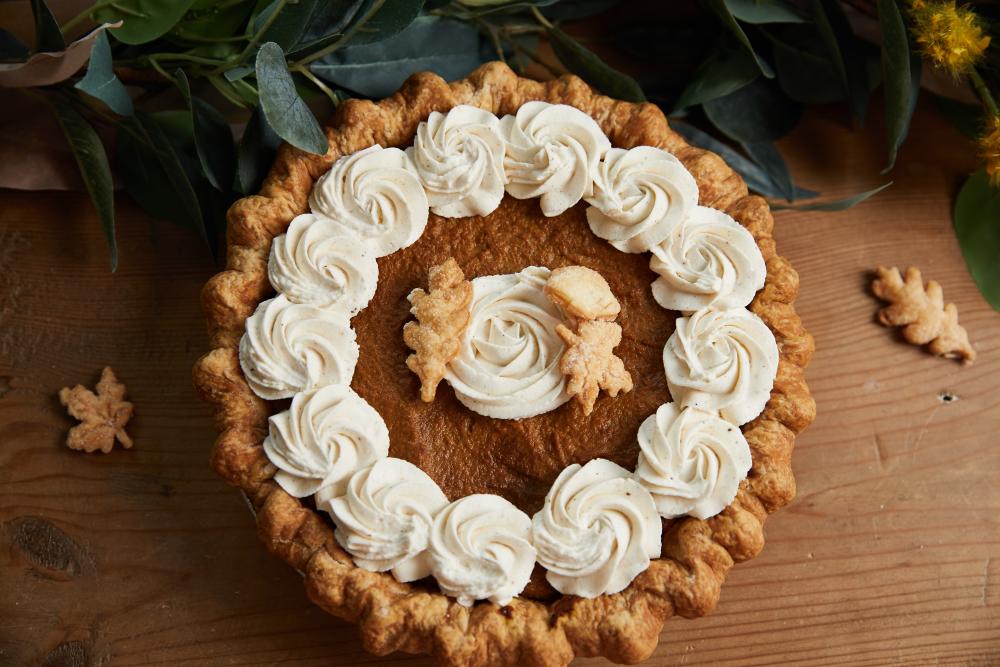 Tiny Pies. Credit Annie Ray Photography.
Pumpkin Sweets
With autumn comes some of our favorite things: gorgeous patio weather, festival season, rich dishes and all things pumpkin.
1. Looking to satisfy your sweet tooth? Relish a scoop of miso pumpkin praline vegan ice cream with spooky sprinkles or salted caramel swirl in a cone from Sweet Ritual.
2. Locals know to snag pumpkin empanadas from 24-hour La Mexicana Bakery on South First Street.
3. Stock up on tasty bite-sized pies from Austin's Tiny Pies, with fall flavors ranging from pumpkin chai and turtle pecan to apple bourbon cranberry and vegan pear cranberry.
4. Check out the seasonal scoops at Lick Honest Ice Creams, where flavors range from Hazel's Pumpkin Pie and Vegan Vanilla Pear to Candied Pecan and Bourbon and Caramel Apple Cake.
5. Even if it doesn't yet feel like fall outside, go all in with the fall flavored macarons from Bakery Lorraine. Try flavors like pumpkin spice, raspberry, pistachio and more from the Domain NORTHSIDE bakery and pastry shop.
6. Local grocer Wheatsville will have an assortment of seasonal treats available this fall, including Pumpkin Spice and French Toast Vegan Donuts, seasonal pies (including vegan options) and more.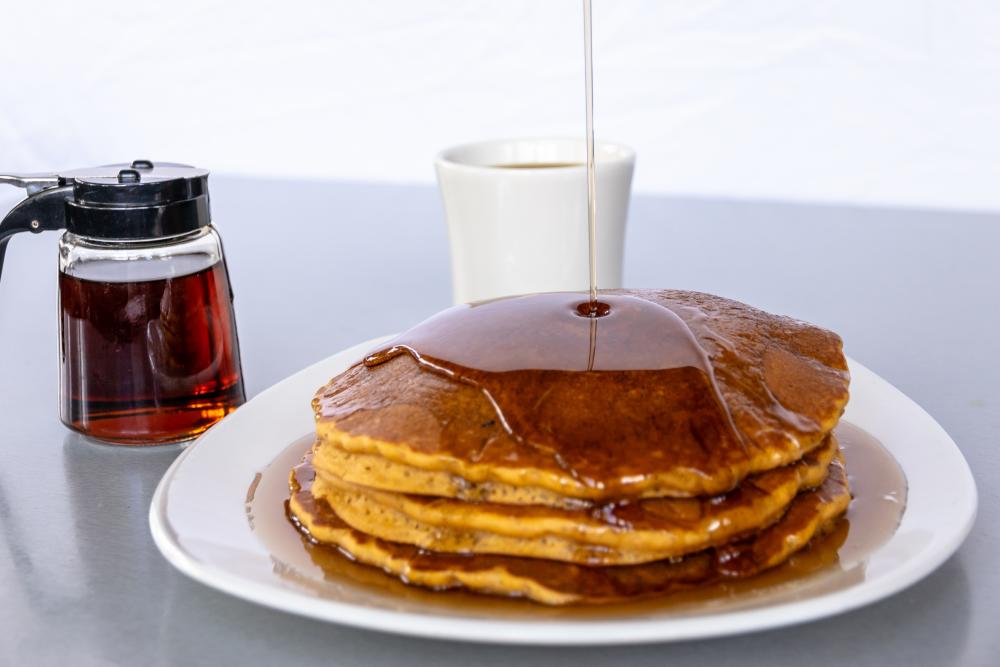 Pumpkin French Toast. Courtesy of Kerbey Lane Cafe.
A Harvest Feast
Hearty gourds make their way into autumn-inspired breakfasts, lunches and dinners. And, obviously, ultra-decadent desserts.
7. Breakfast star Kerbey Lane Cafe rolls out a special fall menu loaded with pumpkin classics each year. Order the pumpkin French toast made with their homemade pumpkin bread for breakfast. Or, try the sweet potato hash featuring jalapeño sausage, sweet potato home fries, green peppers, white onions and topped with two sunny side up eggs.
8. Meanwhile, at Picnik, the health-conscious crowd can enjoy the harvest hash (made with roasted sweet potato, spinach, Brussels sprouts and a poached egg) while they sip on a paleo-friendly, whey protein-filled pumpkin spice latte: a seasonal twist on the cafe's famous butter coffee
9. New South Congress eatery Aba is getting into the swing with seasonal items like the savory Hummus with Lamb Ragu and the Thyme Roasted Carrots & Labneh with pickled dania, crispy shallot, purslane.
10. For a serious sit-down-and-savor, order the pumpkin curry quinoa with roasted sweet potatoes, steamed kale and toasted pumpkin seeds at Counter Café (then finish with a slice of candy corn cashew cheesecake).
11. Neighboring sweetgreen's autumn menu offers savory new creations like the Autumn Caesar Salad, the Sweet Balsamic Brussels warm bowl and a new edition of their Curry Cauliflower warm bowl.
12. Back again for Fall, Italian favorite Andiamo Ristorante is featuring their homemade ravioli filled with roasted pumpkin and ricotta cheese, sauteed with sage and nutmeg in a brown butter sauce.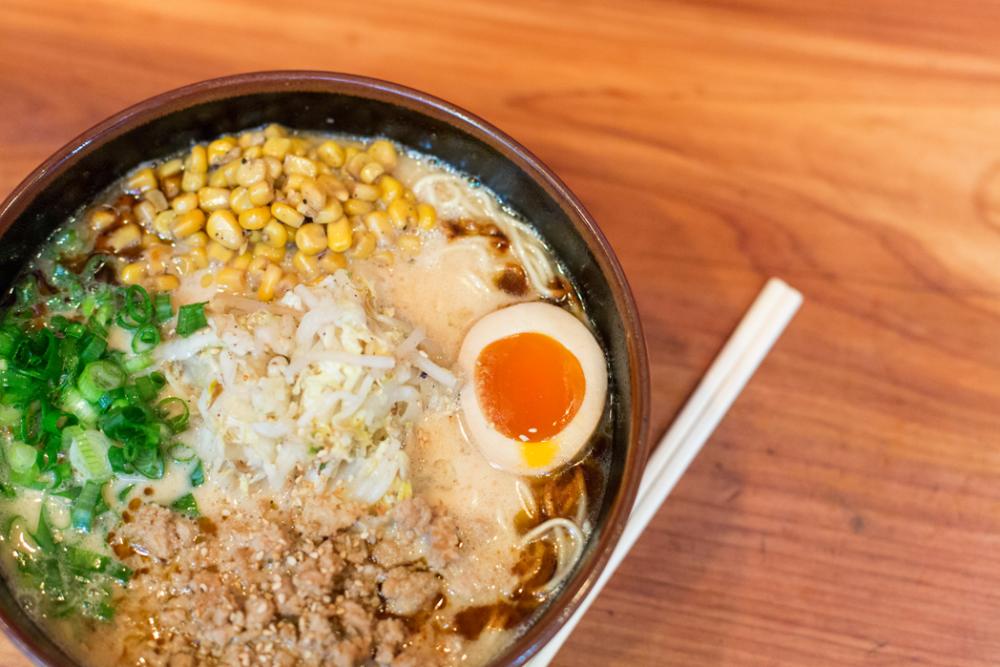 Ramen Tatsu-Ya. Credit Kristen Kaiser.
In a Bowl
Scarves and boots go great with spoonfuls of comfort food. Get your ladle of fall happiness here:
13. Café No Se's fall menu includes seasonal sundaes like the sweet potato pie sundae featuring snickerdoodle crumb, sweet potato ice cream, maple, candied yams and toasted marshmallow fluff. Or the mulled wine sundae with a mulled wine sorbet, orange sherbet, rosemary oat streusel, citrus and spiced meringue.
14. Chef Bryce Gilmore continues to focus on relationships with local farmers and ranchers this fall. Special menu offerings at Sour Duck Market include cool vegan butternut soup, made with apple, squash and chives paired with a turmeric mule.
15. Campus-area hit Texas Chili Parlor dishes up hot bowls of classic Texas-style red to the masses.
16. South Congress original Lucy's Fried Chicken makes a mean bowl of West Texas-style chili loaded with beef and pork and served with diced onions, cheddar, jalapeno and crackers. (Hint: it's even better with a side of tequila-butter cornbread muffins.)
17. Warm up over a steaming bowl of ramen on the patio at Ramen Tatsu-Ya, with noodles swimming in pork bone broth alongside chasu, ajitama, woodear mushrooms and scallions.
18. Looking for a quick-but-hearty meal on the go? Stop by The Soup Peddler for a savory soup like chicken tortilla (loaded with veggies and topped with pepper jack and tortilla chips) or the Frito pie-style veggie chili with Fritos, fresh jalapeno, and pepper jack.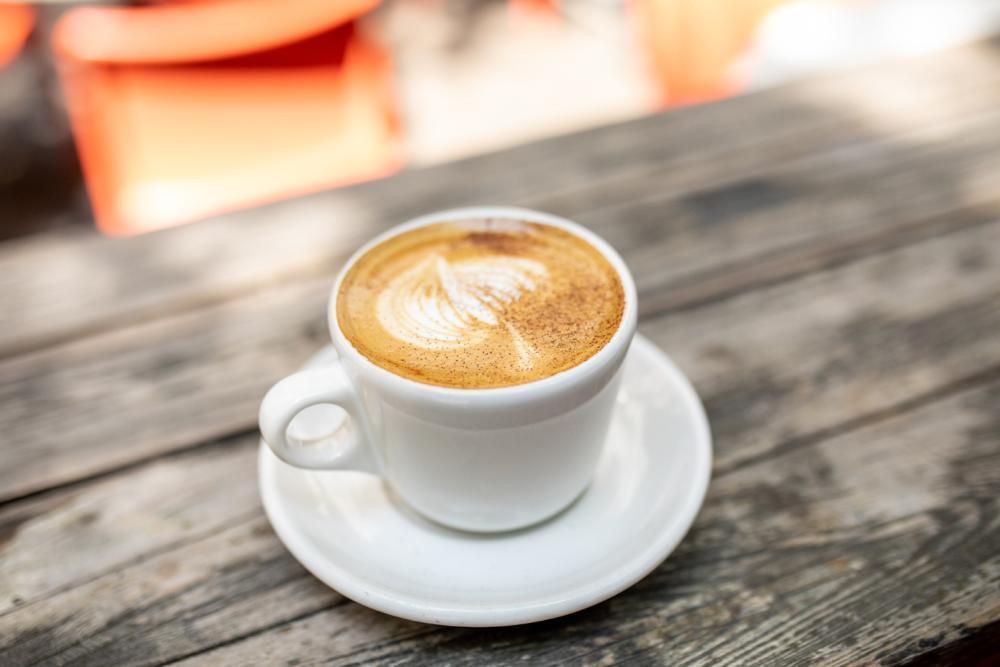 Jo's Coffee. Credit Julia Keim.
Fall Cocktails and Brews
Bourbon, bitters, spice and smoke all take center stage this season.
19. Güero's Taco Bar is featuring a Spooky Punch cocktail over Halloween weekend (October 30-November 1). The cocktail is a riff of a signature margarita, adding in winter fruits like orange juice and grapefruit juice with a Tajin rim.
20. It's hard to beat the Good Hearted Old Fashioned (buffalo trace, orange, drunken cherry, angostura) at Moonshine, but the Bourbon Slush is a pretty great alternative for those warm fall afternoons in Austin. Made with bourbon, sweet tea, lemonade, amarena.
21. Try the new fall flavors at Olive & June with the Radio Flyer, blending bourbon, solerno, amaro, cranberry and lemon for the perfect balance of warm flavors.
22. For non-alcoholic pumpkin perks, order the Horchata Pumpkin Pie Latte from Jo's Coffee in the 2ND Street District. Find more linger-worthy Austin coffee shops on the Austin Insider Blog.
23. Fill your stein with the Bavarian style Oktoberfest lager from Real Ale Brewing, made with the highest quality German malt, hops, and yeast. Or, try the new Coffee Porter, perfect for breakfast, lunch or dinner.
24. Upgrade your caffeine fix with the new Golden Mylk Coffee Latte from JuiceLand, served hot or iced and made with Little City Cold Brew Coffee, hemp seeds, turmeric, cinnamon, coconut oil and vanilla. Plus, 50% of proceeds benefit DAWA - a safety net for people of color experiencing short-term life crisis.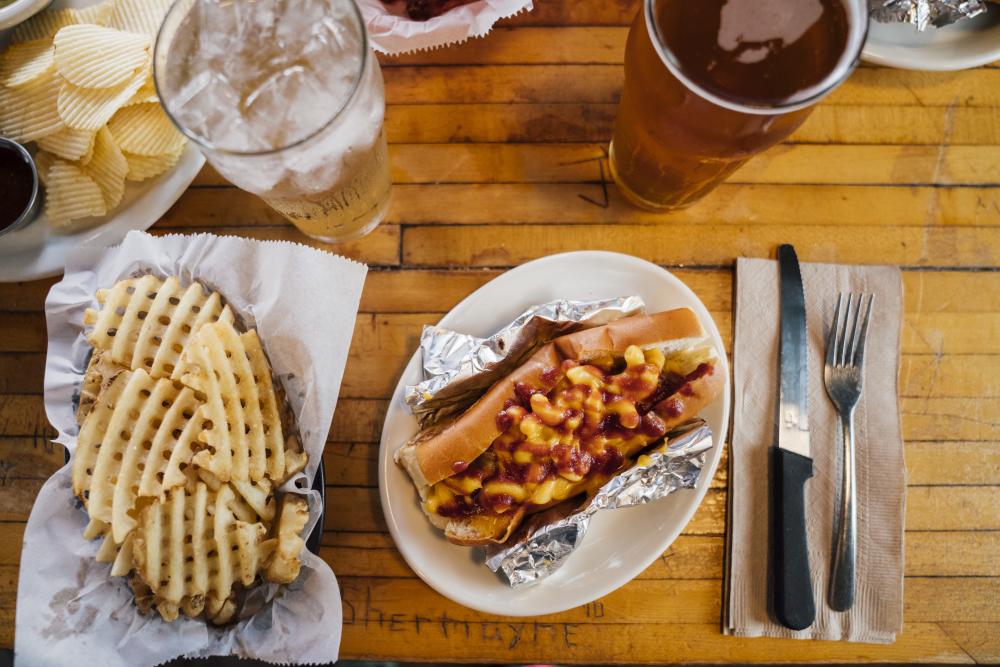 Courtesy of Scholz Garten.
Great with a Tailgate
Beer and chili's best fall friend? Football, of course. Dig into shareable plates of comfort eats at these game-friendly Austin spots.
25. Savor the temperate fall weather in Austin at Scholz Garten, where fans can watch the game from spaced-out patio tables or order the Oktoberfest Sausage Platter to enjoy with the family at home. Platters include four pounds of German sausage links plus sides of sauerkraut, rotkohl and German potato salad and enough fried soft-dough pretzels with all the dipping sauces to share.
26. For Oktoberfest pints all October long, visit Lazarus Brewing and try the Katie's Pride Marzen style beer or the Big Top Wiesnbier. On the weekends, pair your pint with on-site Easy Tiger favorites like housemade beer brats and pretzels with beer cheese
27. Or, go straight to the source and order the classic bratwurst (pork and veal sausage topped with mustard and kraut) or a hot pastrami sandwich on Hill Country rye at the new Easy Tiger South Lamar location.
28. Have an early game? Pick up an order of authentic Czech-style kolaches from the new Batch Craft Beer & Kolaches. Don't miss savory meat kolaches like the jalapeno sausage kolache and special seasonal fruit kolaches, like the apple and sweet cheese kolache. Prost!
29. Go all out for gameday on the Drag at the new Moody's Kitchen and Bar. Their Game Day Happy Hour is offered on Saturdays during UT games, with $1 wings, $6 burgers, $7 pizzas, $4 White Claw, $10 beer pitchers, free chips and salsa and more.
30. Irish enthusiasts and alumni unite at B.D. Riley's to cheer on Notre Dame and New England teams with perfectly poured pints of Guinness.
Share your fall foodie snaps with us using #TrueAustin on Twitter or Instagram!