If the phrase "laughter is the best medicine" is true, then Austin is one of the healthiest cities around! From open mics to stand-up to improv, there are certainly a plethora of options for comedy at one of Austin's many comedy theaters. Don't underestimate these local comedy events, troupes and theaters because comedy as seriously funny as this is nothing to laugh at.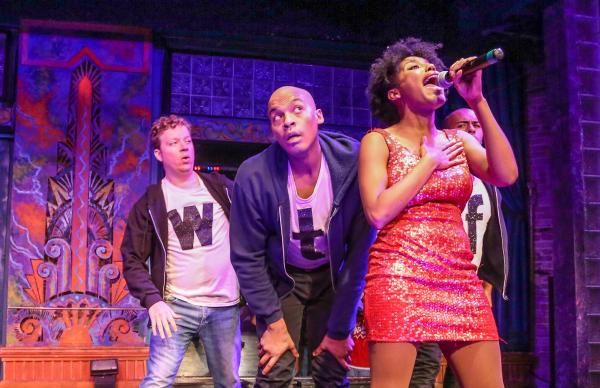 Esther's Follies. Credit Adam Schlender.
Esther's Follies
The best way to experience comedy like a true Austinite is by catching a show at Esther's Follies, located in the Sixth Street Entertainment District. Known as Austin's version of Saturday Night Live, Esther's Follies has been amusing locals for more than 40 years. The show specializes in political satire, comedy sketches, Vegas-style magic and hilarious musical numbers. This iconic show is a requirement for those want the quintessential Austin comedy experience; shows run weekly, Thursday through Saturday.
The Velveeta Room
Founded by legendary comedian Ronnie Velveeta, the Velveeta Room offers stand up comedy showcases every Thursday, Friday and Saturday. The caliber of local and national comedy talent has established Velveeta Room as one of the top comedy clubs in Austin for the past 28 years; if you want to see comedy at the highest level, this is the place for you.
The Gatsby
For the open mic enthusiast, The Gatsby on Sixth Street is the place to be! This 1920s-inspired cocktail lounge hosts live comedy on Tuesdays, Thursdays, Fridays and Saturdays. Every Thursday night Mike Swenson hosts "Low Blow Open Mike," where the first 15 to sign up have 15 minutes to make a humorous impression on the audience. While getting your laughs on, try one of their signature craft cocktails. With two bars, three patios and an upstairs lounge, The Gatsby is the perfect place to take in a show with friends. Sign-ups start at 9:30 p.m., and the show begins at 10 p.m.
The Hideout Theatre
The Hideout is a great spot to catch improvisational theatre. Thursday performances showcase independent groups and it's local knowledge that only the best and brightest in town are invited to perform. Comedy fans rave about the show on Friday nights, where the local comedy troupe Parallelogramophonograph puts on a hilarious routine. To close out the week, The Hideout presents a Saturday night showing of in-house produced comedy. With shows every weekend year round, there are numerous opportunities to make it downtown for an entertaining night at The Hideout.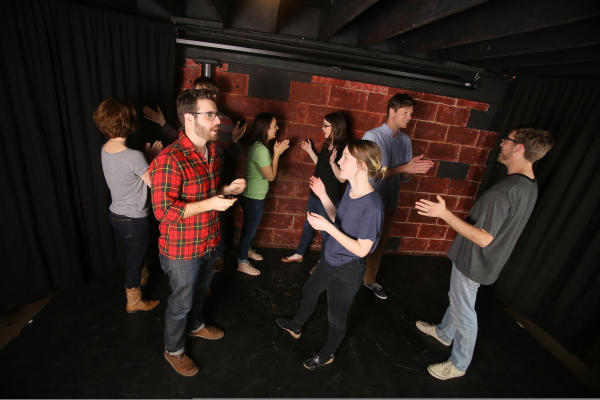 ColdTowne Theater. Credit Jon Bolden.
ColdTowne Theater
If you're looking for a great spot to catch comedy throughout the week, Central Austin's ColdTowne is the place to go. One of the most notable shows in town is the Monday Night Mash. Every Monday night, three local improv groups take the stage to amuse the audience with skits and performances. Admission is $5, and the Monday Night Mash is BYOB.
Cap City Comedy Club
Another comedy staple in the Live Music Capital of the World® include the performances at Cap City Comedy Club on Research Boulevard. Home to the "Funniest Person in Austin" contest, this venue has always been a big supporter of the local comedy culture. Many celebrity comedians have performed at Cap City as well, including Ellen DeGeneres, DL Hughley, Dave Attell and Joe Rogan.
Fallout Theater
Formerly known as the New Movement Theater, the Fallout Theater is Austin's newest destination for improv, sketch and stand-up. One of the more accessible clubs in Austin, Fallout Theater boasts hilarious shows every night of the week. The venue on Lavaca Street is renowned for their annual comedy events, and regular sketch comedy classes. For information about the wide variety of shows they offer, visit their calendar online.
Looking for more places to experience Austin's independent arts and comedy community? Get your tickets to this year's Moontower Comedy Festival, April 18-21, 2018 at the Paramount Theatre, and check out Austin's Indie Arts Scene.
Contributed by Visit Austin Marketing Communications Intern Jonah Camberg.