Want to squeeze in some exercise during your visit to Austin? Opportunities abound in this city that's regularly rated as one of the fittest in the nation! But ditch the hotel gym and get fit as you explore Austin. Whether you go for a run on the picturesque lakefront hike and bike trail, practice your bouldering skills at Crux, or swim laps in Barton Springs Pool, there are plenty of uniquely Austin ways to get your heart pumping and experience the city at the same time.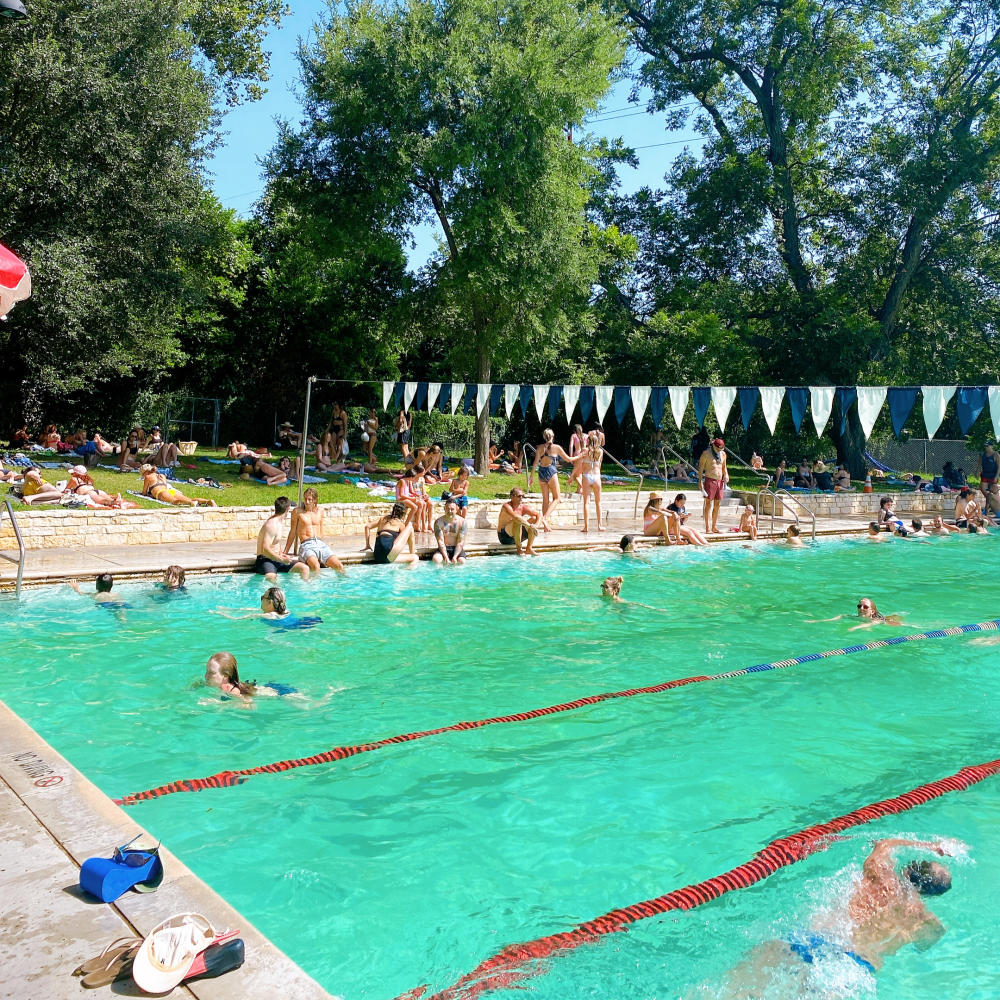 Deep Eddy Pool. Credit Alexandra Reichek.
Swim at Barton Springs Pool or Deep Eddy Pool
Open all year round, Barton Springs Pool is a stellar place to take a dip and squeeze in some exercise all at the same time (and have some fun, to boot). Grassy hillsides offer a relaxing place to warm up in the sun, the natural rocky bottom makes you forget you're in an urban setting, and the spring-fed waters stay a brisk 68º year-round. Maybe best of all: you can enjoy the view of the city skyline as you practice your breast stroke. Spring-fed Deep Eddy Pool just west of Highway 1 offers an equally refreshing place to swim, but with dedicated lap lanes.
Climb at Austin Bouldering Project or Crux Climbing Gym
Save the weight room for your at-home workout routine; head to a local climbing or bouldering gym for a fun full-body workout instead. Crux has locations in South and Central Austin and offers bouldering (climbing shorter walls sans ropes) and traditional top-rope climbing while Austin Bouldering Project (ABP) has locations on the east side and in South Austin and features tons of bouldering routes. Didn't bring your own gear? No problem. Each location offers shoe and harness rentals (if necessary) in addition to day passes.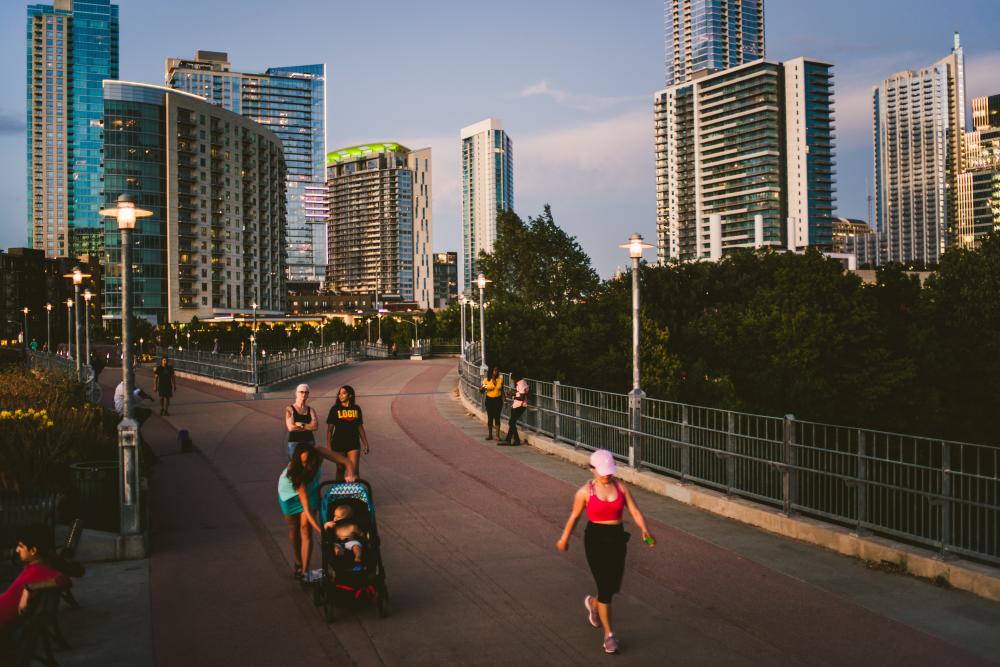 Ann and Roy Butler Hike and Bike Trail, Pfluger Pedestrian Bridge. Credit Visit Austin.
Run on the Ann and Roy Butler Hike and Bike Trail
There's no better way to take in the city than from the popular hike and bike trail and boardwalk that loops around Lady Bird Lake. The trail surface varies from paved to packed dirt, crosses the lake at several points via pedestrian bridges if you want to cut the 10-mile loop short, and includes sunny and shaded sections. Enjoy views of the city skyline from the trail on the south side of the lake or hop off the trail on the north side to explore Downtown Austin.
Get airborne at Sky Candy
Sky Candy is one Austin fitness studio that's anything but boring. Specializing in aerial fitness, you can drop in for beginner classes like Intro to Aerials where you'll get a chance to try out a variety of apparatuses, including silks, sling, and trapeze. From circus fitness classes to Lyra and acrobatics basics, you can challenge your body while learning new techniques or keep your skills honed while you're away from your home aerial studio.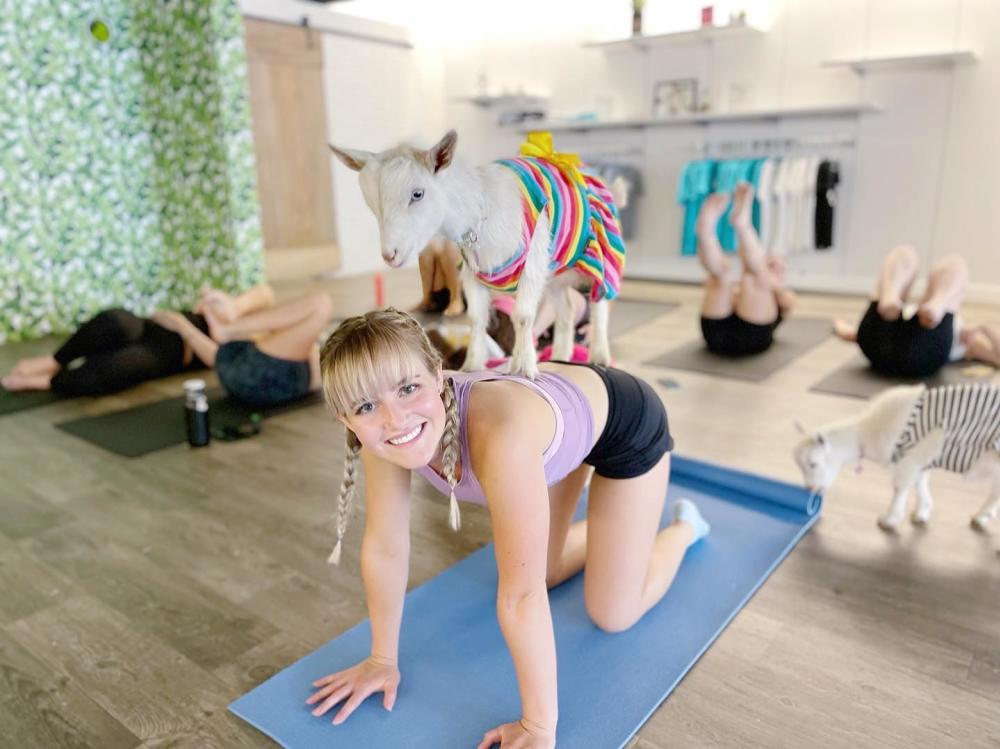 Goat Yoga. Credit @goga_atx.
Do Yoga with goats at GOGA
Had enough of regular ol' yoga? If you love cuddly creatures, drop in for goat yoga at GOGA in Bee Cave, just west of Austin. The traditional vinyasa class lasts 45 minutes and will probably feel very familiar if you've ever done yoga before, but instead of a quiet, serene atmosphere, there are pygmy goats wandering around, beneath, and, yes, sometimes on top of you. It's exercise, but with the additional stress-relieving benefits of small furry creatures in a relaxed, fun atmosphere. (The studio offers traditional yoga classes, too.)
Cycle the Veloway
If you traveled with your bike, take it to the Veloway, a 3.1-mile (5K) paved loop south of town. The first of its kind in the U.S., the path is popular with cyclists and roller and inline skaters. Open year-round from dawn to dusk, there's plenty of space on the 23-feet-wide path for leisurely riders and speed demons alike, so make your way to the park and ride over the rolling, winding track to your heart's content.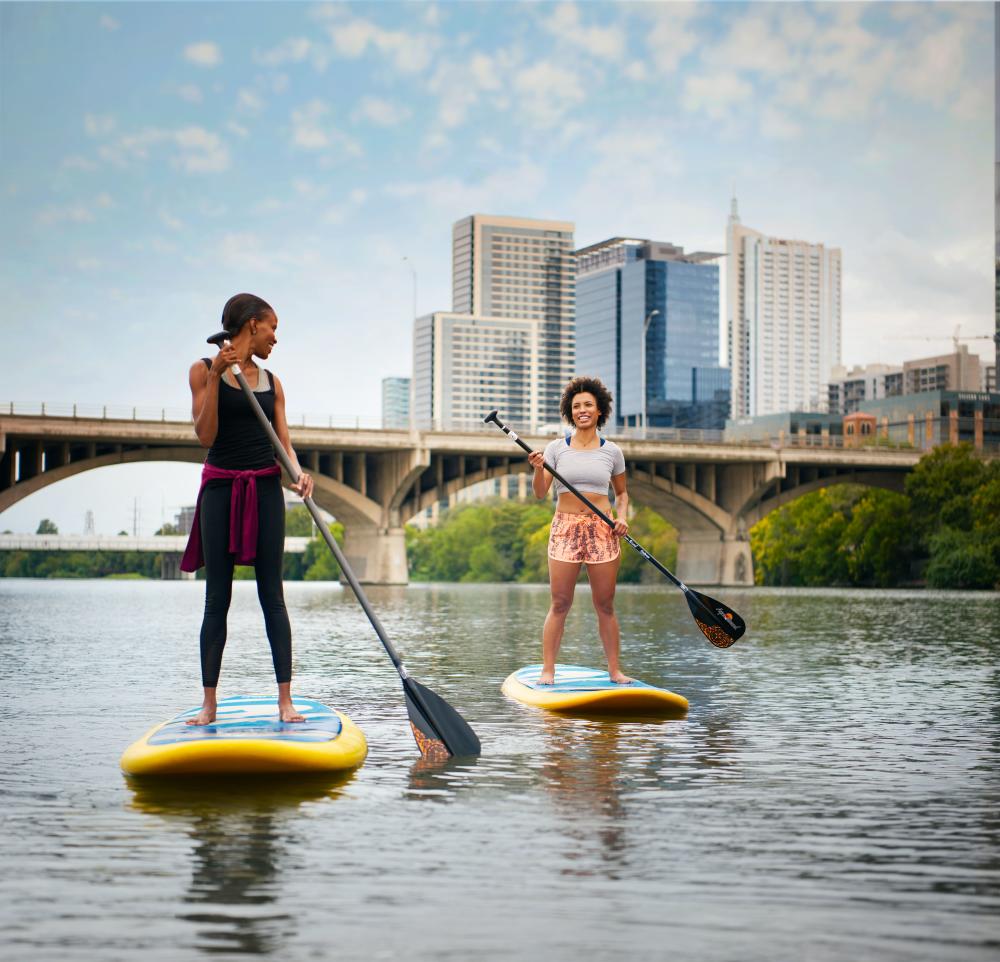 Stand up paddleboarding on Lady Bird Lake. Credit Nick Simonite.
Paddle on Lady Bird Lake
Looking for a good core and upper body workout while enjoying time in nature? Rent a kayak or SUP at The Rowing Dock, Live Love Paddle, or any of the other companies located along Lady Bird Lake, then take to the water and start paddling! Navigate popular Barton Creek and hop out of your boat for a swim or to take your turn on a rope swing, or beat the crowds and take your time paddling to Red Bud Isle and back. Either way, you're sure to enjoy yourself as you get a good workout.
After all that activity you may want to refuel. Check out all of the places to grab a nourishing meal or smoothie on our food & drink page... or do what the locals do and reward your hard work with a stuffed breakfast taco!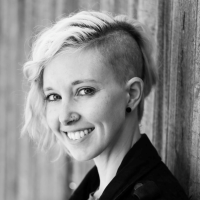 Contributed by Alisha McDarris.
Alisha McDarris is an Austin-based writer who specializes in writing about the outdoors, vegan food, and sustainable travel. She is the co-founder of sustainable travel and adventure blog Terradrift.com and accompanying YouTube channel (youtube.com/terradrift) and her outdoorsy tips and tricks, plus vibrant photos of wild spaces and places, can be found on Instagram (instagram.com/terradrift).