We are officially one month into 2015 and, if you're like me, you are asking yourself "WHAT WAS I THINKING?!" in regards to your New Year's resolutions.
A few years ago my New Year's resolution was to drop some serious lbs., and I desperately wanted to become a runner. I'd head to the Hike and Bike Trail along Lady Bird Lake after work and even on late Saturday afternoons, but it wasn't until I went on a Saturday morning that I realized what I had been missing. Sitting perched across from Lou Neff Point, at Woode's Point I later found out, was the Town Lake Troubadour himself, Woode Wood. He sat there singing his original tunes and waving and encouraging resolutioners to keep going. Being the music fan that I am, I, of course, had to stop and listen. So, we got in touch with Mr. Wood and here's what he had to say!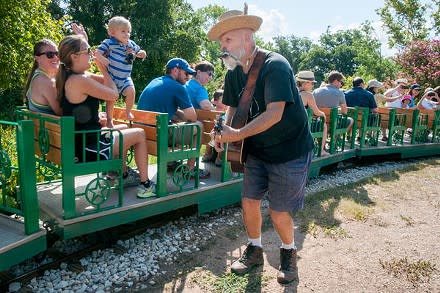 Woode Wood performing at the Zilker Zeypher. Photo courtesy of The Austin Chronicle.
How long have you been in Austin and why did you decide to start singing at Woode's Point?
I moved here in 1994 and began performing at Auditorium Shores in 2004, then moved to Woode's Point in 2007 (officially, officials call it Lou Neff Point, but a friend overheard someone talking on their phone one day and she said, "I'm at Woode's Point." Lou Neff is also the name of the road behind me in Zilker park, so I adopted "Woode's Point," and it has caught on). The main reason was to get away from all the trail dust, but it quickly became apparent that Woode's was a much better spot because of the beauty, wildlife, the Zilker Zephyr and many other reasons. I was playing clubs and releasing records every year in 2004 when I decided I wanted to play to thousands every day in addition to all my other gigs. I performed on the trail for an hour the first time on September 2, 2004; I got hooked on the experience.
When are you at Woode's Point?
I used to be at Woode's Point every day and now I get there when I can, most days if the weather's good. 10 to noon for sure, but usually longer. I've been there dark to dark over 50 times.
Do you allow guests to sing with you?
Woode's Point is one of the many "stages" that I perform on and I only sing and play original music that I have written. Thousands have stopped by and sung one of my songs with me over the years. Many friends have come down at my invitation and accompanied me on mandolin, fiddle, upright bass, flute, banjo, of course, guitar and many other instruments.
What is your favorite part about singing at Woode's Point?
I love to perform, no matter where I am, and it's always about the music and the love that is shared. It is so beautiful at Woode's Point, the folks and the landscape; I've never had a bad day there. I can't answer these questions without mentioning all the children. I play schools, churches, and hospitals as well and I love singing for the kids. I just played Lisa Marques' class at Highland Park Elementary for the umpteenth time and I get a huge kick out of it.
Where can we find your music and keep up with you?
The best place to find my music is to come by and see me or send me an email and I'll come to you (I perform at many events and lots of house concerts). I also write a blog which is on my site, www.woodewood.com, and I'm available everywhere online (iTunes, Spotify, YouTube, Amazon, Facebook, Twitter and LinkedIn), but as with all artists, it is best for the artist when you purchase directly from them, that way they get a bigger piece of the pie. In fact, regardless of who you love, you should go today and get your favorite piece of art by them, from them. We really appreciate the support.
What is your favorite Austin music moment?
There have been so many. Seeing John Hiatt sing "Have a Little Faith In Me" at Liberty Lunch, Iggy Pop perform "Lust for Life" on the outdoor stage in front of the Driskill, Alexandro Escovedo rocking "Horizontal" at the Continental Club and many, many more.
Where do you go in your free time to hear live music?
Everywhere, I love every kind of music. There are no bad genres, just bad performances. Besides the Continental Club, the Cactus Cafe, etc. I especially love free shows that are held in parking lots and on street corners. Some of the best singers I've ever heard were singing at open mics. The main thing is just to get out and go see some music.
What are your Austin recommendations to visitors?
At least once a day I make a list on the back of one of my cards for tourists or someone that has just moved to town. Because I used to cook for a living, I include some eating spots along with the music venues I write down. Along with the Continental Club, Stubb's, the Cactus Cafe and other hot spots I send them for mojo fish tacos at TacoDeli, vegan at Casa De Luz, the Amarillo chicken sandwich at Casino El Camino on Sixth (opens at 4 p.m.), the frozen margaritas (as good as any in town and better than most) at El Gallo on South Congress and the 78704 burger at Phil's Icehouse on South Lamar.
So there you go! Consider this your live music motivation to keep you on track with those pesky resolutions. Next time you're on the trail keep your eyes peeled and ears open for Woode's tunes. Stop and say hi, ask for some recommendations and tell him we sent you!