The music that built Austin's sterling reputation as the Live Music Capital of the World® derives from cultures that immigrated to Central Texas from all over the globe. In fact, after nearly a decade of growing popularity of foreign-inspired music, the term "world beat" was popularized by Dan Del Santo, who hosted a "World Beat" show on local public radio station KUT in the mid-80s. Since then, the term has widely been used in the record industry and a growing number of local clubs and community events specialize in showcasing world music in Austin. See where you can find some world music events and venues below!
WORLD MUSIC VENUES
Sahara Lounge
Sahara Lounge, an East Austin gem, was always destined to be a hotspot for late night goings-on. Before the venue was founded in 2011, it stood open for 33 years as TC's Lounge, a historic jazz and blues spot. Now, Sahara Lounge primarily features reggae, African, Brazilian, Spanish and Middle Eastern music and is run by Eileen Bristol of Zoumountchi, the "Africa Night" house band at the Sahara, and her son Topaz McGarrigle of psychedelic afrobeat collective Golden Dawn Arkestra. The musical mother-son duo keep the laid back culture of the venue alive. Enjoy free parking, signature cocktails, and even a free buffet on Saturday nights for Africa Night as Eileen and the band keep the music going and the drinks flowing!
Flamingo Cantina
One of the Sixth Street's few remaining music venues that features original music is Flamingo Cantina. Since its inception in 1991, the venue has since remained one of the best places for Latin, world beat, reggae and ska music. Not only does its central location downtown make it accessible to many, it is also a favorite among the city's world music players who tout the venue's "good vibes" culture. As a patron, you can enjoy an intimate environment with a spacious dance floor and hard knockin' drinks to boot. Start or end your night at the Flamingo for good times and put on your dancin' shoes!
Plaza Colombian
Tucked in on the south side of Austin is Plaza Colombian. This low-key restaurant and venue is located on the southern end of South Congress and is the perfect atmosphere for traditional Spanish dance music such as salsa, merengue, and son cubano. This local gem has a wonderful menu of Colombian cuisine including coffee, baked goods and tapas. The coffee bar features live music on Thursday, Friday and Saturday nights starting at 8 p.m.
REGULAR WORLD MUSIC JAMS, SHOWCASES & EVENTS
Kenny Dorham's Backyard
Every last Saturday of the month, between 6 p.m. and 11 p.m., Kenny Dorham's Backyard features touring world musicians for a monthly series titled International Grooves. Whether you attend Latin night or Oktoberfest, you can enjoy the free parking, on-site food trailers, or BYOB and have a picnic outside while you listen to some live music. Kids under 12 get in free, pets are welcome, and there are additional family discounts available. 
Carnaval Brasileiro
Austin's favorite dance party is back in February of 2023! With over 6,000 annual attendees, Carnaval Brasileiro has been the largest indoor Carnaval outside of Brazil since being founded by homesick Brazilian college students in 1978. Ever wondered what authentic Brazilian drums sound like? Get your tickets to the annual samba party, now held at Speakeasy, and dance away the winter frost into spring.
Halcyon
Halcyon is one of the best spots in the Warehouse District for coffee and craft cocktails, but on Tuesday nights from 10 p.m. to 2 a.m., this downtown hot spot joins together musicians of all levels of talent who wish to participate in its weekly world music jam. Led by esteemed local musician Roberto Riggio of Atash, an Austin world music ensemble, one could join in on the fun (just bring your own instrument and amp) or participate through listening.
Esquina Tango
World music goes hand-in-hand with movement and dancing. Esquina Tango's non-profit mission is "to build a vibrant and diverse community in East Austin and beyond and to foster personal wellness while promoting an appreciation for Latino culture." Through the organization's dance classes and live music events, Esquina Tango has done a great job of accomplishing this mission since 2006. Check out the events calendar on their website for a complete list of live music events they're hosting at their venue on the east side of town or at other venues around the Austin area.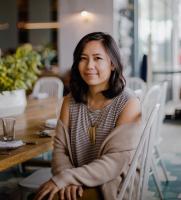 Contributed by Nathalie Phan.
Nathalie Phan is a local music connoisseur and the founder of On Vinyl Media and SoundSync Music. She is passionate about helping Austin musicians and the local music industry.
Twitter: @natphantastic