Here in Texas, tacos aren't a meal. They're a religion. And nowhere will you find more places to worship these foil-wrapped handfuls of flavor than in Austin. Though it's impossible (and we've tried) to catalogue every Austin taco, here's a roundup of some of our favorites, in categories that should help any visitor navigate the trucks, stands and shacks of Taco Town, USA.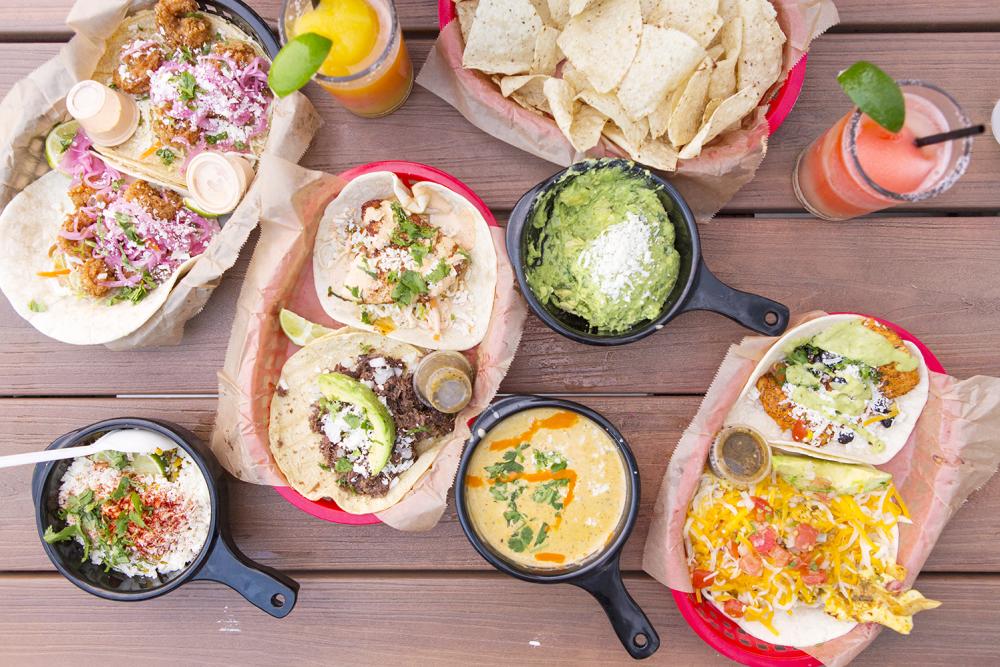 Torchy's Tacos. Credit Jane Ko, A Taste of Koko.
Most Iconic Austin Taco        
Torchy's. Austin may not have invented the taco, but we did invent the Trailer Park Taco — named for the kitschy cluster of food trucks in Bouldin where Torchy's became a local legend. Now, these piled-high pockets of fried chicken, green chiles, pico and cheese (best enjoyed "trashy" with queso instead of lettuce) can be found as far away as Denver, Colorado. One visit and you'll see why Torchy's is the poster child for Keeping Austin Weird.
Best Breakfast Taco
Veracruz All Natural. When it comes time for breakfast tacos, there's one word on everyone's lips: migas. At Veracruz All Natural, this heaven-sent combination of fluffy eggs, crispy tortilla strips, cheese and salsa has reached world-famous status, thanks to being named one of the "five best tacos in America" by the Food Network. Bonus: the Aguas Frescas are some of the tastiest in town.
Best Beginner Taco
El Primo. Austin's been known to go a little taco crazy: tater tot tacos, pad thai tacos, even gummy bear tacos (lookin' at you, Torchy's). But sometimes, simpler is better. Street taco staple El Primo sticks to the basics, making it a perfect first stop on your taco walkabout. Here, it's just well-cooked meats (like crispy pastor and spicy chorizo), a sprinkle of cilantro and onion, and however much hot sauce your taste buds can handle.

Most Photogenic Taco
Tacodeli. A handful of Tacodeli's specialties could easily qualify in other categories — to name a few, the Space Cowboy (vegetarian), the Mojo Fish (take a guess) and the steak-stuffed Cowboy for "most iconic." But put 'em all together and you've got a trayful of Instagram-ready yumminess. Add in the kaleidoscope of award-winning salsas, from the extra-spicy Salsa Habañero to the signature Salsa Doña, and you'll be lucky if you actually get a picture before digging in.

Best Late-Night Taco
Open 24 hours, La Mexicana Bakery is proudly run by the Becerra family. Build your own taco with ingredients that include cactus, chorizo, potatoes and eggs wrapped in daily made flour tortillas. Candy lovers will want to sample the pecan pralines flavored with vanilla and cinnamon.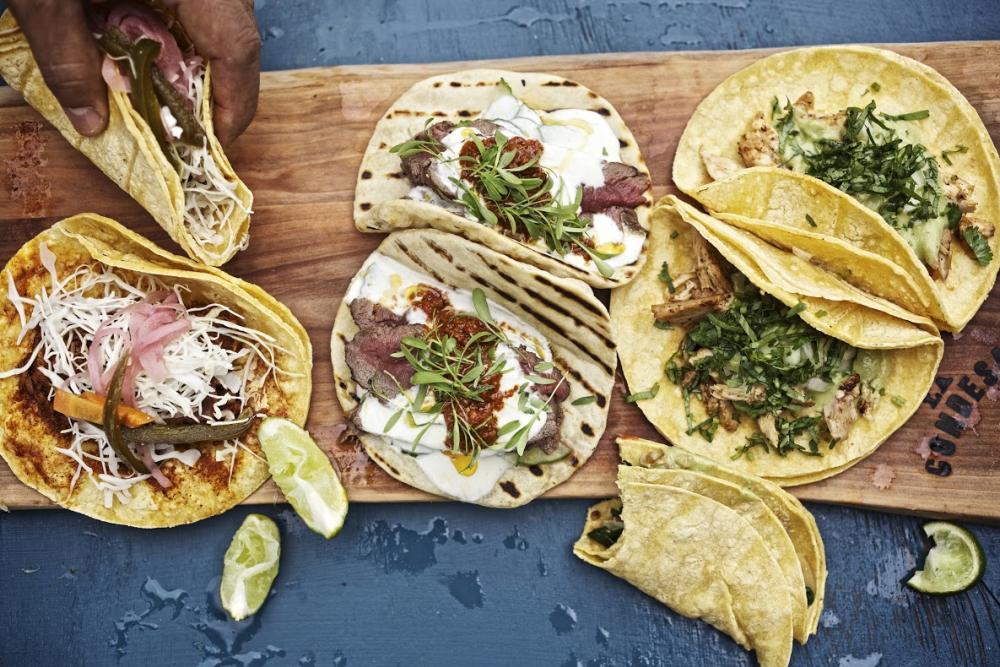 La Condesa. Credit Jody Horton.
Best Fish Taco
La Condesa. While it's really, really hard to settle on one fish taco to rule them all, La Condesa offers lots of pleasant surprises for pescatarians. Like a griddled Texas snapper taco, two tangy ceviches that earn raves (try the Acapulco) and a guac topped with jumbo lump crab. Fancy, but official.
Best Vegetarian Taco
El Chilito. PSA: the veggie tacos of Austin (and there are many) are not your garden-variety bean-and-cheese blah-fest. El Chilito, in particularly, knows how to let a vegetable work its special magic. Like the mushroom-filled Rajas Con Hongos or the Vegetal, stuffed with zucchini, yellow squash, corn, peppers, tomato, onion and serranos. So tasty you'll forget you're in meat country.
Best Hangover Taco
Tyson's. If there's one lesson that seasoned Austinites have learned from countless late nights two-stepping with Lone Stars and tequila chasers, it's that tacos are the only proven hangover cure. Tyson's has some of the best medicine in town, with morning-friendly tacos like the B is for Bacon and the Gingerbread. The only drawback? Your head may spin even more from all the options. 
Best Kid-Friendly Taco
Amaya's Taco Village. They say it takes a village to raise a family. We say it takes a village to feed a family. Not only does Amaya's Taco Village have a sprawling menu of breakfast items, combination plates and adult beverages for you, it has a kids-only menu with beef, chicken or carne guisada tacos, not to mention Fried Ice Cream for kids of every age.
Most Religious Taco Experience
Maria's Taco Xpress. We have just two words: gospel brunch. As eccentric as Austin itself, Maria's looks like a mix between a junkyard and an amusement park, and on Sundays, a church; from noon to 3 p.m., order some of Austin's favorite breakfast tacos and listen to the soulful sounds of live local gospel bands. It's enough to convert even the staunchest skeptic.
Best Taco for Tex-perts
Valentina's. When you've seen (and tasted) it all and want to take your taco relationship to the next level, make the trek to Valentina's, which has married the two most Texas foods of all: tacos and BBQ. This unassuming roadside stand (music to foodies' ears) is an absolute essential for meat lovers, with juicy brisket and smoked carnitas practically overflowing from the handmade flour tortillas. Finish it off with a Topo Chico, and you can practically call yourself a Texan.
Best Taco to Share
Fresa's. Dine under the majestic live oak trees at this stunning South First Street locale. Every taco on the menu deserved to be shared - or you can order one of the wood-grilled meals like the chimichurri skirt steak or fall-off-the-bone achiote & citrus chicken with tortillas and all the dressings to make it family-style.