Austin is famous for many fun (and funky) things — bluebonnets, breakfast tacos and continuous live music, just to name a few — but the bat (yes, you read that right) has become almost like a mascot to the city.
From late spring to early fall, Austin becomes home to the largest urban bat population in North America. So, it should come as no surprise that bat watching has become a bit of a pastime for tourists and locals alike. At sunset, get ready for an only-in-Austin-experience: getting a peek at these nocturnal residents as they fly out from underneath the famous Congress Avenue Bridge.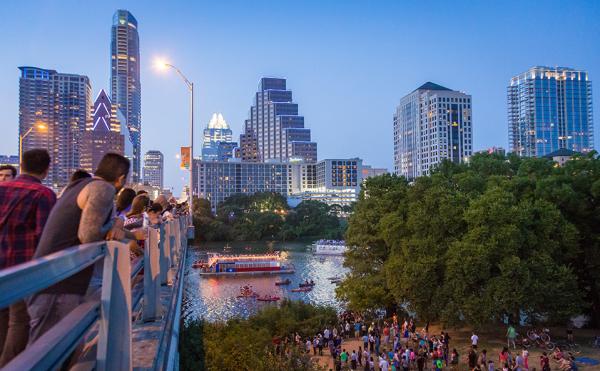 Crowds gather at sunset to wait for the bats. Credit Pierce Ingram.
The Congress Avenue Bridge was renovated in 1980, and while a smaller number of bats already occupied its underside, the addition of new expansion joints made for an ideal bat cove, attracting migrations by the thousands. See these gentle Mexican free-tailed bats for yourself from underneath "the bat bridge" at the grassy hill of Statesman Bat Observation Center. Or grab a spot among the crowds lining up along the bridge's sidewalk to marvel at the sight of a massive dark cloud of some 1.5 million bats as they pour out into the night sky.
Another option is to take your experience from the ground to the water with Lone Star Cruises or Capital Cruises, which will put you right in the midst of the action on Lady Bird Lake, providing unbeatable views of Austin's unofficial mascots. Live Love Paddle also offers nighttime kayak tours to watch the bats in action.
Because Austin loves its bats so much, an annual festival is held right on Congress Avenue Bridge in late August (which also happens to be peak migrating season), and it has become the biggest bat-viewing party each year. True to any celebration in Austin, Bat Fest touts a lineup of live music, local food and drink vendors, craft tents and a bat costume contest (naturally).
You haven't fully experienced the weirdness of Austin without watching the Congress Avenue bats, so take your pick on how you'll witness this thrilling phenomenon. We'd love to see what you discover, so be sure to share your bat pictures on Instagram or Twitter by using the hashtag #TrueAustin.