ZACH Theatre is a professional theatre company located across the shores of Lady Bird Lake and Zilker Park. The company is the oldest continuously active theatre company in Texas, and one of the ten oldest in the country.  Check out this Q&A with their Public Relations Manager Lauren Lovell.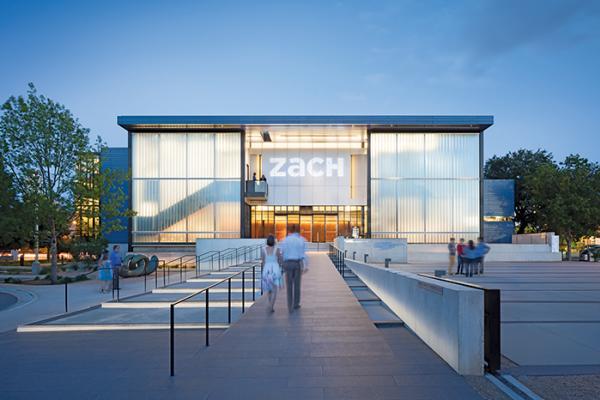 Tell us about an upcoming event at ZACH. Why is the event significant?
The one-woman Broadway hit ANN, the Ann Richards play, written by Emmy-winner and Tony Award®–nominee Holland Taylor will be on stage in the Topfer Theatre from April 6- May 15, 2016
Tough as nails. Funny as hell. Ann brings our brassy blue Governor Ann Richards back to vivid life in a tour-de-force performance direct from Broadway. Ann is an inspiring and hilarious new play that brings you face to face with a complex, colorful, and captivating character bigger than the state from which she hailed. This Texas-sized story is a perfect fit for ZACH's Karen Kuykendall Stage where you'll be treated to an up close and personal visit with one of the most unforgettable personalities in Texas politics. "I do not want my tombstone to read, 'She kept a really clean house.' I think I'd like them to remember me by saying, 'She opened government to everyone'."
How/where can visitors experience ZACH?
Tickets to mainstage performances at ZACH Theatre start at $25 and are available online at www.zachtheatre.org, by phone at 512-476-0541 ext. 1, or in person at the ZACH Theatre Box Office, in the Topfer Theatre, 202 South Lamar Blvd. (corner of Riverside Drive and South Lamar Blvd.) Monday through Saturday, noon – 7 pm.  ZACH Theatre is wheelchair accessible. Discounts are available for groups of 8 or more. Student Rush Tickets are $18 one hour before show time (with valid ID).  ZACH Theatre also provides a sign-interpreted performance for each of our main stage shows.
Where are some of your favorite places to experience art & culture in Austin?
Our South Lamar neighborhood is a great slice of Austin's culture. You can jog around or paddle board in Lady Bird Lake, swim in Barton Springs in Zilker Park, enjoy live music at one of the many venues on Barton Springs Road, shop on South Congress and watch the bats emerge from beneath the bridge.
What are some your favorite places to eat in town before or after a show at ZACH? 
South Lamar, Downtown, Barton Springs and South Congress are teaming with great places to dine. Flour and Vine is a lovely restaurant just a short walk from the theatre.  
Any other tips for first-time Austin visitors?
Don't miss out on the Tex-Mex and BBQ!
What's in store for the rest of 2015 and 2016? What significant programming should we keep an eye out for?
TEXAS PREMIERE!
TRIBES
January 27- February 28, 2016
As the only deaf member of his sharp-tongued British family, sweet-natured Billy has spent much of his life feeling out of place.  But when he meets a young woman on the brink of deafness, he finds out what it means to belong for the first time.  This provocative and touching new play is as much about the tyranny of language, as it is about the challenge of not being able to hear it. 
One Man, Two Guvnors 
June 1-26, 2016
It's the Swingin' Sixties and the easily-confused Francis Henshall attempts to keep his two employers - local gangster Roscoe Crabbe and upper class criminal Stanley Stubbers - from meeting and learning of his dual-employment.  This Tony-Award winning comedy is a modern take on Goldoni's classic play A Servant of Two Masters. It's a laugh-out-loud satirical romp of slapstick and one-liners, with a live Beatles-era Liverpool band that keeps the party rockin'!
Buyer and Cellar
June 8- August 14, 2016
Alex, a struggling Hollywood actor, takes an outrageous job working in Streisand's Malibu Barbra dream house in an underground mall housing her showbiz collections. One surprising day, the FUNNY GIRL herself comes downstairs to "shop" and, for Alex, icons who need people are the luckiest people in the world. But will this desperate actor ever be invited upstairs to Babs' palatial estate? This giddily hilarious one-man play will have you doubled-over laughing, proclaiming "it's like butta!"
Disney and Cameron Mackintosh's
MARY POPPINS
July 20- September 4, 2016
Everyone's favorite, practically perfect nanny, Mary Poppins, soars into the Topfer Theatre as ZACH's 2016 summer musical.  Drawn from the groundbreaking 1964 Disney film and the brilliant series of books, this delightful family musical features the unforgettable songs  "A Spoonful of Sugar" and "Chim Chim Cher-ee."  Dave Steakley and the creative team who brought you The Who's Tommy and A Christmas Carol will reinvent this beloved musical for a sublimely "Supercalifragilisticexpialidocious" new production – jam-packed with unforgettable theatrical magic!
On the ZACH Theatre Family Series we have:
Tomás and the Library Lady
January 15- February 14, 2016
Tomás, the young son of migrant farm workers, spends the summer with his family following the crops north from Texas to Iowa, passing long days in the fields listening to his grandfather tell stories and practicing English translations. A chance encounter brings him to the local Carnegie Library where he meets a "library lady" who recognizes his thirst for knowledge and encourages him to read. Based on the true story of the Mexican-American author and educator Tomás Rivera, this inspirational story suggests what reading — and self-respect — can make possible.
James and the Giant Peach
February 19- April 10, 2016
When James is sent by his conniving aunts to chop down their old fruit tree, he discovers a magic potion which results in a tremendous peach - and launches a journey of enormous proportions. Suddenly, James finds himself in the center of the gigantic peach among human-sized insects with equally over sized personalities, but after it falls from the tree and rolls into the ocean, the group faces hunger, sharks and plenty of disagreements. Thanks to James' quick wit and creative thinking, the residents learn to live and work together in this charming family musical.
Alice in Wonderland
March 4-May 14, 2016
GO! Journey down the rabbit hole through theatres, inside and outside, from front entrances to back passages in this immersive campus-wide adventure of Alice in Wonderland. You'll meet the multitude of Lewis Carroll's beloved characters, from the flighty White Rabbit to the stormy Red Queen. You might even be invited to tea! A new adaptation by Underbelly in partnership with ZACH's Theatre for Families.
Photo by Andrew Pogue