HOLIDAY PROMOTIONS: AUSTIN HOTEL DEALS & MORE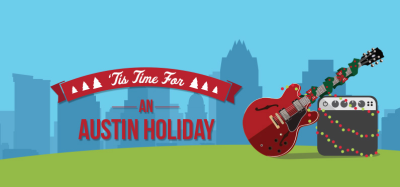 Spending the holidays in Austin? Get ready for a Yuletide you'll never forget. From live concert venues to one-of-a-kind shopping to innovative dining, this is the place for a celebration like no other.
Make your visit even better with these Austin hotel deals, exclusive discounts on exciting activities around the city and a packed event schedule full of fun happenings.
Hot Holiday Deals
Save money on your holiday trip with Austin hotel deals, discounts on activities and more with these exclusive offers. Wish you could save money on food and drinks? Take advantage of specials on select wine cases by Max's Wine Dive, enjoy free table-side guacamole at Michelada's Café y Cantina or take 20 percent off an iced mocha at Holy Cacao.
Want to take advantage of the comfortable Austin winter weather? Get half-off boating rentals from Lakeway & Riviera marinas. Looking for fun things to do in Austin? Take 10 percent off winery tours at Texas Two Step Wine Tours, save 20 percent on Jazz Tap Nutcracker Tickets, and go on a free holiday-themed tour of the capitol. Get all of these deals and coupons.
Festive Events
Whether you're wondering what to do in Austin with kids or want to find the best girls' weekend getaways-one of these holiday events is sure to suit your style. Families in search of Christmas wonder will find what they're looking for at A Charlie Brown Christmas and the Annual Lights Spectacular. Friends looking for a good time need to look no further than Elf: The Musical and the Armadillo Christmas Bazaar. The sophisticated set will love the Four Season's Christmas Dinner and a trip along the Holiday Wine Trail. Couples looking for romance will find it ice skating at Lights & Ice and watching a performance of This Wonderful Life. Find your own adventure with this holiday lineup of things to do in Austin.
Holiday Hotel Packages
Book a room with one of these special holiday package deals, and get a few little extras to make your hotel stay feel extra special, with perks like free breakfast, waived valet parking fees, complimentary hot cocoa or even late checkout. Check out all the deals, and pick the one with the best perks for your upcoming holiday plans.