Visit Austin: An Extension of Your Staff
Deirdre Clemmons, with Airports Council International – North America (ACI-NA) is one experienced meeting planner! Having worked as both a corporate and association planner, Deirdre started her planning career with Building Owners and Managers Association (BOMA) as a meetings assistant, where she worked her way up to meetings manager. Deirdre has now been at ACI-NA for over eight years and is the Vice President, Meetings, Education and Partnerships.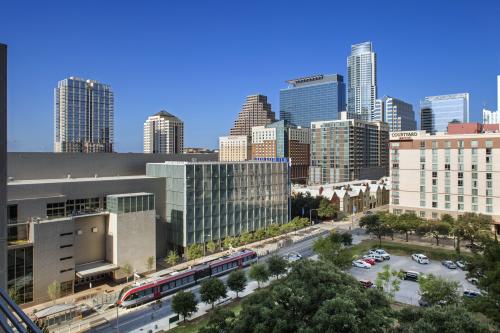 Destination Marketing Association International (DMAI) sat down with Deirdre to find out how she utilizes CVBs to enhance the overall meeting experience for attendees. 
 
Suzzanne: What's the hardest/most challenging part of your job? What do you most enjoy?  
Deirdre: I would say that always striving to meet attendee expectations is one of the more challenging parts of my job. With everything from Food Network to the Travel Channel, meeting attendees are more savvy travelers than ever before. They attend meetings expecting a great meeting experience – and I strive to achieve that. 

One of the things I enjoy most about my job is the people that I work with on a daily basis. We have a great team that works hard to put together 20-25 meetings per year, and our goal is exceed attendee expectations every time. 

Outside the industry, what is your dream job?
I always thought I'd be the next Barbara Walters! I was a communications major in college and I thought I'd go into broadcasting. But you could say that I found my true calling planning meetings. I couldn't be happier. 

How did you first become aware of the services CVBs provided?
I think I first became aware of CVBs is meeting CVB professionals at industry events. I think there is a bit of a misconception about what they do. Some think that CVBs send leads to all of the hotels in their destination. But that isn't true. The Austin CVB really listens to what planners are interested in and the services they should provide through their Advisory Board. They are always striving to meet and exceed our expectations. 

What do you most value about your relationship with Visit Austin/other CVBs in general?
What I value most about the relationship is that they really become an extension of our staff. With all of the services they provide, we couldn't afford to do it all on our own. 

Thinking about Austin, what are some of the unique attributes that the destination was able to bring to your meeting?
What I love about holding a meeting in Austin is that it's all walkable. There are so many food, entertainment and dining options for attendees that are within walking distance of our meeting. Additionally, Austin has great industry resources. If I need speakers, I call upon the university or tech cluster in Austin. It also has an outstanding airport that has really helped to promote our meetings. 

How would you describe the relationship you have with the Visit Austin team? What would you compare it to?
I would say it's like winning the partnership lottery! 

Which specific services to do you rely on?
One thing I really rely on is their marketing assistance. They offer everything, including a welcome program, images, social media support, microsite, and more. Additionally, I rely on their destination knowledge and their newsletters to keep me up to date on what's happening in the destination. 

What do you think is unique about the value CVBs provide compared to other planning partners you might use?
They have a vested interested in the success of your program. They have experts out in the market that know their destination better than anyone. 

What would you like other planners to know about using a CVB?
CVBs have evolved so much in the past five years. As the industry has changed, so have CVBs. They do a great job of keeping up with what the market is looking for. Don't be afraid to use them. They know what's happening in their destination and they will work hard to make sure your meeting is a success.