Austin Companies Doing Good
In challenging times, it helps to have a hero. And in Austin, there are many. From businesses nimbly altering their missions to help support the community to a certain beloved celebrity (alright, alright, alright) offering uplifting messages of hope, there is plenty of good going on around Austin. Here's a look at some of our helping hands who are making a difference during the life-changing pandemic.
Dell Medical School at the University of Texas at Austin has created the COVID-19 ATX Exchange, a platform that brings together experts, innovators and leaders to devise community solutions to critical COVID-19 needs. The COVID-19 ATX Exchange vets the need, then develops a creative approach to solve the issue, sourcing everything from donated raw materials to lab space with the help of local partners. For example, Austin artificial intelligence company SparkCognition is making face shields and prototype ventilators using its industrial 3D printers.
Several local distilleries like Still Austin have pivoted from crafting spirits to producing in-demand hand sanitizer. Deep Eddy Vodka is making hand sanitizer for first responders and local communities, and has donated more than 36,000 Deep Eddy bandanas to be turned into masks for essential workers. Deep Eddy Vodka's owner, Heaven Hill Brands, has created a fund to support causes that include the Austin Community Foundation's SXSW-focused Stand With Austin. Treaty Oak Distilling is busy producing hand sanitizer for both personal and industrial use, in sizes that range from two ounces to 55-gallon drums.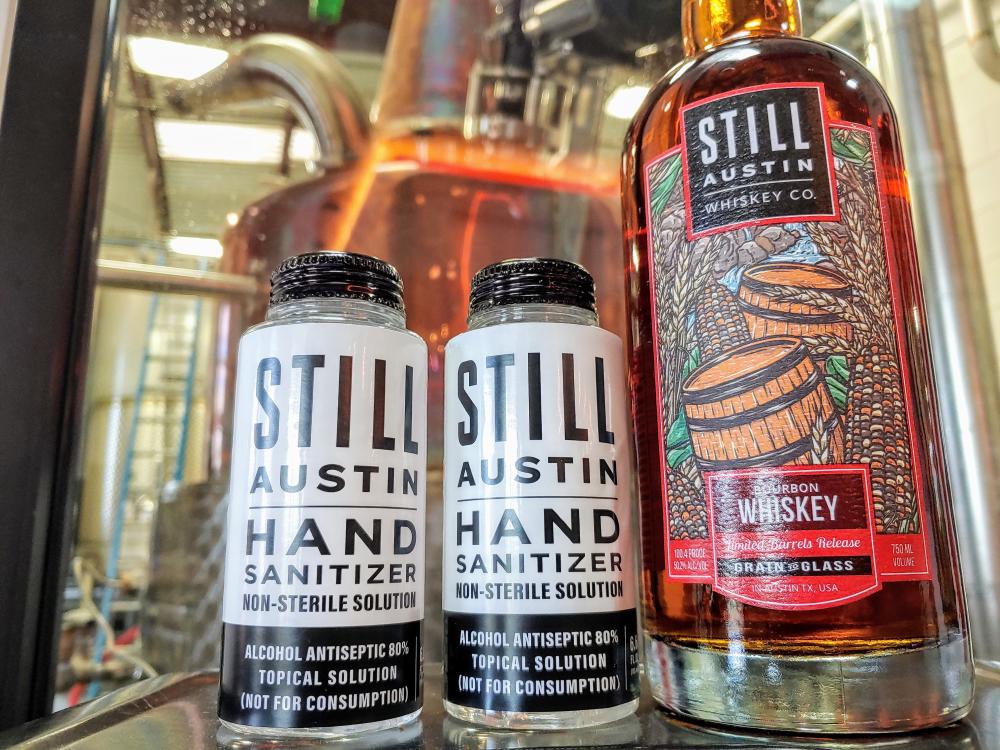 Hand Sanitizer. Courtesy of Still Austin Whiskey.
Tito's Handmade Vodka is churning out 60 tons of hand sanitizer per week, donating it to critical front line organizations in Austin and throughout the country. Its philanthropic arm, Love, Tito's, has given Houston's Baylor College of Medicine a $1 million grant to accelerate research on a COVID-19 vaccine. It's also funding a two-year, $2.5 million grant for the University of Texas at Austin's COVID-19 Modeling Consortium, which is focused on improving preparedness for future pandemic threats. In addition, Tito's has committed more than $2 million in support of service industry workers, benefiting organizations that include Children of Restaurant Employees (CORE) and Southern Smoke, a crisis relief organization for people in the food and beverage industry.
Academy Award-winning actor and beloved Austin resident Matthew McConaughey has put his big ol' Texas heart into uplifting people around the world. McConaughey is continuously spreading positive vibes, whether through his inspirational Instagram video messages, giving a heartfelt commencement speech to the graduating class of 2020 and urging students of the University of Texas at Austin (where he's a part-time professor) to keep their "horns up," producing numerous pandemic PSAs or virtually calling a bingo game for nursing home residents in nearby Round Rock.
Austin's own Kendra Scott is donating 50% of proceeds from sales of its Everlyne Bracelets to Feeding America's COVID-19 Response Fund, which supports food banks around the country. So far, Kendra Scott has donated 500,000 meals as part of the campaign. The company is also turning custom Kendra Scott bandanas into masks, with teams in Austin, Lubbock and New Orleans distributing them to local hospitals and clinics.