AUSTIN MAKES HEADLINES
Austin will Host 2017 PCMA Meeting
The Austin Convention and Visitor's Bureau (ACVB) is proud to announce that it will host the Professional Convention Management Association's (PCMA) Convening Leaders annual meeting January 8-11, 2017.
"We are absolutely thrilled to host for the first time in Austin, arguably the most important event in our industry," said Bob Lander, President and CEO of the ACVB. "We have been working on securing this bid for well over three years, and look forward to showcasing Austin's creative, collaborative, and innovative culture to the industry's leading meeting professionals and attendees from around the world."
The 2017 meeting will be held at the downtown Austin Convention Center and will attract approximately 4,000 attendees, generating an immediate economic return of an estimated $11 million. The overall economic impact of this group's meetings is usually felt for years because planners often return to the area for their own meetings.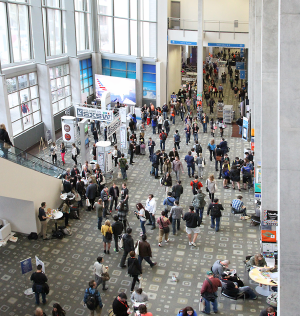 Austin Ranks among Safest Cities
In line with our unwavering Texas hospitality, Austin was recently named among the top cities in the nation for safety. It's no surprise - after all, we have fine tuned the art of hosting thousands of guests each year for popular conferences and festivals like SXSW and Austin City Limits, making safety and organization paramount.

According to the study that analyzes FBI crime data, Austin and nearby Round Rock are two of the safest cities in the United States. Austin's crime rate was the fourth lowest in the nation among cities with more than 500,000 people, according to the study. Round Rock ranked 16th safest in the nation of cities with between 100,000 and 500,000 people. Click here for more study findings.
Austin to Gain 2,000+ Hotel Rooms
Austin continues to solidify its position as a premier meeting and convention host city with the addition of more than 2,000 new hotel rooms.
The 1,012-room JW Marriott boosted downtown Austin's total room count to more than 7,000 when it opened in early 2015. The JW Marriott will be Austin's largest hotel, featuring 110,500 square feet of flexible meeting space within walking distance of the Convention Center, restaurants and music venues.
The new Fairmont Austin at Red River and East Cesar Chavez streets will add 1,000 rooms to Austin. The Westin Austin Downtown will bring 326 rooms to the city's center. Just one and a half blocks from the Convention Center, the White Lodging-managed Westin will boast a full-service restaurant, fitness center and 13,500 square feet of state-of-the-art meeting and banquet space.
Smaller-scale projects in the works include the 160-room boutique Hotel ZaZa to open in 2019 and Hotel Van Zandt breaking ground on 327 rooms in June.
Austin Delivers
With our new Circuit of the Americas racing facility, renowned non-stop entertainment, head-turning restaurants, and our outdoorsy and naturally green ways, meeting professionals can't stop rubbing elbows with Austin. Read the latest from Convention South.