HOW GROUPS CAN DO COMMUNITY OUTREACH DURING CONVENTIONS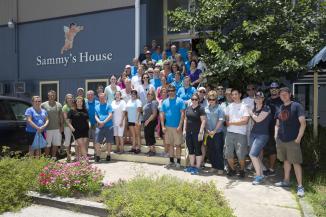 When a convention or meeting comes to town, the local community is happy to accommodate attendees, exhibitors and organizers. For many groups, though, arranging a community outreach project will not only familiarize the organization with local businesses, but will also spread the message of the convention or meeting.
Some exhibitions in Austin have decided to try a community outreach effort, and have found great success and satisfaction through the initiatives.
The Healthcare Convention & Exhibitors Association is dedicated to improving the effectiveness of conventions and exhibitions for the healthcare industry. This includes innovative ways to market healthcare, promote events and get people out in the community.
Recently, at the HCEA Annual Meeting in Austin, the group set up a community outreach activity that took place the day before the meeting. Attendees were given the chance to support Sammy's House, a non-profit organization that provides services for children who are medically fragile and/or developmentally delayed.
The group recruited 56 volunteers who worked for at least five hours on landscaping the playground, which included spreading newly delivered sand and mulch around the area; refinishing floors in the facility; building cabinets; and cleaning all the carpets and rugs. The volunteers also managed to complete 27 loads of laundry at a local laundromat for Sammy's House. Talk about efficient. On top of all that, HCEA donated over $8,000 to the non-profit so it can continue to offer an inclusive environment where children can safely grow and learn.
Other groups coming to Austin can also make a contribution to the local community through similar outreach initiatives with the help of the Austin Convention and Visitors Bureau (ACVB). The ACVB has strong relationships with the Austin Convention Center and the surrounding community, so our professional staff can connect convention, meeting and event planners with organizations that match their passions, interests and goals.
Austin makes it easy for convention groups to do something different and reach out to the community. For more information, contact the Austin Convention and Visitors Bureau.