Coyote Ugly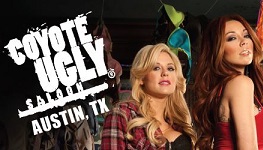 As the story goes, "The Coyote Ugly legend began with a girl, a dream, and a little bit of Wild Turkey." New York native Liliana Lovell started the original Coyote Ugly bar more than two decades ago. The first Coyote Ugly Saloon officially opened its doors in New York's East Village on Jan. 27, 1993. A slew of other franchise locations followed shortly after the movie about the bar, also dubbed "Coyote Ugly," premiered in 2000. The movie grossed $113.9 million worldwide and brought many customers through the doors, hungry to see the Coyotes who work to keep everyone's drinks full and eyes entertained.
The Austin location opened in 2004. Like the other Coyote Ugly bars around the country and world - there are 14 locations in the United States, two in Germany, five in Russia, one in Romania and one in the Ukraine - you'll find attractive female bartenders and lots of bar-top dancing at each establishment.
"It's a great place to bring groups because we cater to all types of clients," says Tommy Buchheit, the general manager at the always-festive Austin location at 501A East Sixth Street. "Whether you want to sit back and watch a game or challenge one of the bartenders to a game or sing-along to songs you haven't heard in years, there's plenty of fun to be had." 
Ladies, especially, are encouraged to "get up on the bar and dance with our Coyotes," Buchheit said.
Indeed it's the "Coyotes" who differentiate this bar.
"The great thing about Coyote Ugly is the interaction you get with the bartenders," Buchheit said. "We are not your typical bar where the only involvement with the bartender you have is ordering drinks. The Coyotes make sure you feel welcome and have fun 365 days a year - they always make it a party."
The Austin location offers a wide selection of local draft beers and a fully stocked bar. Along with weeknight happy hour from 5 to 7 p.m. featuring $2 Miller Lights and Coors Lights and $1 well drinks, there are additional fun, themed drink specials every night of the week, including options like "Mexican Mondays" with $3 Corona and Dos Equis and $4 Cuervo tequila; "Texas Tuesdays with $2 Shiner Bock beers and $3 Deep Eddies; and White Trash Wednesdays with $3 draft beers and $3 Fireball. Be sure to check the website, coyoteuglysaloon.com/Austin, for more information or follow Coyote Ugly on Facebook.