HOSTING DYNAMIC EVENTS AT UNIVERSITY OF TEXAS STADIUM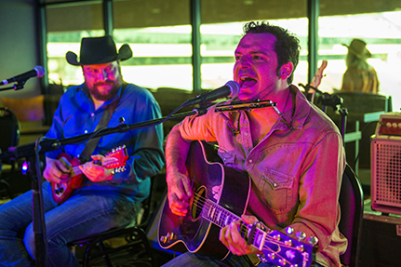 The Longhorn legacy is prevalent in Austin, and there is no better place to experience it than at Darrell K. Royal-Texas Memorial Stadium at the University of Texas. Home to Longhorn football, the stadium serves as a dynamic space for meetings and events, and gives attendees a taste of Austin's team spirit.
Recently, the Austin CVB held its annual local client appreciation event at the stadium to thank clients for their continued support and business. Attendees were encouraged to wear the university team colors and pose in front of Bevo, the team's real life Texas longhorn mascot, before heading inside for more festivities.
The stadium is incredibly versatile, offering a number of spaces to accommodate different meeting sizes and themes. The Austin CVB event was held in the Touchdown Club, located on the 8th floor in the Red McCombs Red Zone. Guests enjoyed exceptional views of the Joe Jamail Field and downtown Austin, and the sports tradition was honored with a tailgate theme including towers of football helmets, baseball mitts, basketballs and footballs, all stamped with the Longhorn logo.
DKR stadium provides a wonderful backdrop for a unique event. Nearly every meeting space offers spectacular views of the field, the campus and the city, and guests can even venture outside and socialize in the stands. An experience you can only get in Austin. Apart from the views, the stadium delivers an array of delicious food options and presents planners with plenty of fun creative opportunities, from dancing, live music and themed decorations.
The Austin CVB thanks Merrick Ales Photography for capturing all the fun, the University of Texas for hosting, Sodexo for providing food and drinks for the evening, Reckless Kelly for performing and On the Flipside for their entertaining photo booths.
For more information on holding a meeting, conference or event at the stadium, please contact the Austin CVB sales team.