AUSTIN HELICOPTER TOURS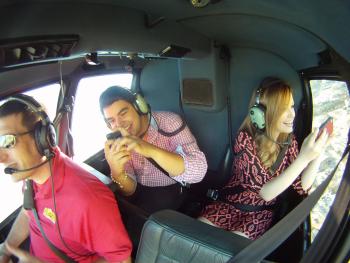 Book a private Austin Helicopter Tours flight and give your attendees an experience they will never forget. These exciting, private flights effortlessly mix business and pleasure and give passengers spectacular views of Austin's scintillating cityscape and the nearby Texas Hill Country. From exciting aerial tours of Austin to seamless transportation for executives, Austin Helicopter Tours offers a variety of services for you to please and impress your event attendees.
Give your clients an adventure they'll be talking about for years to come with one of our scenic tours. Choose from six tour options or three adventure charter flights, such as the Salt Lick Charter, where passengers can experience the beautiful landmarks and landscapes of Central and South Texas, and then touch down for a lip-smacking good lunch at the original The Salt Lick Bar-B-Que, a famous Texas barbecue joint. Have something you'd love your clients to see or experience? Create your own customized charter flight to suit your needs.
For door-to-door air taxi service, our charter flights are ideal for a range of clients: oil and gas executives traveling to and from Texas well sites, government officials monitoring forest areas, film crews traveling to or from shoot locations and corporate executives requiring convenient, expedient transportation. Each of our state-of-the-art charter aircraft comes with comfort amenities such as air conditioning, GPS navigation and intercom systems with headsets for passenger communication. Our pilots and staff are experienced and professional, and all customer routes will remain confidential.
When you're flying with Austin Helicopter Tours, know that safety is our number one priority. Our impeccably maintained helicopters and seasoned FAA-certified pilots provide an unparalleled experience that inspires confidence.
We offer two aircraft options for helicopter service: the Robinson R44, which seats up to three passengers, and the newest addition to our fleet, the Bell Long Ranger, which seats up to six passengers. If you're interested in booking a helicopter charter for your next special event, business meeting or private dinner, please contact alamoheli@gmail.com or call 866-205-7084.