Infuse Austin Arts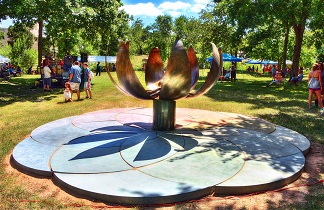 Incorporating culture into your meeting is easy in an art-centric town like Austin.
Arrange an after-meeting happy hour at a bar near the Congress Avenue Bridge, like La Condesa or TRIO Restaurant in the Four Seasons Hotel Austin. Sip on a cocktail and savor a few snacks either before or after watching the bats take flight at dusk.
Plan an afternoon cultural outing in Central Austin where guests can explore the University of Texas at Austin campus, take in a lecture at LBJ Presidential Library, join a free tour of the state capitol or check out the fantastic artwork on display at the Blanton Museum of Art, one of the country's top university art museums.
For an experience your attendees are sure to remember, arrange a visit to the Museum of the Weird, a uniquely Austin experience with an exhibit dedicated to Texas bigfoot and other kitschy-yet-fun displays.
Infuse Austin arts and culture into your meeting by catching some great local theater. If the schedule allows, consider taking in a show at Salvage Vanguard Theater, known for its cutting-edge performances. Likewise, Hyde Park Theatre, serves up contemporary plays that both challenge and entertain.
The Strange Pilgrims exhibit, a mixed-media installation organized by The Contemporary Austin, is currently on display at the Jones Center, Laguna Gloria and the Visual Arts Center at The University of Texas at Austin. Taking its title from a collection of a dozen short stories of the same name by the writer Gabriel García Márquez, Strange Pilgrims is The Contemporary Austin's first large-scale, thematic group exhibition. It's on exhibit through Jan. 24, 2016.
The Fusebox Festival, set for April 6-10, 2016, highlights national and international adventurous works of art in a variety of mediums.
Only-in-Austin festival options include the Keep Austin Weird Festival in June, the Hot Sauce Festival in August and the Bacon & Beer Festival coming in January.
Skip the elevator music that typically plays in the background during the breaks at your meeting and instead hire an Austin-based musician to entertain guests while they grab a cup of coffee or a mid-afternoon snack. The Austin Music Office keeps tabs on more than 1,900 musicians and can help you pick the perfect person to set the tone.
And finally, send your guests home with a gift they'll remember by heading to Hatbox: A Modern Haberdashery for a custom cowboy hat fitting - and outfitting - session.