PARTYING WITH A PURPOSE AT PCMA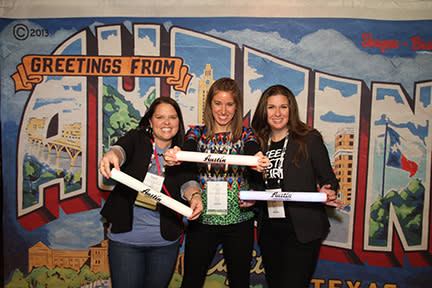 Austin knows how to throw a party, and when we're on the road, we're sure to bring that live-music-loving, good-time-having vibe with us. Austin CVB was proud to team up with the House of Blues Chicago as the Proud Music Partner of PCMA Education Foundation's Party with a Purpose at the Professional Convention Management Association (PCMA) annual meeting, which took place in Chicago, January 11-14.
Tunes by the Nightowls, a 10-piece soul band from Austin, had the meetings industry letting loose on the dance floor while raising money for the PCMA Education Foundation, PCMA's Network For the Needy and Future Founders, a local Chicago organization.
 
Austin CVB served as the official music partner for Convening Leaders Party With a Purpose, as well as the PCMA 20 in Their Twenties initiative.
PCMA is the leading organization for meeting and event professionals. Workshops, speakers, educational programs and networking events fill the four-day conference.
Austin looks forward to hosting PCMA's annual event in 2017.  
Where to Find ACVB Next:
January 25-27
Newport Beach, CA 
Collinson's Diversity Marketplace
January 29
Austin, TX
Southwest Showcase
March 3
New York City, NY
NYSAE Meet NY
March 25
Washington, DC 
DMAI - Destinations Showcase
April 8
Washington, DC
PCMA Foundation Dinner
April 9
Washington, DC
ASAE's Springtime Expo
Photo courtesy Larry Engelhart of Deja Views