RAINEY STREET: A UNIQUE SPOT FOR YOUR NEXT EVENT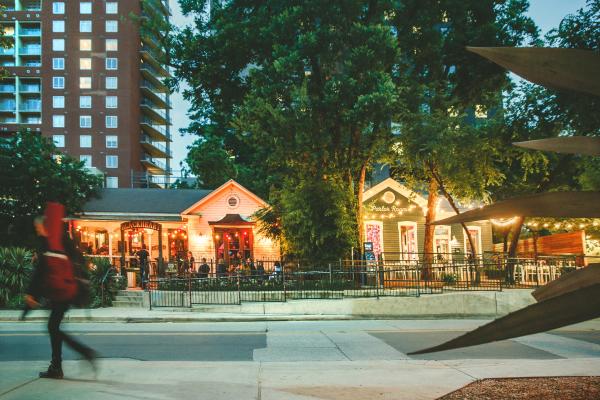 Credit Geoff Duncan. 
The historic stretch of road near downtown Austin known as Rainey Street has emerged in recent years as one of the newest hot spots in the city. Once a collection of residential bungalow homes close to the banks of Lady Bird Lake, Rainey is now the site of many intriguing bars and eateries that have repurposed the old houses for business. It's here where you'll find a number of unique venues for off-site events and meetings.
Banger's Sausage House & Beer Garden offers planners plenty of space inside as well as outside, thanks to its large outdoor patio. The specialty here is sausage and bangers, and with a dynamic menu that changes seasonally, there is always something for every taste. The venue also hosts a number of live music events, making it a great spot for parties and meetings.
Another great option is Clive Bar, a welcoming bar that opens into a great back patio with plenty of seating. Lucille Patio Lounge features two full-service bars, one inside and one out, and the large patio offers guests classic games, such as a putting green and bean-bag toss.
Food trucks are also a prominent feature of Rainey Street. On the south end of the road, just across from Banger's, there is a food truck park that features several different local food trucks serving up unique cuisines. This makes for a great casual spot to host a meeting or business lunch. Art of Tacos and Masala Dhaba share a space next to Half Step Bar, and the Little Lucy's trailer in the bar's front yard serves up tasty donuts late into the night.
G'raj Mahal, located on Rainey Street, started as a food truck but now calls this brick and mortar restaurant and lively patio home. Most of the seating is outside, with a small amount of seats inside, along with a wine and beer bar, and catering for parties is available.
For something completely different, host your attendees at The Container Bar, a venue constructed from seven different "up-cycled" shipping containers. The containers are arranged to create an 8,000-square-foot space with indoor areas, an outdoor bar and several spacious balconies. Each container is fitted with different interior finishing, giving each one a distinct atmosphere.
Choose from any of these venues and many others on Rainey Street for a truly unique meeting, dinner party or happy hour event. Call on one of our experts to start planning your Austin meeting.