About the Work
Texas-raised artist Sadé Lawson got her start in watercolors and acrylics before evolving into mural art in 2018. Her works focus on the power of feminine energy, confidence, emotions and experience with mental illness and prominently feature the feminine form and dreamy landscapes in bright, vivid color. Her recent commission for Downtown Austin Alliance Foundation's "Writing on the Walls" series, titled "It's Okay to Not Be Okay," can be seen from the northbound lanes of South Lamar, just before crossing under the Amtrak rail lines. The theme of the commission was "women's empowerment," and Lawson recently shared her inspiration for the piece, which depicts a woman experiencing three emotional states in three different colors.
"I went with the topic of women being empowered by all our emotions, not just those expected of us. I show this by painting the same figure expressing different emotions, connected with its emotive color; she is also surrounded by dragonflies and lotus flowers that have great symbology in being resilient in the toughest of times. My main message is that it truly is okay to not be okay, we are still empowered by the entirety of who we are good and bad."
The piece transposes the complexity of one's emotional experience while portraying a uniquely feminine story of strength, and invites viewers to consider how we express our own feelings and how that might differ from those around us.
As one of the newer artists in Austin's street art scene, Lawson aims to inspire others with her work, while trying to remain open to as many opportunities in as many areas of town as possible. "When it is the right fit, you can potentially help any part of the city," she says. "There is a diverse, eclectic group of artists [in Austin]. I hope to see even more artists of color get big opportunities here in the future."
She recommends that visitors experience a little bit of each area of town in order to get a true sense of Austin's street art scene, "Just be open, present and be observant to your surroundings. You may stumble upon a little pocket of work when you least expect it."
Find her around town at Zilker Park, visiting local pop-up shops and art shows (she recommends Art Island's virtual parties for those staying at home), or exploring museums like Mexic-Arte, the Blanton and Contemporary Austin to get inspired for her next mural.
Make time to go see the mural in downtown Austin, near 261 N. Lamar Blvd.
About The Artist
Sadé Lawson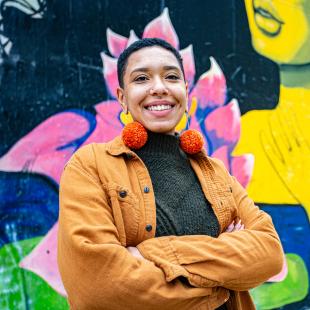 Texas-raised artist Sadé Lawson has been creating art since she was young but started focusing with watercolors in 2014 and progressed to acrylics in 2015. Her introduction to making street art came when she was asked to paint at an event in 2018, and has since created works at locations around Austin. She touches on topics such as the power of feminine energy, confidence and nature to mental illness and how art can be a way to process the array of emotions that we can experience because of that. The use of the female form, dreamy landscapes and a variety of bright colors aim to elevate moods and inspire introspection to not only how we express feelings and ourselves but also how others around us do as well. Whimsical portraiture, vivid colors, landscapes, and various objects are used to tell a feminine story of strength while dealing with the highs and lows of life. She creates to live her truth and share her own struggles and to inspire others to live their truths.
Sadé has been a muralist and live painter since 2018 with works at Try Hard Coffee Roasters, Facebook Headquarters Downtown, Deloitte, Luster Pearl East, Cosmic Coffee and Infinite Monkey Theorem in Austin. Sadé is a self-taught artist currently based out of Austin, TX.
Check out more of Sadé Lawson's work online at www.sadelawsonstudio.com or on Instagram at @coslawson.