About the Work
September 2021 Update: Never Forget is no longer on display at Lustre Pearl East
If you explore Austin for a couple of days, you're almost certain to come across one of Zuzu's murals. Originating from San Diego, California, she is a self-taught muralist with a vibrant personality (to match her pink locks) that shines through her work.
Her mural titled "Never Forget" at East Austin was originally painted at bar Lustre Pearl East (no longer on display). She told us that the piece, inscribed with the words "All We Have is Now" was one that she held close to her heart. Created for a SprATX event in 2019, the mural was dedicated to a close friend of Zuzu's who had recently passed away. "This mural was a means of healing for me when experiencing the loss of my friend. It serves to inspire others to stay present and live in the now, in Carter's memory. The message is clear and nothing we all haven't heard before, but I hope that it reminds the living of how precious life is and to enjoy every moment," she said.
The mural invited viewers to take control of their destinies and confront their surroundings in order to live in the present. And it's this kind of presence and positive outlook that shines brightly through her work, both on and off the street.
Zuzu was 14 years old when she first fell in love with graffiti and street art. "I remember watching a boy sketch a graffiti piece next to me in math class. I was enamored. The movement, the style and the process were all fascinating to me. I spent the following years photographing street art and graffiti, observing other artists and learning about the artform."
After picking up a can in 2008, she was hooked. She graduated from the University of Texas at Austin with an advertising degree, and worked the typical 9-5 for a time before transitioning into a full-time visual artist and muralist.
"I believe that being active in the Austin mural scene means getting out into the streets, attending art shows, collaborating with other artists, and supporting fellow creatives. It's about putting in the work. I'm always creating, painting, networking and building my business," Zuzu said.
"For me personally, it's important that I not only continually create my own artwork, but that I also do my part to inspire and support other emerging and established artists to pursue their art careers and dreams. This mindset and practice has allowed me to work with many brilliant artists, organizations and businesses in the city. Throughout the years I've helped foster special connections with fellow local artists and community members."
She invites visitors to experience Austin's mural scene and to find magic all over the city, "My advice is to cruise around the city and see what you stumble upon. Hop in a car with your friends, rent a bicycle or walk around downtown. There's art to be seen everywhere in Austin."
As a champion of the city's art scene, she believes that each neighborhood has a story to share through it's street art. "The mural scene here in ATX is one of the highlights of the city. Art fuels the soul and brings people together. Public art helps to cultivate the vibe of a neighborhood, environment, and the city as a whole. You could spend days experiencing the murals around the city," she says.
As for recommendations, she tells us that the new location of Hope Outdoor Gallery (opening Summer 2021) will be the go-to place to experience murals and witness live art. But for now, catch her around town at Something Cool Studios, Vandals Graffiti Supply or elsewhere in East Austin getting inspired for her next piece.
Never Forget is no longer on display - be sure to check out more of Zuzu's work at ihavepinkhair.com
About The Artist
Zuzu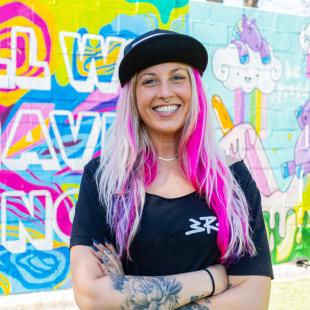 Zuzu is originally from sunny San Diego, CA but currently living and working in Austin, TX, which she now calls home. Zuzu is a self-taught contemporary visual artist and muralist committed to the exploration, experimentation and unconventionality of blurring the lines between fine and street art.
With the coalescence of unrestrained imagination, vigorous dedication, and inevitable trial and error, Zuzu has cultivated a distinct style and process. By pursuing multiple style disciplines, all of her work exemplifies dynamic movements, vibrant colors, and contemporary design, which lay the foundation for an engaged and energetic viewer. Zuzu graduated from one of the nations top rated Advertising Portfolio Programs at the University of Texas at Austin in 2010. After years of working at various creative agencies and organizations, she became full-time visual artist and muralist.
Zuzu is on the Board of Directors for the HOPE Campaign, a nonprofit 501(c3) supporting visual artists and musicians through community programming and projects.
Catch more of Zuzu's work online at www.ihavepinkhair.com or on Instagram @zuzubee.