WHERE TO HEAR LIVE MUSIC THIS SUMMER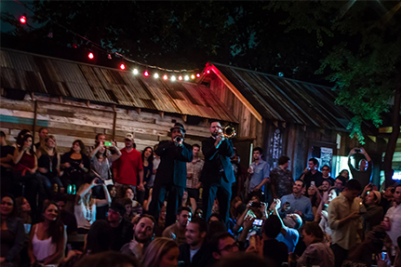 In many cities around the US, summer is a time for people to emerge from their wintery and rainy hideouts. But in Austin, where sun and outdoor fun are year-round commodities, July is just one of many prime months in the Live Music Capital of the World®. During summer, three of Austin's most revered offerings – live music, good food and the great outdoors – come together to create a season full of events, both sunny and star-filled. Visitors and locals can mix and enjoy at these classic summer venues, events and local artist shows:
Cool Off at Hot Events
Music Under the Star
After a day of exploration at Austin's Bullock Texas State History Museum, be sure to stick around for this free concert series in the Lone Star Plaza. Every Friday night in July, the museum will host a different musical act, from jazz to blues to Latin funk. The museum is free to the public between acts and music and craft activities are sure to entertain the whole family.
Also be sure to check out a few other classic Austin events such as KGSR Blues on the Green and Unplugged at the Grove at Shady Grove.
Buzz-Worthy Summer Spots
Guero's
Guero's Taco Bar has been a SoCo staple for nearly 20 years. Most week nights are filled with live music in the Oak Garden and the experience can only be reinforced by one of Gueros' famous hand-shaken margaritas.
Stubb's
This down-home favorite is located in the Red River Entertainment District and boasts both great food and great music. In its early days, this classic Austin venue saw the likes of famed Texas musicians Stevie Ray Vaughan, Willie Nelson and many more. The huge outdoor stage/patio offers fresh barbecue and variety of beers for music-goers. For an experience like no other, weekly Sunday Gospel Brunch serves up a huge southern style breakfast buffet alongside live local gospel acts. (Shakey Graves, The Neighbourhood)
The White Horse
This classic East Side bar is one of Austin's finest honky-tonks. In addition to the local live music, they also host fun activities for music-lovers like Texas two-stepping lessons (Saturdays at 6), the East Side Flea Market (Saturdays 3-7), Cajun zydeco dance lessons (Fridays at 7) and more.
Saxon Pub
The Saxon Pub's intimate setup, excellent staff and award-winning sound room make this a perfect place to listen to live music. Since 1990, the Saxon has hosted more than 22,000 musical performances including some standing, recurring shows and Austin performers such as Bob Schneider and Lonelyland on Monday nights, Miss Lavelle White, Bruce Hughes, and Omar & the Howlers.
Listen Like the Locals
Austin Music, Volume 13 is the annual music compilation from the Live Music Capital of the World® and Austin Convention and Visitors Bureau's Music Office. The 15-song compilation CD serves as just a glimpse to Austin's diverse music scene and the music that can be found in Austin on any given night in the city's more than 250 live music venues.
Learn more about our local Austin artists online or check out the album on your own when you're in town, available in our Visitor Center at 602 E. Fourth St. and also Waterloo Records.
Contributed by Christine Felton