INTERVIEW: JOHN SMITH, CREATIVE MANAGER ALAMO DRAFTHOUSE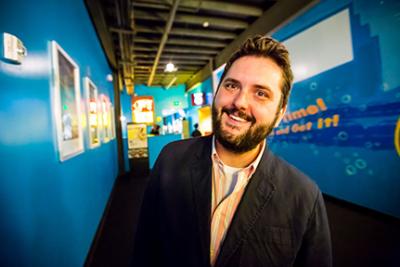 It's back! South Lamar Alamo Drafthouse and Highball re-opened under one roof in August after an 18-month renovation, and it's definitely worth a look. Creative Manager John Smith took some time to tell us about what's new at the venue, what makes Alamo a great Austin attraction and some of his favorite places to visit and eat at around town.
Q: Is there anything different about this location as compared to the other Austin locations?
A: Tons of things! When we closed, we kept the six original screens and the kitchen, and then we built three brand new theaters, a grand lobby, which has a lot of art and murals and a giant photo booth that's a reference to The Shining. We built a new version of the Highball that's next door...plus seven brand new, crazy, absurd karaoke rooms. Plus a 576-car garage, so folks will have an easier time parking.
Q: Are you going to have any unique programming at the location? Any participation in Austin film events?
A: Yeah, we're doing Fantastic Fest, which we do every year; it's always at Lamar except last year when we weren't open. Fantastic Fest is the United State's largest genre film festival, and we're doing it here for our 10th year. It's a week-long festival for horror movies, and Japanese action films...and weird documentaries and strange comedies. It's a high point of our year. We'll also be hosting the Austin Gay and Lesbian International Film Festival.
Q: Alamo Drafthouse was founded in Austin, what else makes it a great city attraction? 
A: On a personal level, whenever I've had friends visiting for the weekend, I've always made a point of bringing them to the Alamo, because we seriously care about the presentation of film, we care about the quality of experience. It's more than just our alcohol policy, which is famous, it's about special events for filmmakers, little things like making sure the screen is bright enough and clean, and the projectionists are competent and know what they're doing. It's about running unique film programming.
Q: Other than Alamo Drafthouse, what is your favorite thing to do in Austin?
A: I love Austin's food culture. For me, there's nothing better than going out on the weekend and finding a good restaurant recommendation and trying some new food that's super unusual or you can't get anywhere else.
Q: What are some Austin food staples you crave?
A: Torchy's Tacos. Hopdoddy burgers, their goodnight hamburger or any new flavor. I don't think I've had the same flavor twice. Anything at Uchi or Uchiko. I could go on.
Q: When people come to town, where else do you take them other than Alamo Drafthouse?
A: I always like to take them anywhere west of Austin, like to Enchanted Rock. We're really lucky to live in such a beautiful part of the country and it's especially beautiful in that direction. Here in Austin, I take them to Barton Springs, of course. I love Half Price Books, and for whatever reason, I always lump Half Price Books into any tour. I love books stores. I always find an excuse to drive on the 360 and let them see the Pennybacker Bridge. I feel like I'm spouting out clichés, but these really are the best parts of town. The bridge view is a real gift. I always bring them to the Alamo, any Alamo location, ideally a master pancake show, it's one of the best and most unique parts of Austin that you can't get anywhere else.
Q: If you could describe the Austin arts, culture and film scene in three words, what would they be?
A: Vital, innovative and exploding.
*John Smith; credit Heather Kennedy