EXPERIENCE SIMPLE ELEGANCE AT GATEWAY GUESTHOUSE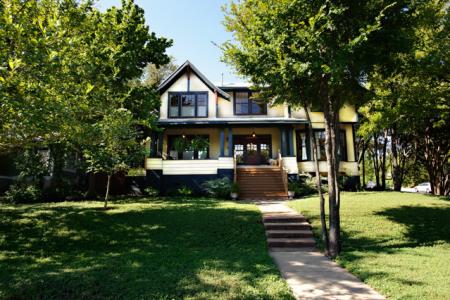 The Gateway Guesthouse is in the heart of Austin and designed for those who prefer to take a step away from the everyday. As a luxury bed and breakfast inn, we are dedicated to excellence in accommodations, amenities, service and cuisine.
Listed by AFAR Magazine as one of the 10 Best Hotels in Austin, Gateway Guesthouse is a quiet haven in the heart of everything that makes Austin so special. The inn resides across the street from Lady Bird Lake and the beautiful new boardwalk. It's an easy 10-minute walk to downtown, South Congress and the East Side, and a few minutes drive or transit ride to Zilker Park or the University of Texas.
The Gateway features grand open spaces, landscaped gardens with a pool and in-ground spa, property-wide free Wi-Fi and convenient off-street parking. Professional staff strive to make every visit unique and full-service with individually designed accommodations, a personal welcome and customized recommendations and concierge services.
Choose from contemporary and one-of-a-kind lodging spaces. A spacious one-bedroom apartment is available for those who want to spread out and feel like they are living in Austin. Three suites offer private decks and entries, each with an individual flair. Finally, two cozy and exclusive guestrooms are perfect spots for those on the go.
Gateway's dining experiences are a true standout. Chef Bess is a creative career chef earning rave reviews that include "Small Kitchens, Big Talents" and television appearances that include the Food Networks' Diners, Drive-ins and Dives.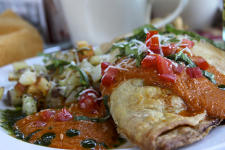 Breakfast each morning is from-scratch, local and designed to make your eyes and taste buds happy. Enjoy meals in the dining room, poolside, en-suite or on your own private deck. During your stay you will have a personal chef at your service. A welcome nosh, picnic lunch, five-course dinner or an intimate gathering are also at your fingertips.
Care to hone your knife skills or learn the fundamentals of a Florentine feast? Sign up for a cooking class and take some of Chef Bess' expertise home with you. Scheduled and custom classes are available.
Learn more about the Gateway Guesthouse at AustinFrontPorch, read reviews on TripAdvisor and follow the fun on Facebook.