SPEND THE SUMMER AT W AUSTIN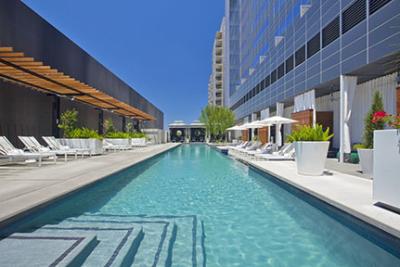 We've shaken off an unusually long (and icy) winter and are preparing to celebrate the long-hot days of summer we're more familiar with here in Austin.
Since the sun is shining and it's a beautiful day, we suggest you get out and play. But before you shed your boots and swap them out for sandals, you may need to take inventory.
Do you need to treat your toes? If so, AWAY Spa at W Austin has the perfect pedi package complete with the coveted Butter polish. Want an inside tip? For the perfect fun-in-the-sun day, head to AWAY Mon.-Thurs., where with any service you'll have full-day, complimentary access to the spa, steam room and Wet Deck pool. On top of that locals get 30% off treatments Mon.-Thurs.
For those wanting an overnight staycation, try the hotel's play package. With rates from $379 you'll feel at home in a wonderful room you'll love. Overnight parking and two welcome cocktails are also included.
Perhaps a jam session is more in line with the summer thrill you're seeking? If so, W Austin's popular, live music series, Living Room Live, is the spot for you. Taking place the last Sunday each month, the event features some of the very best local musicians in the very intimate setting of the hotel's Living Room bar. (The stage is set up in the Records Room.)
In tune with W Austin's passion for live music, the property always opens the event to the public free of charge. New this year? Meet and greet the band poolside on the hotel's WET Deck before the show. Nothing says summer in Austin like sipping cocktails poolside. On deck this summer is Dana Falconberry with opener Abram Shook in June, The Baptist Generals in July and Roger Sellers in August.
Don't forget TRACE, the hotel's onsite restaurant. With a great happy hour ($5 Texas spirits, 25% off bottled wine and specials on upscale bar food) and a lush outdoor patio, perfect for people watching, the restaurant's not to be missed. Needing another reason to visit? Try TRACE's new Dinner Series featuring a special menu (rotating weekly) where guests can select any two courses for $25. Available Sun.-Wed., the three course meal is the perfect way to experience a true taste of Texas (TRACE is aptly named for the traceability of its ingredients from Central Texas) during any weeknight stay.
The sun is shining; it's a beautiful (80 degree) day. Get out and play with W Austin before the dog days of summer are upon us.