NEIGHBORHOOD GUIDE: SOUTH FIRST STREET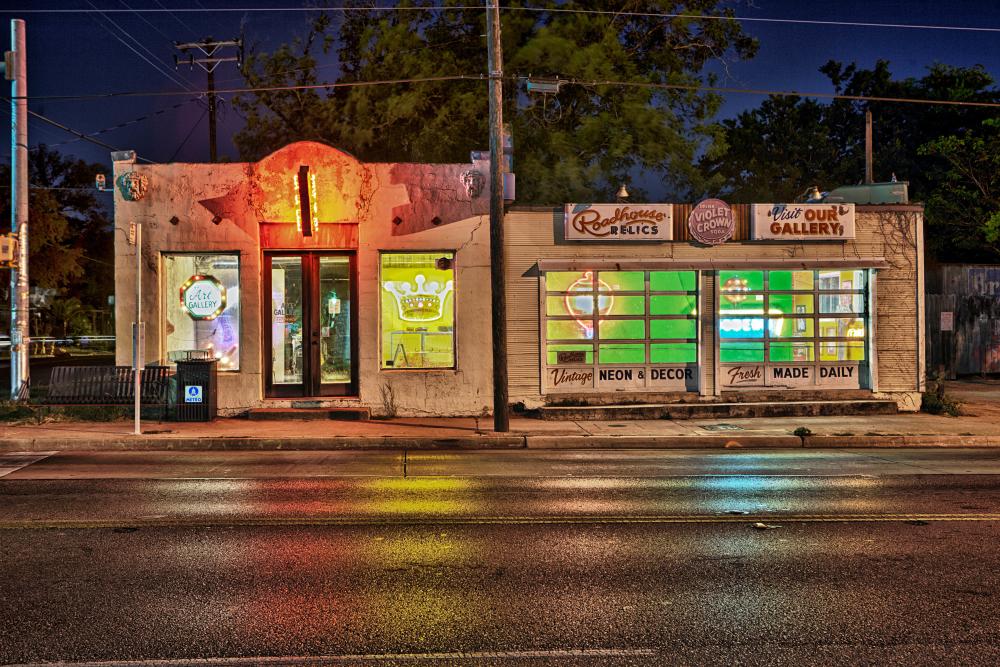 An artery of unique shops and delicious eateries, South First Street is an interesting area of South Austin that begs to be explored and yet remains somewhat off-the-beaten-path. Here you will find eclectic stores and vintage goodies next to ethnic restaurants and buzzing coffee shops. Keep an eye on these businesses in this diverse stretch of South Austin.
Roadhouse Relics
Here you will find dozens of vintage signs and unique neon art. The kitschy mid-century modern pop culture undertones in each piece will make you want to take one home with you. The gallery is also home of the "Greetings from Austin" mural.
Bloomers and Frocks
Find authentic vintage women's clothing, jewelry and accessories from the 19020 through the 1980s. Everything in the shop has been carefully curated and is ready to wear. Find more vintage shops in Austin with our guide.
Polvos
Grab a bite at this Mexican breakfast, lunch and dinner spot known for its sprawling patio, extensive salsa bar and potent margaritas.
Seventh Flag Coffee
Located in what has been dubbed the "South Austin Coffee District," Seventh Flag Coffee is an independent coffee shop, with a rotating selection of roasts and specialty espresso drinks. You can sip on anything from a smooth espresso, to a creamy cortado with house-made almond milk. If you consider yourself a coffee snob, this is the place for you.
Bouldin Creek Café
As eccentric as is delicious, Bouldin Creek Café is a completely vegetarian restaurant the serves an all-day breakfast alongside some comfort food staples like tacos and hearty "sammiches" that won't make you miss the meat. Complete with an airy patio, friendly service and a laid-back atmosphere, it's no wonder that Bouldin Creek is local favorite. 
South First Food Court
Situated at the corner of South First and Live Oak Streets is a foodie's paradise. The South First Food Court has five trailers serving a variety of food in a relaxing setting. Grab a gyro from TX Shawarma, try a unique hotdog combo from Doggie Style or try something sweet at Bananarchy.
Winebelly
Relax with a glass of vino while noshing on delicious small plates at Winebelly, a local South Austin favorite serving up bar snacks, charcuterie and cheese and a wide variety of tapas. The classy interior and vintage décor makes for a lovely evening spent with friends or that special someone.