4 FUN FALL FESTIVALS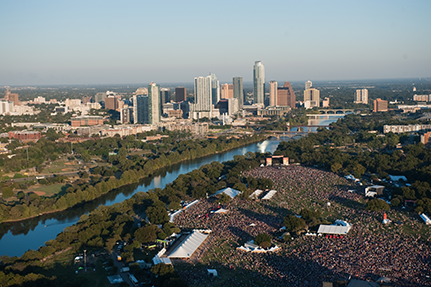 Above photo courtesy Ashley Garmon
Austin is a 24-hour town populated by an unmatched mix of musicians, techies, film pros, athletes and foodies - and we have a jaw-dropping events calendar to prove it. As summer winds down, fall blows in and Austin is ready to rock with some of the country's top festivals. Here are four of our faves:
ACL Festival brings together more than 130 acts from all over the world to play rock, indie, country, folk, electronic and more on eight stages. Join music fans from all over the country for the annual migration to Zilker Park. Historically a three-day experience, this year marks the first time the festival will span two weekends, Oct. 4-6 and 11-13. A sold-out event since 2004, an estimated 70,000 flock to the festival's stages, while filling up on dishes and drinks from a bevy of local vendors.
This year's line-up includes the Cure, Kings of Leon, Phoenix, Wilco and Passion Pit, and acts with ever-growing followings like Greensky Bluegrass, Bear Mountain and Noah and the Whale. You'll more than likely discover your new favorite band and vow never to miss an ACL weekend.
Recognized as one of the top film festivals in the country, this eight-day cinematic event shines the spotlight on top-billed films and Indies. The festival and conference takes place Oct. 24-31 at the Paramount Theater and various downtown venues.
Celebrating 20 years, the film fest includes premieres, advanced screenings, independent films and Q&A sessions with cast members and filmmakers, followed by parties at bars and restaurants throughout Austin. Don't miss the "Made in Texas Series: An Evening of Texas Shorts" Wednesday, August 14 at 7pm at the Bullock State History Museum Texas Spirit Theater.
Growing in popularity, this eclectic Auditorium Shores event takes place Nov. 8-10 and is beloved for its spotlight on underground musicians, along with comedy acts, BMX and skate ramps, local fare and fashion spotting.
Since its inception in 2006, Fun Fun Fun Fest has quickly gained ground as the nation's best underground punk and alternative music festival. Four stages dedicated to four different genres of music, comedy and other antics host entertaining shenanigans like wrestling, a veggie hot dog eating contest and punk rock comedy hour. Performers run the gamut from Snoop Dogg and Tenacious D to Jurassic 5 and Little Boots.
The Texas Book Festival brings together word nerds, bookworms, aspiring librarians, kids, adults...pretty much anyone who appreciates the profound passion behind the written word.
The free annual literary event will be held October 26-27 at the Texas State Capitol Building and various venues around Austin. The fest is free and open to the public and features more than 250 authors, live music, cooking demonstrations, children's activities, the popular Lit Crawl event and more. Past festival authors have included Junot Díaz, Robert Caro, Naomi Woolf, Cheryl Strayed, Tony Danza, Dan Rather, Emma Straub, Tim O'Brien, Austin Kleon and Jewel. 2013 authors will be announced soon.