5 MINUTES WITH JACOBY'S CREATIVE DIRECTOR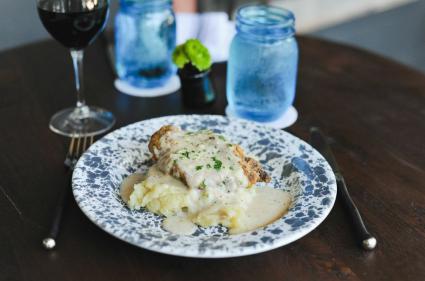 Creative Director Kris Swift of Jacoby's Restaurant & Mercantile talks Austin living, the scene, and Adam's Grandmother's Strawberry Cake.
Q: What is your favorite part about living in Austin?
My favorite part about living in Austin is that the cost of living is very affordable, but the quality of life is incredible. I also love that we have great weather year-round that allows everyone to enjoy all of the green space our city has to offer.
Q: Where is your favorite place to go in Austin for breakfast, lunch or dinner?
When we get that rare time off we love going to LaV for brunch, Elizabeth Street for lunch, or Lenoir for dinner.
Q: What does Jacoby's bring to the dining scene and to the LGBT scene in Austin?
Every night Adam and I and our incredible front of house and back of house team at Jacoby's strive to give not only a culinary adventure, but also character and authenticity to our guests. We are incredibly proud to be a gay-owned business, but that is merely one of many components that make Jacoby's a dynamic destination within Austin.
Q: What are some menu specialties at Jacoby's that guests should be sure to try?
I love that fact that every single night at Jacoby's we offer a Features Card that is constantly changing based on the seasonal ingredients that we are getting in, some of our most dynamic dishes we offer can be found on that card.
But in the same token, the staples like our Butchers Cuts, Chicken Fried Steak, and Mac & Cheese are ever present and something that I personally return to over and over again and never lose enthusiasm for. Do NOT miss Adam's Grandmother's Strawberry Cake, it is the best Strawberry Cake I have had in my entire life, no lie. 
Q: Where can you be found when you're not working?
Often times when not at work, you can find me around town lake running with our one-year-old lab Scout or with a beverage on one of Austin's patios. I also love cooking for friends and family at home.
Q: In three words, how would you describe the Austin food scene?
Dynamic. Evolving. Authentic.