DON'T MISS THESE NEW AUSTIN RESTAURANTS AND BARS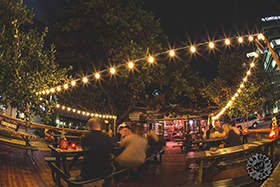 Austin's ever evolving dining and nightlife scene continues to impress in 2014 with local chefs revealing fresh menus and our expert mixologists showcasing the creative entrepreneurial spirit that our city is known and loved for.
Don't miss these culinary treasures and linger-worthy nightlife spots:
New Restaurants
Olamaie
Opening this winter, Olamaie brings modern Southern food to diners. Named for Co-Executive Chef Michael Fojtasek's mother, grandmother, great grandmother and great-great grandmother, the focus is on soulful, clean flavors. Awaiting permanent space, Olamaie has been hosting pop-up dinners at area restaurants featuring tasty bits like pecan pie; roasted peaches; and a marbled eggplant with white barbecue sauce, red pepper and country ham crumble.
Bufalina
This recently opened neighborhood Neapolitan pizzeria on E. Cesar Chavez is turning heads with pies topped with goods like tomato, salami, roasted peppers, cremini mushrooms, fontina and carmelized onions. The menu changes often and pizzas are paired with a long list of wine and beer. Starters include fresh-made mozzarella, creative meat and cheese plates and yummy simple salads sourced from Boggy Creek Farm.
Haymaker
Settle in for big, burly sandwiches, ice cold beer and poutine (French fries topped with country brown gravy and Wisconsin cheese curds). Regionally-inspired comfort sandwiches are made with all-natural ingredients, mostly served open-faced over Texas toast and smothered in a signature gruyére sauce. Try the Haymaker: rare roast beef topped with French fries, gruyere sauce, slaw, tomatoes and a fried egg.
Eden East
Heads up, gardeners, veggies and avid locavores - award-winning chef Sonya Coté brings seasonal and local dining to the farm. Eden East is an outdoor dining experience set around communal tables at Springdale Farm in east Austin. The menu changes weekly and each meal is constructed from between five and eight courses, all inspired by the season. Hand-picked gems have included beet and gruyere bruschetta, spicy seafood stew and a quail dish with white beans, prosciutto and sage.
Fresh Nightlife Spots
Container Bar
Opening soon, the contemporary and uber-green Container Bar is constructed of four recycled four-ton metal shipping containers. Adding to Rainey Street's popular nightlife line-up, the shipping containers are stacked in a tree-lined courtyard and will offer plenty of space - indoor, outdoor and balconies - to sip and be seen.
The Gatsby
Drink in the 1920's American Pub vibe in downtown Austin. The ambiance is half the fun here with Art Deco touches, amber lighting, dark wood floors and an arched bar. Guests enjoy wine, craft cocktails and local microbrews and slip out the back door to a huge outdoor stage area and live music.
Freedmen's
Relax in a historic Austin space, nosh on lunch, dinner and brunch menus stacked with brisket, spare ribs, pit chili, smoked banana pudding and smoked jalapenos and pimentos on toast. The smokehouse also serves retro-inspired cocktails and dogs are welcome in the beer garden and on the patio.
Cantina El Milamores
The new back bar at Takoba is a tequila connoisseur's paradise. In fact, all three of the Takoba's bars boast the largest mezcal selection in Austin and an extensive selection of Mexican and Latin American beers. Housemade ingredients and authentic recipes carry over from the kitchen to the cocktails. Try the mango-habanero marg made with El Jimador reposado, Patrón Citronge, fresh lime juice and mango, habanero syrup.
Mean Eyed Cat
(pictured above)
An old Austin classic returns with some new shine. Recently reopening after a temporary renovations stint, this Johnny Cash-lovin' live music venue now offers tasty eats by Stubb's Bar-B-Q. Check out their Know Your Cash Trivia Tuesday on Facebook where a correct answer earns you a chance to win a Mean Eyed Cat gift card.