Q&A WITH HEAD BREWER OF PINTHOUSE PIZZA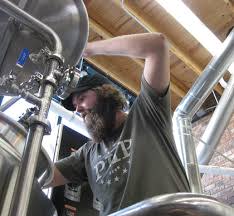 Local Central Austin hotspot Pinthouse Pizza is well known in the craft beer scene in Austin. Pinthouse's brewmaster Joe Mohrfeld took some time to talk to us about what's brewing this summer and where he goes for a pint or two.
Q: What is your favorite part about living in Austin?
A: There's a lot going on, a lot of new and exciting stuff. It's evolving very quickly. There are a lot of really fun opportunities and things to do. It's a very young city.
Q: Of all the beers you brew at Pinthouse, which one is your favorite?
A: Our Man 'O War IPA is my favorite. It's one of our mainstay beers, so we try to have it on all the time. It's definitely the beer I go to the most, personally.
Q: Are you working on anything for the upcoming summer season as far as future brews?
A: Yeah, we have some really exciting stuff. We're actually working on a collaboration beer with another local business, Houndstooth Coffee, and we're going to be coming out with a coffee amber kolsch in June. We're working on a couple other collaborations with some other local brewers. We're going to be doing a Peach of a Pale with Hops & Grain, and we'll be brewing that for a peach festival we're doing this summer. That will be coming out in June. We're also working on a collaboration with Austin Beerworks coming out this summer, which will be another peach-inspired beer. 
Q: Other than Pinthouse, where is your favorite place to go in Austin for a beer and a piece of pizza?
A: One of my favorite places for beer and food generally is Hopfields. I think it's got the best burger in town and a great tap selection, a great vibe. So that's probably my favorite place to go, if I'm going out.
Q: Where can you be found when you're not working?
A: Um, probably at some of the other brewers' tasting rooms. (laughter) Depending on what's going on in the downtown area with music and all the bars and places to eat, I'm checking out all the places that are opening up. I feel like things are opening every week.
Q: If a group of friends were coming into town, what attractions would you take them to see?
A: Well, every time someone comes to town, there's always a big festival going on (laughter). In the summer, the bats are pretty cool down on the lake. There's a lot of cool stuff outside of town that I really enjoy like Hamilton Pool and Gruene Hall.
Q: In three words, how would you describe the craft beer scene in Austin?
A: Exciting, innovative and tight knit.