SUMMER FAMILY FUN ROUND-UP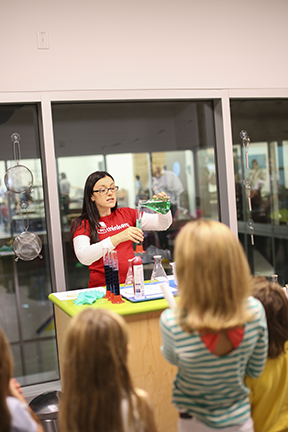 (Kitchen Lab Coordinator Heather Peete demonstrates a science experiment during the VIP Grand Opening of the Thinkery held in late November.) 
With summer just around the corner, it's time for parents to start planning fun and fresh activities to keep kids active during the long days of summer. Though your child may soon be out of school, it doesn't mean they should stop learning, and Austin is home to some of the coolest summer activities and camps in the state. Whether your kids want to explore their creativity, practice their favorite sport or just make new friends from around the state, Austin has a huge variety of summer activities and camps for all ages and interests. While you're here, why not kick up your heels and stay a while? After all, parents deserve a summer vacation too!
Pre-school – Elementary
The Thinkery is one of Austin's most modern and comprehensive museums designed specifically to encourage children's learning. They offer a wide array of unique summer camp opportunities for kids from pre-K to 5th grade. For five days, kids will get hands-on explorative and creative learning experiences in all subjects from art to science to sports.
The Art School at Laguna Gloria is one of Austin's most highly regarded fine art institutions for the public, and they are sure to provide a fun and inspiring experience for budding artists of all ages and levels. Kids can learn basic skills like drawing, painting, sculpting and photography, or more specific classes tailored to their interests such as cartooning, mask making, urban photography or weaving. Most classes are offered in the morning or afternoon which will give families plenty of extra time for fun around the town!
ZACH Theatre offers fun and interactive drama classes for kids ranging ages 3.5 through high school. Little ones can explore the world of theatre through imaginative themes while older kids gain experience and perfect their acting chops in pre-professional environments.
Elementary – High School
GENaustin offers several unique day camps throughout the summer specifically for adolescent girls. Bring your 4th–6th grade girls to GENaustin for a positive, empowering and confidence-building experience that is hard to find elsewhere. 
Be a Longhorn: During the fall and spring, the University of Texas is home to more than 50,000 college students, but each summer, the university opens its doors to school-age kids from around the country to explore the campus and get a feel for the college experience. Academic, fine arts, media/tech, sports camps and more are offered through one of the country's largest universities. There is a camp for all interests, and they are a great way to get a head start on the college experience!
Austin Film Festival Camp is the place to be for young filmmakers this summer. Week-long workshops and classes will focus on building creativity and skills for screenwriting, directing, claymation and other aspects of the filmmaking industry. This is a fun hands-on experience for kids of all levels and your young directors' work will even get star treatment by premiering at the annual Summer Film Camp Showcase.
Adults and Parents
Whether you come and stay with your kids while they attend classes and camps or are just in town for a few hours for drop-off and pick-up weekends, Austin is an ideal place to relax and spend some time exploring. While your kids are busy, make the time to check out some of our iconic districts for unique dining, shopping and entertainment experiences both day and night.
To get the most out of your stay in town, be sure to check out our variety of tours (from history buffs to outdoor adventurers), and try cooling down from the summer heat by hitting up the iconic Barton Creek Pool or renting paddle boards, canoes and kayaks on Lady Bird Lake.
For more information and trip-planning ideas check out our online Insider Guide, trip planner and the True Austin page.
Christine Felton, ACVB Marketing Intern