SPLASH DOWN WITH AUSTIN DUCK ADVENTURES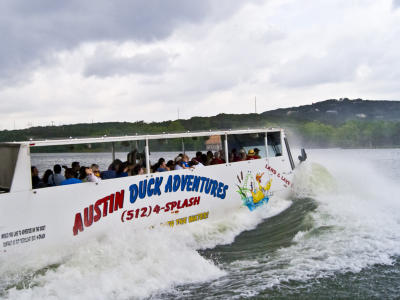 A fun narrated tour through historical downtown splashing into Lake Austin, Austin Duck Adventures is an entertaining way for both guests and locals to see and learn about the city. The tour delivers 75 minutes of lively sightseeing that covers Sixth Street, the State Capitol, Bullock State History Museum and much more.
Quack your yellow duck caller and listen as your guide shares local lore and history bits with a side of humor. Appropriate for all ages, the tour brings squeals of excitement as the unsinkable 6-wheel-drive amphibious vehicle splashes into Lake Austin.
Kids and groups especially love the tour and businesses call on Austin Duck Adventures for unique staff events and exciting private charters.
Multiple tour times are offered, with numerous tours running daily throughout the summer. Purchase tickets online or call (512) 477-5274 to speak with a tour professional about private charter options. Tickets are also sold inside the Austin Visitor Center (602 E. Fourth St.), where the tours begin.
Austin Duck Adventures Gets Rave Reviews
See what guests are saying about Austin Duck Adventures on Yelp and TripAdvisor:
"This was our first time riding the Duck Adventures & we had a blast. Our tour guide was amazing & made it fun." - Jodi K.
"I took my wife and 3-year-old on this tour while on a trip from our home in California. As an ex-Austinite, it was a great stroll down memory lane. In addition to the numerous historical places, the tour will take you by a few of the local non "touristy" places." - James W.
"It is a very interesting tour from every point of view. Starting from the vehicle, which is a bus and a fully functional boat. It is also interesting because it summarizes the whole city history, but at the same time is so fun for the kids. They had a blast!" - Chris O.