Visit Austin Foundation Scholarships
The Visit Austin Foundation offers funding to support students pursuing tourism-related degrees at local institutions of higher learning; residents of all ages currently working in the hospitality and tourism industry wanting to advance their career through certification, continuing education or other professional development; and, organizations providing valuable workforce development in Austin's hospitality and tourism sector.
Congratulations to our 2021 Heart of Heart of Hospitality Award & Scholarship Recipients, Samantha Anderson, Sous Chef, Whim Hospitality/Camp Lucy, and Paxton Knies, Front Office Supervisor, Omni Austin Hotel Downtown. And to our 2020 Recipient Evan Bruesehoff, and our 2019 Heart of Hospitality Award & Scholarship Recipients, Jessica Hernandez and Ti'Yanna Dozier.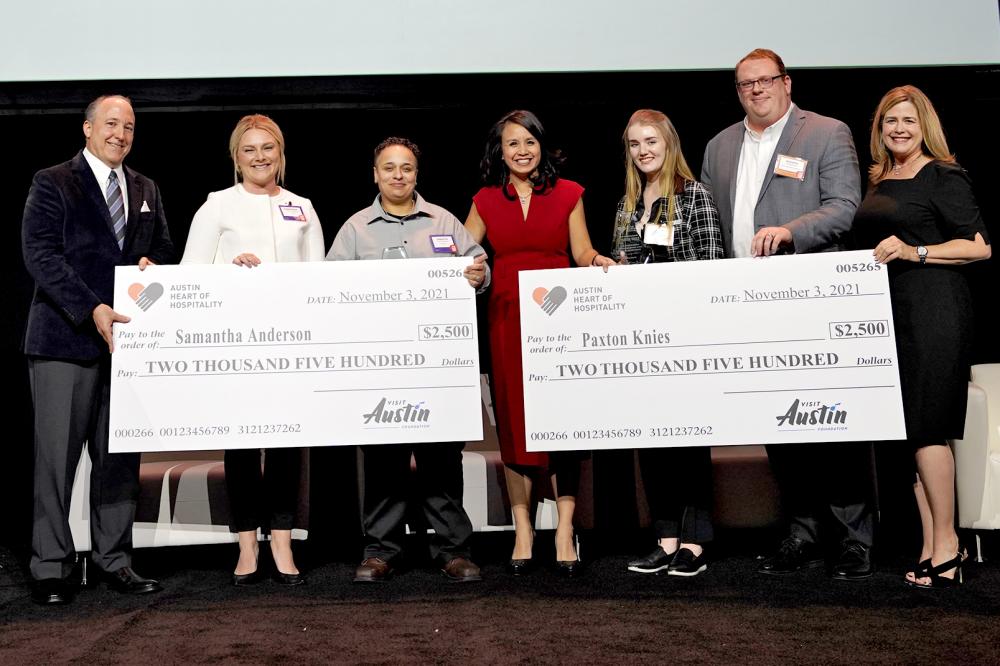 2021 Heart of Hospitality Scholarship Recipients. Credit Elizabeth Kreutz.
"I used the Heart of Hospitality Scholarship to help me return to Northern Arizona University to pursue my Masters of Organizational Leadership with an emphasis in Project Management. The focus of my studies has been on team development, diversity, and inclusion. The biggest takeaway from my program so far is the importance of creating a work environment that supports deep-level diversity practices, such as diversity of thought. Engaging in deep-level diversity allows teams to problem solve more creatively by bringing various perspectives to the table when solving complex organizational challenges. As I continue to focus on rebuilding our food and beverage operation post-COVID-19 pandemic, I look forward to building a team that embraces diversity and uses it as an advantage to move our organization forward. Thank you, Visit Austin Foundation, for the scholarship; I am very grateful for the opportunities it has provided me."
- Evan Bruesehoff​, 2020 Heart of Hospitality Award & Scholarship Recipient
2022 HEART OF HOSPITALITY AWARD AND SCHOLARSHIP 
Front-line hospitality employees are the heart and soul of the hospitality and tourism industry. If you receive or witness outstanding customer service from a current member of the Austin hospitality industry and would like to recognize them and nominate them for a Visit Austin Foundation career development scholarship, please complete the following information.
Criteria for nominations (please provide examples of each of the following):
Outstanding customer service - exceeding customer expectations
Positive attitude
Initiative – goes above and beyond regular job responsibilities to enhance the customer experience
Eligibility for nomination:
Currently employed in the hospitality industry
Interested in advancing their career in the hospitality industry through certification, continuing education or other professional development
Self-nominations will not be accepted
Procedure:
Nominations are now closed. The Visit Austin Foundation scholarship will be announced at our Visit Austin Annual Meeting in the Fall. Please check back soon for information about 2023 Heart of Hospitality Scholarship nominations.