From major box office hits to cult classics, Austin has provided a spectacular landscape for filmmakers to bring their vision to life. Visitors have flocked to destinations featured in iconic locally made films like "Dazed and Confused" and "The Texas Chainsaw Massacre." With over 50 years of production, there are many film tourism locations in the Austin area to experience including those seen in "Machete."
About "Machete"
"Machete" started as a trailer in the film "Grindhouse" and was so popular, audiences demanded Robert Rodriguez expand it into a full length feature. This film landed the amazing Danny Trejo a much-deserved big screen leading role! After being nearly killed during a violent fight with a powerful drug lord, a former Mexican Federale known as Machete (Trejo) roams Texas streets as a vigilante and sometimes day-laborer. Hired to perform a covert hit, he is double-crossed and forced to go on the run. Machete may be down but not out, and he carves a path of blood, bullets and broken hearts in his quest to settle the score.
Details: 20th Century Fox / Rated R / 105 minutes / Action, Comedy, Exploitation
Director:  Robert Rodriguez
Cast: Danny Trejo, Robert De Niro, Jessica Alba, Don Johnson, Michelle Rodriguez, Steven Seagal, Lindsay Lohan, Cheech Marin and Jeff Fahey
Streaming On: @YouTube, @PrimeVideo, @GooglePlay, @VuduFans, @MicrosoftStore, @Redbox
Locations
Texas State Capitol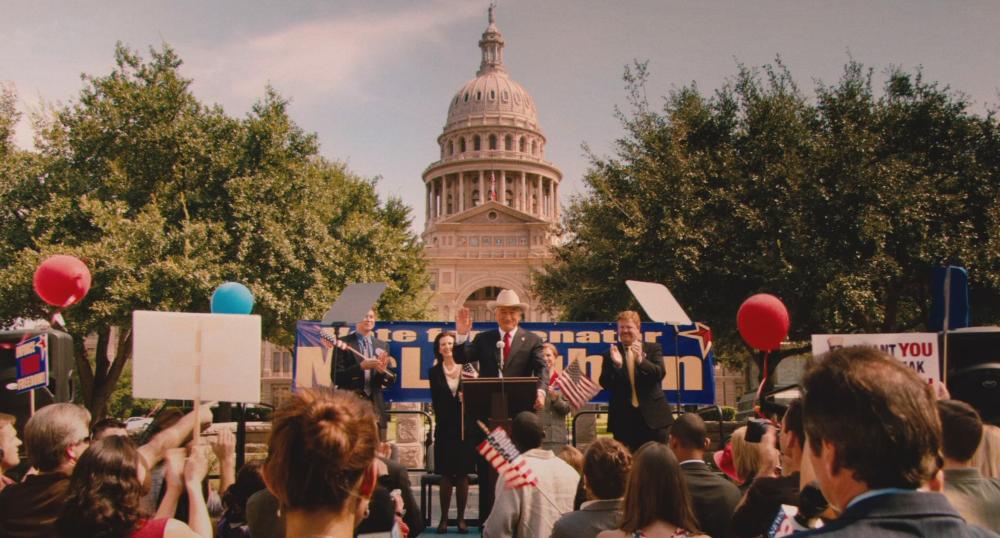 The Texas Capitol building is included in the scene where Machete trains a rifle on Texas Senator McLaughlin (De Niro) from a rooftop during a rally. But, before he fires, Machete (Trejo) sees a henchman aiming at him. The henchman shoots Machete in the shoulder, then shoots McLaughlin in the leg. The rally was filmed on 12th Street and Congress Avenue, just south of the Texas Capitol which serves as the perfect backdrop. This location was also used in the production of "True Grit," "Tree of Life" and Robert Rodriguez's "Spy Kids 2: Island of Lost Dreams."
Location: Texas State Capitol Exterior & Grounds (1100 Congress Ave, Austin, TX 78701)
 
Padre's Church (exterior)

Machete (Trejo) is out for revenge against his former employer after a plot to assassinate a Texas Senator McLaughlin (De Niro) goes very wrong. This leads Machete to seek assistance from his brother, Padre Benicio Del Toro (Marin), "a priest who's good with blessings, but better with guns." Exterior shots of the church were filmed at the historic Saint Mary's Cathedral in downtown Austin, near the Texas Capitol Building.
Location: St. Mary Catholic Cathedral (203 E 10th St, Austin, TX 78701)
Iconic Filming Location Map
Explore more iconic filming locations during your next visit to Austin. The Austin Film Tourism Guide has details on the where scenes from your favorite movie and television series were filmed in and around Austin.