From major box office hits to cult classics, Austin has provided a spectacular landscape for filmmakers to bring their vision to life. Visitors have flocked to destinations featured in iconic locally made films like "Dazed and Confused" and "The Texas Chainsaw Massacre." With over 50 years of production, there are many film and television tourism locations in the Austin area to experience including those seen in "Queer Eye" season 6.
ABOUT "Queer Eye"
The Emmy award-winning Netflix show, Queer Eye, filmed its sixth season in Austin, where the celebrated Fab Five lent their expertise to help ten heroes in need of a lifestyle makeover.
For those unfamiliar with the show, each episode focuses on a new "hero," who is nominated by their friends or family to receive some much needed love and guidance from the group. The Fab Five consisting of Antoni Porowski (food and wine), Bobby Berk (interior design), Jonathan Van Ness (grooming), Tan France (fashion) and Karamo Brown (expert culture), step in and help these heroes learn how to love and take care of themselves again.
The binge-worthy Austin episodes feature a transgender powerlifter learning how to feel comfortable in their own skin, a passionate healthcare professional finding the time to practice self-care, an Austin musician looking to make his break, two executive directors of Austin nonprofits The Other Ones Foundation and Safe in Austin getting a little help of their own, a complete bakery remodel for a local business OMG Squee who were feeling the effects of the pandemic and an Austin line dance instructor who needed a lift of her own.
Grab your tissues and prepare yourself for an emotional rollercoaster of love, acceptance and growth as Queer Eye takes over Austin and when your done, head out to the businesses highlighted below that were featured in the show!
Details: ITV / Rated PG / 45 minutes / Unscripted, makeover, drama, comedy
Cast: Antoni Porowski, Bobby Berk, Jonathan Van Ness, Karamo Brown, Tan France
Streaming On: @Netflix
Locations
Distribution Hall is an event space and production studio in East Austin. The restored mid-century structure features a 7,000 square foot studio warehouse, a 3,000 square foot open-air hangar and a 7,500 square foot courtyard and lawn.
Location: 1500 E. Fourth St., Austin, TX 78702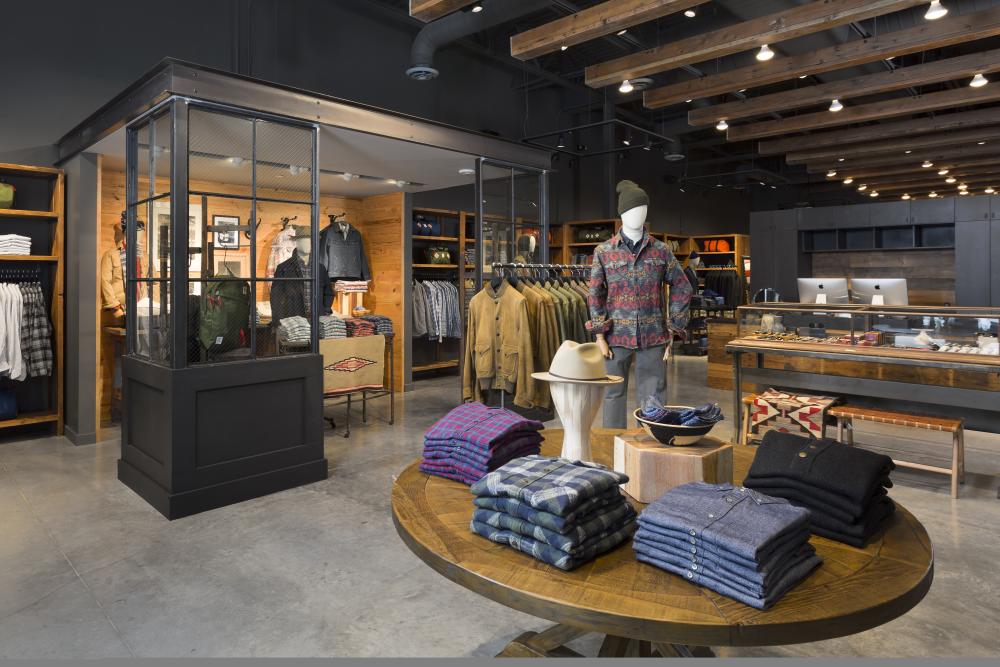 Courtesy of STAG Provisions.
Described as a modern day general store for every man, STAG is several parts clothing, part antique, part gift, part accessory and part apothecary, blending the best of these elements into an emporium of essentials for the life of a modern gentleman.
Location: 1423 S. Congress Ave., Austin, TX 78704
Open since 2019, this is the second Urban Betty Salon in Austin, conveniently located at South Congress Avenue and St. Elmo Road. The hairstylists at Urban Betty are a family of friendly faces and talent, offering services for every type of client, from rockabilly to soccer mom.
Location: 4361 S. Congress Ave., #108, Austin, TX 78745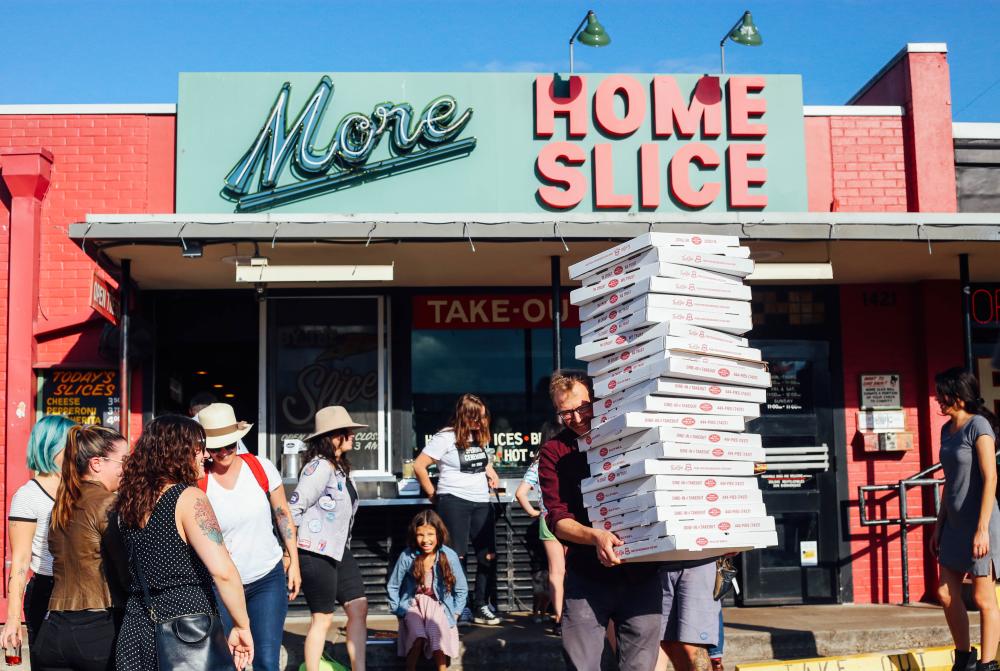 Credit Giant Noise/Julia Keim.
From a scrappy local mom-and-pop pizzeria to an iconic Austin landmark, Home Slice Pizza has solidified itself as the go-to place for New York style pizza in Austin.
Location: 1415 S. Congress Ave., Austin, TX 78704
This vibrant garden store is for all plant lovers from gardening enthusiasts to garden-curious beginners. With an expertly curated plant nursery, high-quality gardening supplies and a wide selection of local pottery and hands-on workshops, Garden Seventeen has everything you need to transform your living spaces with greenery.
Location: 604 Williams St., Austin, TX 78752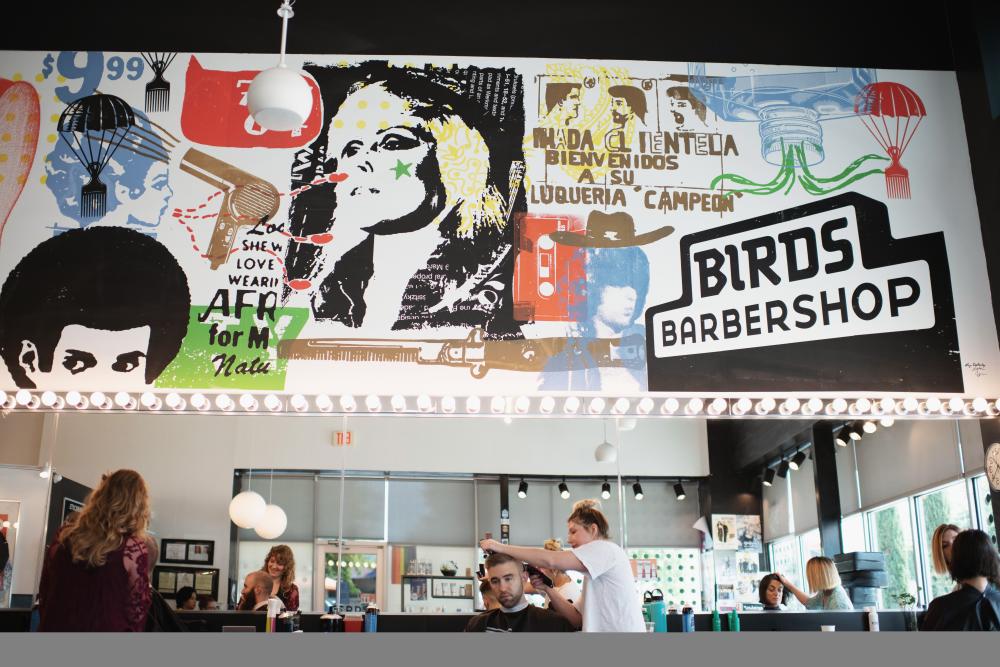 Courtesy of Birds Barbershop.
This Texas born, award-winning barbershop has been offering hair cuts and color for all since 2006. Named eight times on Elle's list of The 100 Best Salons in America and awarded Best Haircut by the Austin Chronicle every year since opening, Birds Barbershop is a staple in the Austin community.
Location: 1902 S. Congress Ave., Austin, TX 78704
A strength community for all people, Liberation Barbell Club aims to create a safe and healthy place for athletes, hobbyists and beginners to start or continue their strength journey and embrace each other's differences.
Location: 3900 Drossett Dr., Ste A, Austin, TX 78744
Family-owned small business, Maha Coffee, is a gluten- and dairy-free coffee shop and kitchen. They specialize in craft coffee, ceremonial grade matcha teas and small eats in South Austin.
Location: 2324 S. Lamar Blvd., Austin, TX 78704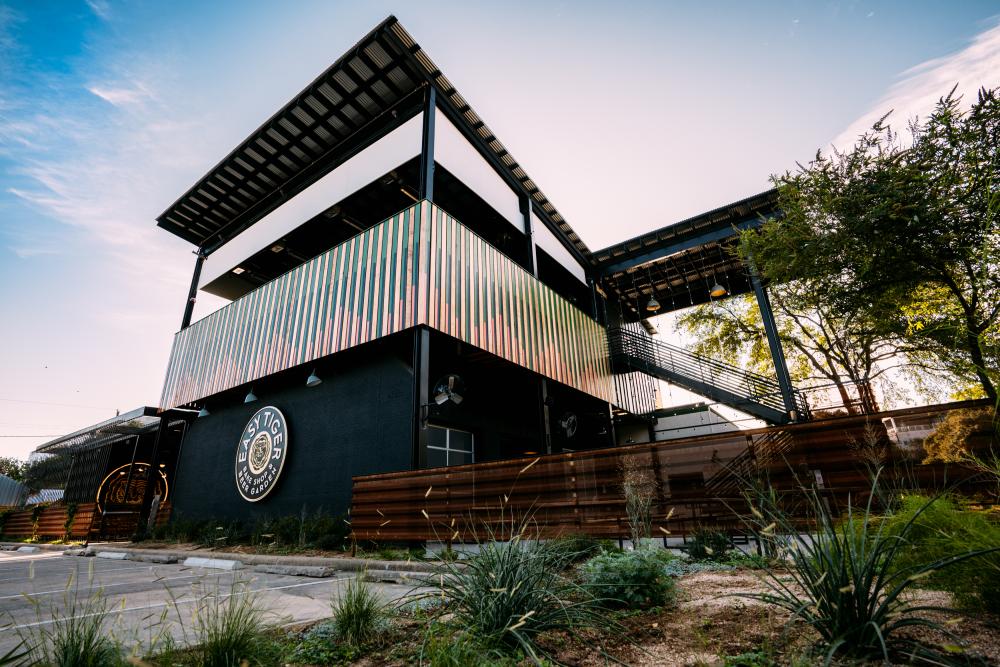 Credit Sydney Gawlik.
Recognized on the Food Network's America's Best Bread Bakery list and among the nation's Best Beer Gardens according to Food & Wine Magazine, Easy Tiger is a humble beer garden and bake shop that welcomes locals and travelers alike to slow down, stay awhile.
Location: 3508 S. Lamar Blvd., Ste. 200, Austin, TX 78704
The Other Ones Foundation (TOOF) is a nonprofit that offers humanitarian aid, case management and extremely low-barrier work opportunities to people experiencing homelessness in Austin. Focusing on the marginalized, the vulnerable, the "other ones," TOOF believes the future can be different if all people have access to shelter, opportunity and support.
Location: 780 Bastrop Hwy., Austin, TX 78741
With many goods being transported via shipping containers every day, once they have served their purpose, many end up sitting in large container yards at various ports for years with no use. SoCo Bob's Containers turn these unused containers into customized homes, offices and more, offering a unique way to help the environment while also combating the rising costs of homes across the world.
Location: 11411 FM 812, Del Valle, TX 78617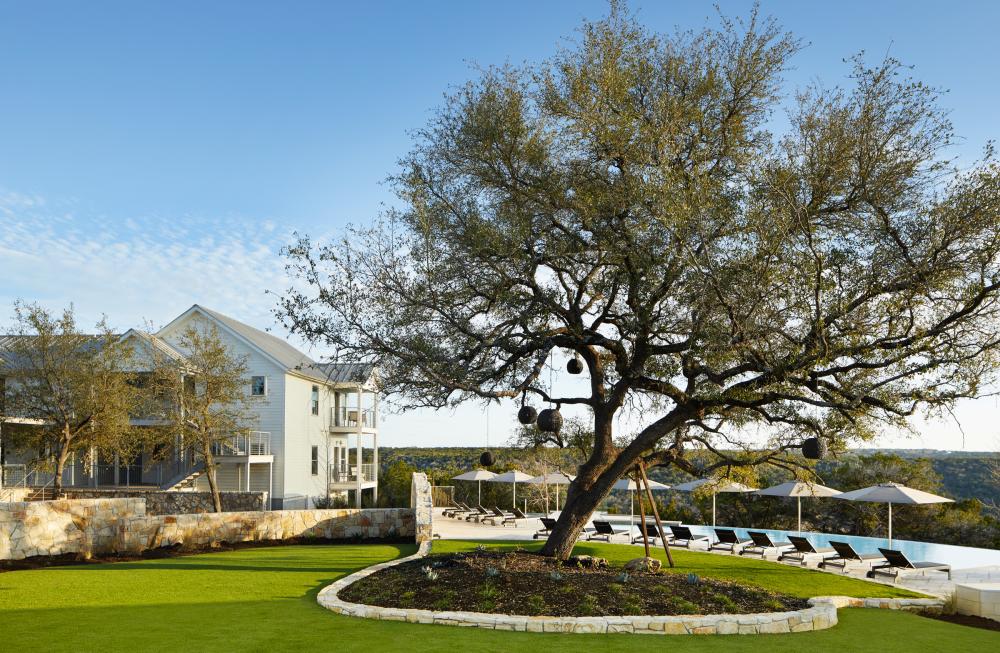 Courtesy of Miraval Austin.
Named Best Spa Resort in North America, Miraval Austin, is a spiritual oasis for curious, health-seeking people to convene, share ideas and learn about and from each other. Perched among the hills overlooking Lake Travis, Miraval's natural sanctuary welcomes visitors to elevate their wellbeing with a daily schedule of wellness activities and spa services.
Location: 13500 FM 2769, Austin, TX 78726
Creating a fun and safe place to promote archery in the community, Central Texas Archery has made it their mission to educate youth and adults in the sport of archery. With an indoor and outdoor facility, they support national and international amateur archery competition and frequently host tournaments at their facility.
Location: 5400 E. Howard Ln., Manor, TX 78653
Safe In Austin is a rescue ranch that saves animals from abuse or neglect while providing healing and hope to trauma, at-risk and people with special needs. Once the rescue animals are healthy and trusting enough, they are introduced to people with similar backgrounds; and that's where the healing and connection begins.
Location: 14601 Honeycomb Dr., Leander, TX 78641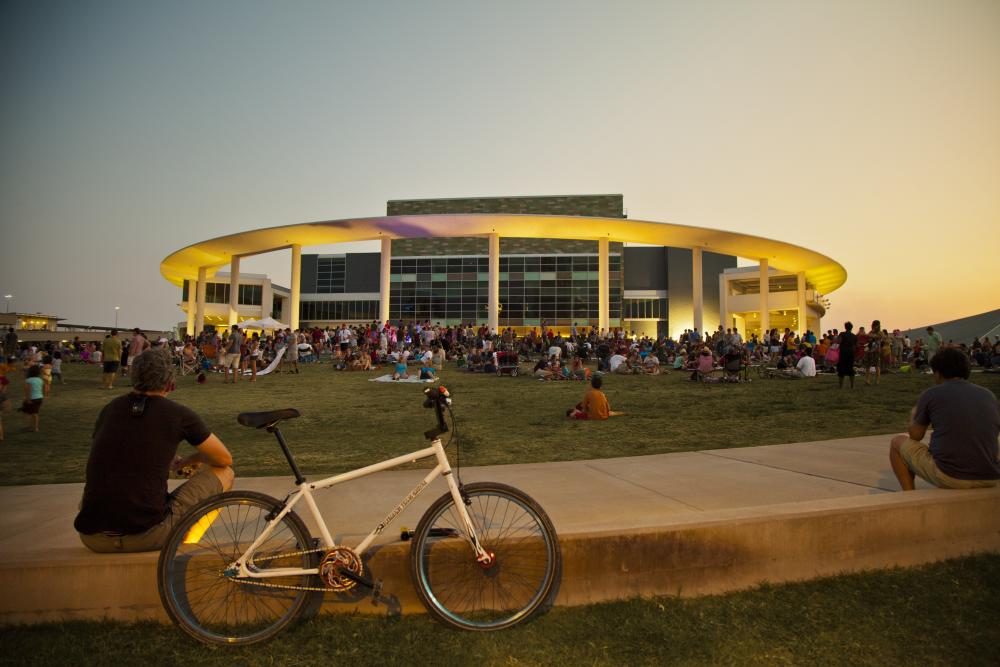 Uniquely located along Lady Bird Lake and facing the city skyline, The Long Center has the best view of the city which allows this performing arts venue to produce some of the most breathtaking performances, concerts, movies in the park, hangouts and festivals in the city.
Location: 701 W. Riverside Dr., Austin, TX 78704
Scotch & Soda celebrates free spirits. Offering upscale-casual apparel and accessories for women, men and children who champion individuality, authenticity and the power of self-expression.
Location: 11700 Rock Rose Ave., Ste. 156, Austin, TX 78758
Alive + Well is the greater Austin area's first and only integrated health and wellness center. Built around a shared philosophy of whole health, the team of specialists collaborates to treat both the mind and body through conventional and innovative techniques, seeking long-term solutions to address unique health and wellness concerns.
Location: 3944 RR 620 S., Bldg. 6 Ste. 100, Bee Cave, TX 78738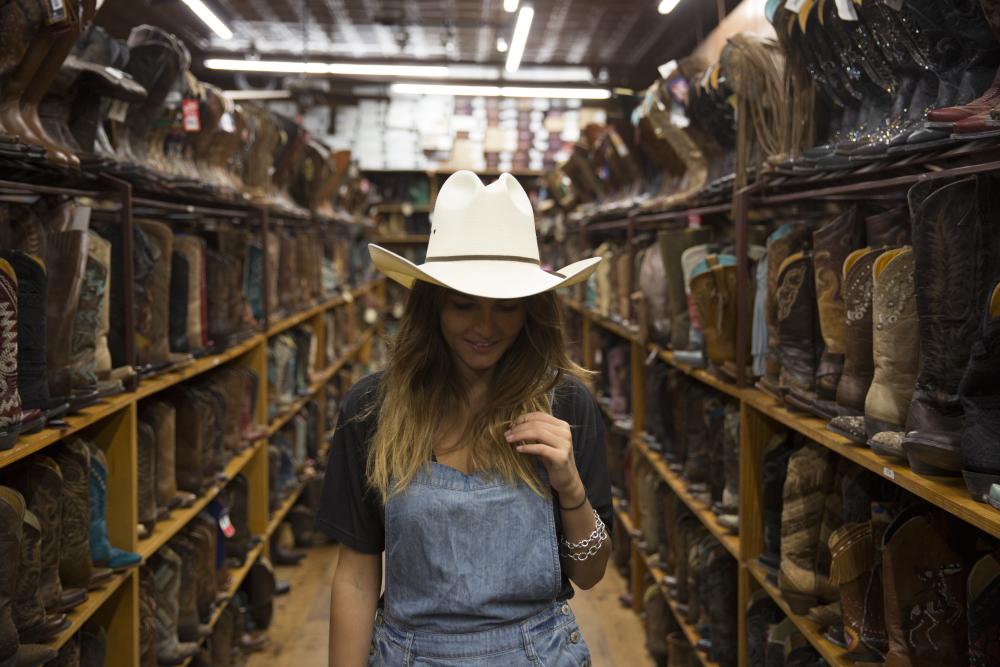 Courtesy of Contiki.
Allens Boots is a family-owned business and Austin staple since 1977. Located along the popular South Congress Avenue shopping strip, look for the big red boot sign to find the perfect boot for your lifestyle.
Location: 1522 S. Congress Ave., Austin, TX 78704
Billy Reid is an award-winning designer of luxury clothing that celebrates craftsmanship, tailoring and American manufacturing. Its boutique shop is located in the heart of Austin, on South Congress Avenue.
Location: 1202 S. Congress Ave., Austin, TX 78704
Owner of Move Sport Ninja Academy, Andy Lowes, has been on American Ninja Warrior seven times. This Ninja Warrior-style gym offers adult and kids classes for those who want to train and compete in OCR and ninja warrior-style courses.
Location: 16808 Joe Barbee Dr., Pflugerville, TX 78660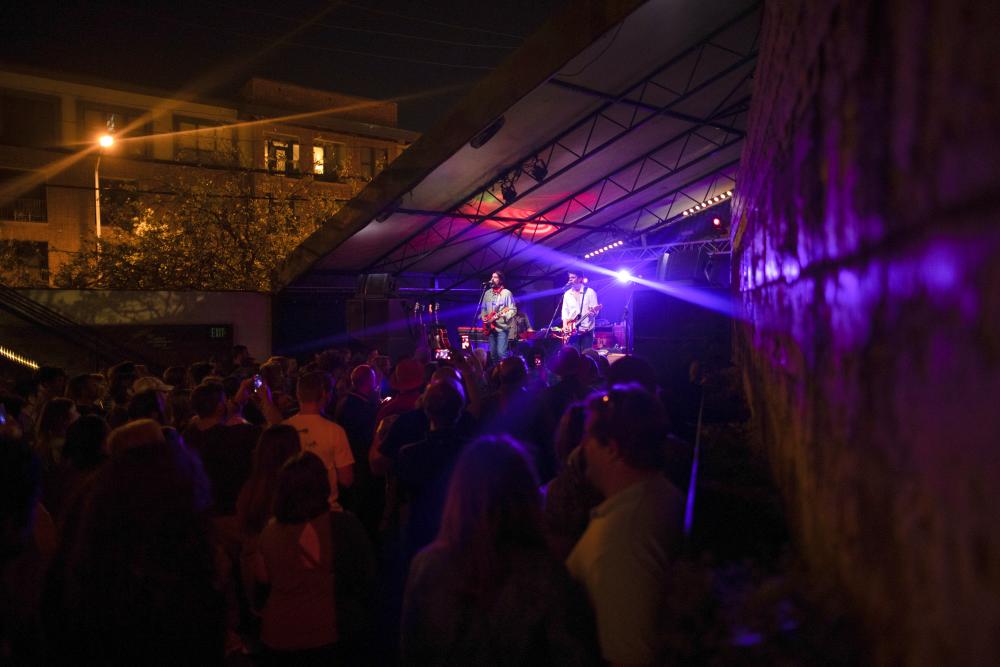 Mohawk was built in 2006 as a one-of-a-kind live music venue, event space and bar. Since opening their doors their motto has always been 'All Are Welcome' and stay true to that phrase by accepting and encouraging all genres of music, music lovers and music staff.
Location: 912 Red River St., Austin, TX 78701
Opening a salon during a pandemic is no easy feat, but Hair House ATX did just that when they opened their doors in October 2020. This stylist-run collective of like-minded individuals approach hair from a creative, collaborative perspective and believe in giving clients direct access to their stylists.
Location: 805 West Ave., #1, Austin, TX 78701
SHED is a neighborhood barbershop offering traditional services with unique amenities. Sip on a local brew from Austin Beerworks, enjoy the rotating selection of vinyl, or shop from the locally-curated clothing selection, all while enjoying a tailored cut.
Location: 2210 S. First St., Austin, TX 78704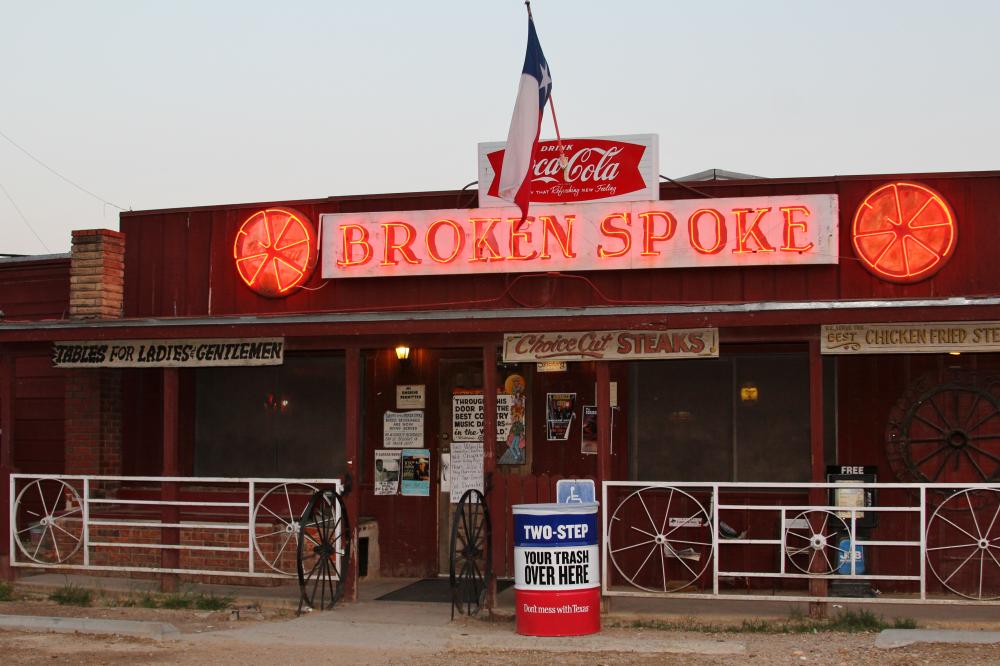 Credit Winker Withaneye.
If you want to do the Texas two-step, Broken Spoke is the place to go. The dance hall is internationally known as an authentic honky-tonk. Willie Nelson, George Strait and Dolly Parton have all performed here. Don't miss the memorabilia room, suitably nicknamed "the tourist trap room," which is filled with photos, hats and other country-music treasures.
Location: 3201 S. Lamar Blvd., Austin, TX 78704
Dylan Wylde is a unique women's clothing, jewelry and lifestyle brand in South Austin that caters to dressing your creative personality.
Location: 2324 S. Lamar Blvd. B, Austin, TX 78704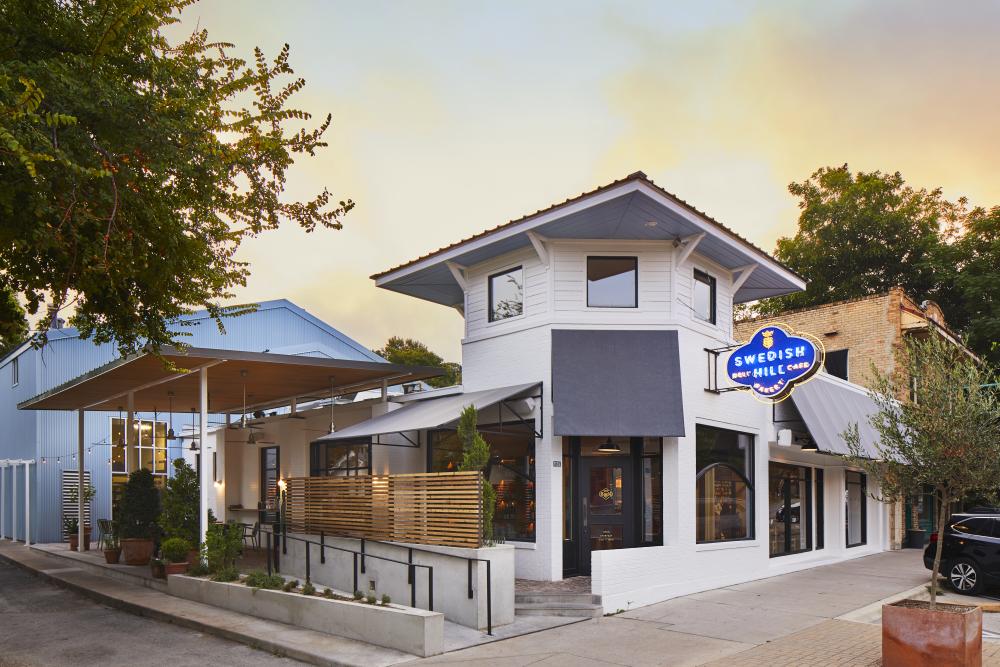 Credit Matt Harrington.
Swedish Hill is an old-school Austin bakery and cafe serving fresh baked artisan breads, cookies and cakes. Find hot breakfasts, French pastries and espresso, daily lunch specials, made-to-order sandwiches, soups from scratch and flavorful salads with house-made dressings along with local Texas wines and Austin brewed beer.
Location: 1120 W. Sixth St., Austin, TX 78703
Nest Modern offers custom, mid century-modern-inspired home furnishings, lighting and home accessories in an array of styles and materials.
Location: 2603 S. Congress Ave., Austin, TX 78704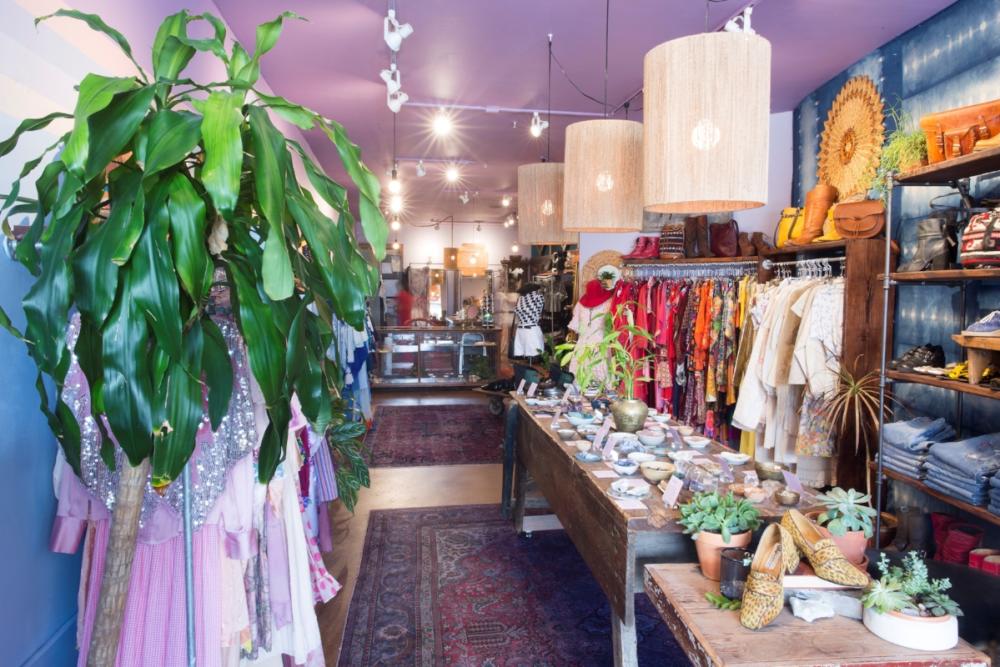 Courtesy of Charm School Vintage.
Charm School Vintage is a vintage clothing store that carries sustainably-made jewelry, apothecary products, crystals and hosts workshops on plant magic and crystal healing.
Location: 1111 E. 11th St., #150, Austin, TX 78702
Launched in October 2020, Damn, Glam!, is a Black-owned, full service hair and nail studio on the East side of Austin.
Location: 40 E. St. Elmo Rd., #A1, Austin, TX 78745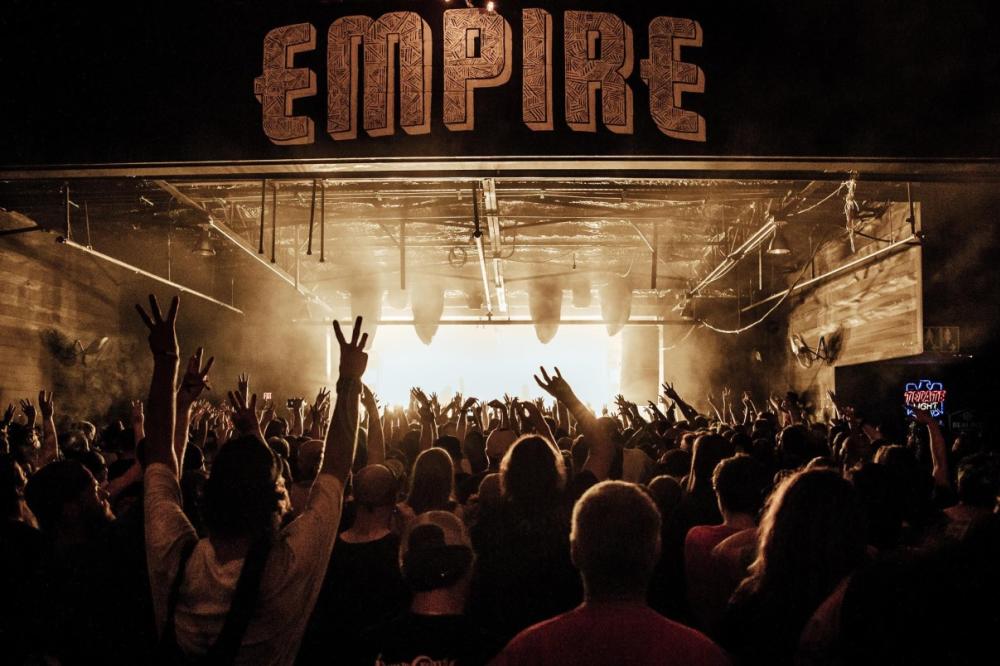 Courtesy of Empire Control Room & Garage.
Empire Control Room & Garage is a modern music space and watering hole with three stages on Red River Street. For good people, by good people, Empire is a place to chill or rage, to build community or to simply just absorb the fan experience.
Location: 606 E. Seventh St., Austin, TX 78701
The Olde Soul is a modern day men's barbershop with an old school feel, offering high-quality services and grooming products in their retail storefront. After opening in 2019, the shop quickly felt the effects of the pandemic, and decided to create an online marketplace to not only help their community, but also to connect creatives and their unique products with shoppers looking to support small businesses.
Location: 1614 E. Sixth St. #115, Austin, TX 78702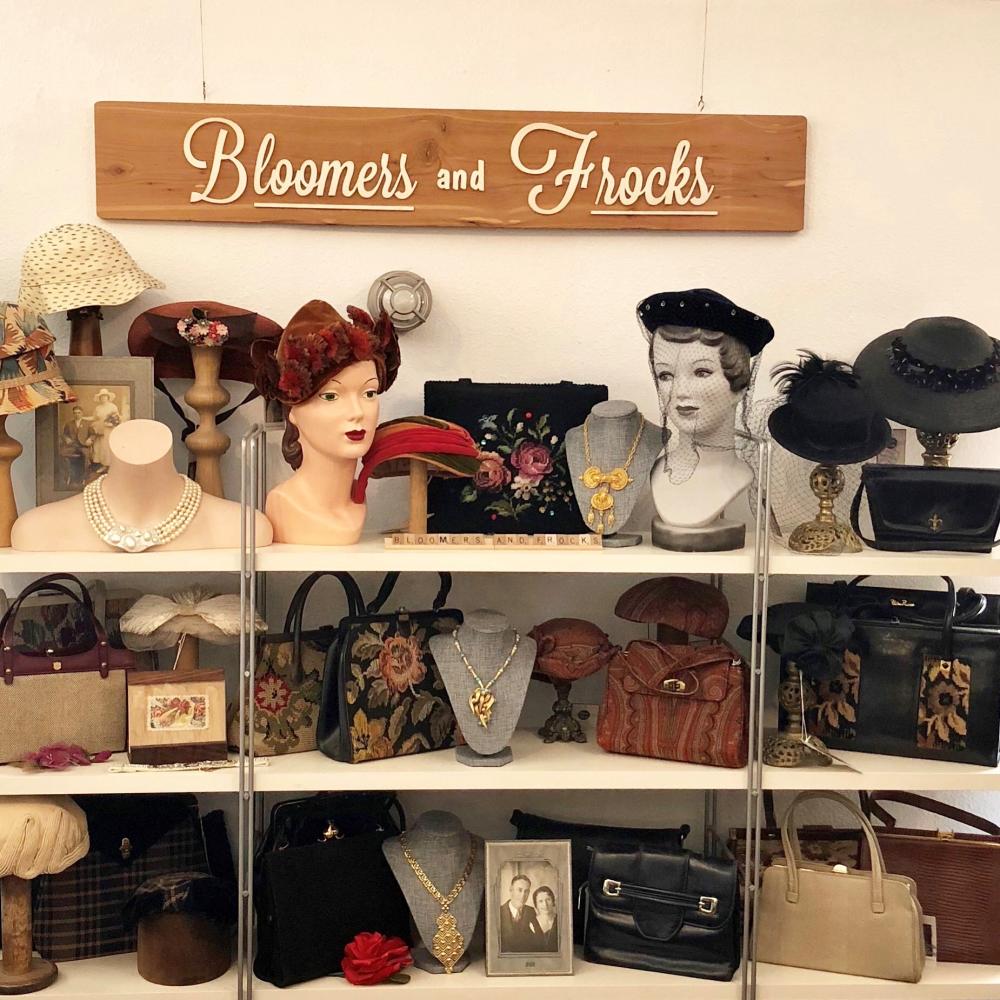 Courtesy of Bloomers & Frocks.
Bloomers and Frocks sells authentic women's vintage clothes, jewelry and accessories. With styles varying from 1920s flapper, to 1970s disco and 1980s everyday wear, they have a look for every occasion.
Location: 1628 S. First St., Austin, TX 78704
Raven Row Salon is a waste-free and sustainable hair salon, inspired to create, energize and empower clients as well as other industry professionals to build a conscious, sustainable and inclusive environment. They host regular give-back events benefiting nonprofits in need.
Location: 4616 Triangle Ave., #401, Austin, TX 78751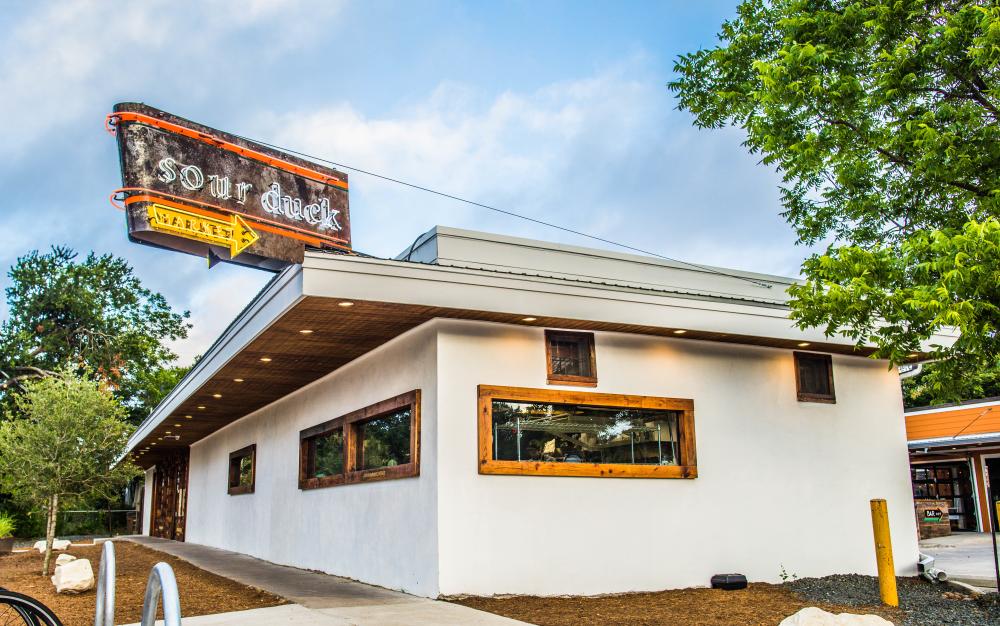 Credit Richard Casteel.
Sour Duck Market believes in showing true craftsmanship in cooking by serving good, local food, made the way nature intended — from scratch. That's why their food and drink is inspired by local farmers and purveyors. Meats are smoked daily in a 1,000 gallon pit smoker, the flour for baked goods is milled locally and cocktails are made with the freshest juice and product.
Location: 1814 E. Martin Luther King Jr. Blvd., Austin, TX 78702
Although you wouldn't know by the taste, OMG Squee is 100% gluten-free. Blending her love of cute foods, pop culture and her Asian American experiences, co-owner Sarah sought out to make really delicious, gluten-free, Asian inspired desserts and pastries from scratch that would delight the eyes, heart and taste buds. 
Location: 4607 Bolm Rd., Ste. A, Austin, TX 78702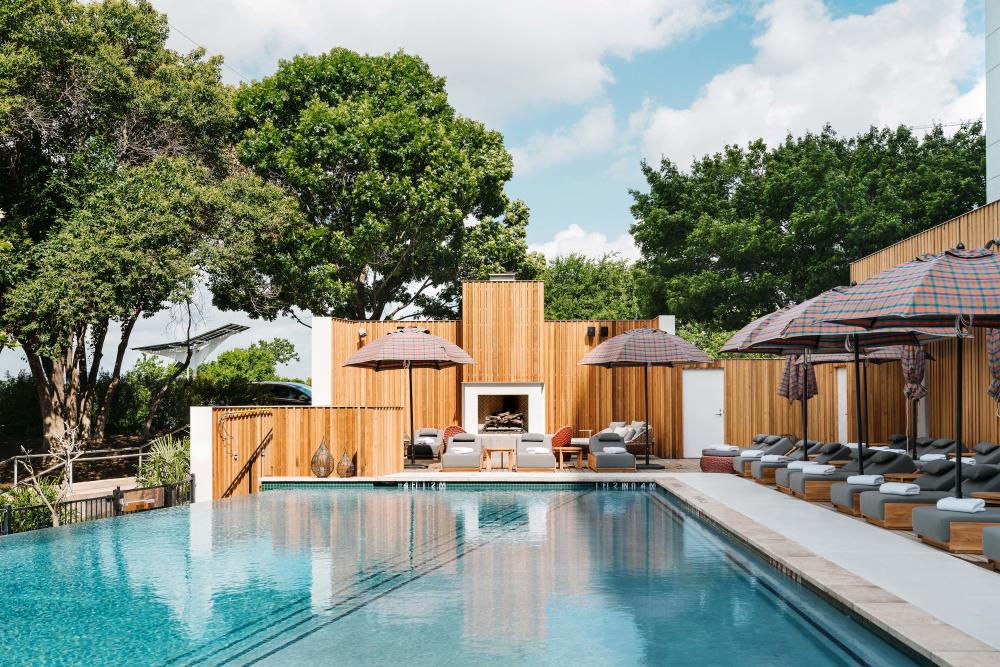 Courtesy of LINE Austin.
The LINE hotel embodies the natural beauty and creative spirit of Austin, with direct views of the lake and easy access to the city's beloved hike and bike trail. Enjoy dinner at the lakeside restaurant, Arlo Grey, grab rooftop drinks at P6 with sweeping views of the lake, or lounge by the infinity pool.
Location: 111 E. Cesar Chavez St., Austin, TX 78701
Sister restaurant to Jack Allen's Kitchen, Salt Traders Coastal Cooking is a sea-centric restaurant inspired by the owners own coastal travels. With an emphasis on local Texas turf, the seafood is sourced sustainably from the best vendors along the American coastline, with special attention to friends on the Gulf.
Location: 1101 S. MoPac Expy., Austin, TX 78746
Queer Eye Filming Location Map
Explore more iconic filming locations during your next visit to Austin. The Austin Film Tourism Guide has details on the where scenes from your favorite movie and television series were filmed in and around Austin.