History
Traditional folk music served as a means of storytelling, manifesting as tunes, songs, and ballads and was often accompanied by worship, work, or dance. Because of its traditional nature, Texas's folk music was brought to the state by passersby or immigrants who settled from other lands.
Austin's music scene specifically is derived largely from German immigrants whose population saw a massive influx in the 1840s. They established entertainment centers such as German biergartens and dance halls for their community. The oldest operating business in Texas and longest-running biergarten in America, Scholz Garten, opened its doors in 1866 and remains open to this day.
Dating back to 1876 and having been open for over a century was Dessau Hall. The venue was built around a large pecan tree that stood in the middle of the dance floor. In its heyday in the 1940s, the venue saw greats such as Glenn Miller, Hank Williams and a once-babyface Elvis Presley.
Other former relics of folk music in Austin include the Cactus Cafe which opened in 1979 and the earlier Soap Creek Saloon, which opened in the '73 as a classic Texas roadhouse out in the sticks. For over a decade, the Soap Creek invited many to its stages including notable acts like Willie Nelson, Jimmy Buffett, and Charley Pride. Additionally, the Alamo Lounge at the former Alamo Hotel, emmajoe's, and the Outhouse were fixtures of the local community that those like Lucinda Williams, Nancy Griffith, Townes Van Zandt, and Blaze Foley used to call home.
From folk music derived most Americana genres such as country, blues, and even gospel music. Some of the earliest purveyors of gospel music in Austin include the then-famous black acapella gospel group called the Paramount Singers. Studying by day and performing at night, the group formed in 1936 in front of the old Anderson High School on Comal street during a time when segregation still prevailed. Even though the group was not allowed in theaters during this time, they named their group after the large and famous Paramount Theater on Congress Ave. to set themselves apart. They saw a lot of success and hosted their own radio show on KVET.
Rev. E.M. Franklin, a co-founder of the original Paramount Singers, encouraged another somewhat popular gospel group called the Chariettes to organize in 1950. Joining the group shortly after they formed was Lavada Durst, a.k.a. "Dr. Hepcat," the first black disc jockey in Texas.
With the creation of newer iterations of folk music, traditional folk music subsided in popularity. It wasn't until around the 20th century folk revival that folk music transformed and became popular once more. Aside from gospel music, Austin was famously home to many folk-inspired country and blues artists that emerged in the 1960s. The endless list includes those like the world-famous artists Willie Nelson, Stevie Ray Vaughan and Jerry Jeff Walker.
Venues for Folk Music
While German biergartens may have been the epicenter for entertainment in some of the earliest days of Austin's music scene, a few of them remain open to this day including Scholz Garten. Over the years, hundreds of thousands of people, including state politicos, UT football fans, college students and alumni, and dignitaries of varied importance, enjoy the venue's food, drink, and live music. German men's and women's choirs, called Maennerchor and Damenchor respectively, still perform to this day at the attached building named Saengerrunde Hall.
Another biergarten, originally founded in 1871, is the Historic Scoot Inn. The Scoot Inn metamorphosed into a longstanding live music venue and East Austin fixture after living past lives as a saloon, grocery store, and restaurant. The venue currently serves as the oldest continuously running beer joint in Central Texas.
The Saxon Pub, established in 1990, is an intimate live music club located on South Lamar. The venue features live music seven nights a week and has long been a favorite local spot for folk/Americana music. Folk legend Kris Kristofferson likened performing at the venue to playing in his own living room. At the Saxon, you can see local folk and country heavyweights likelike Bob Schneider, James McMurtry, and Joe Ely perform regularly.
And since you're exploring the Live Music Capital of the World, you can bet on seeing live music at unassuming coffee houses like Radio Coffee & Beer, Cosmic Coffee + Beer Garden, and South Austin's Captain Quackenbush's Coffeehouse (otherwise known as "Quack's" by the locals).
If you're a big fan of folk music, it's also worth mentioning that you might want to plan your trip around Old Settlers Music Festival, an annual Americana camping festival established in 1988 and located right outside of Austin. Local favorites like Shinyribs, Wild Child, and Wood & Wire are proud alumni of the festival.
More Essential Musicians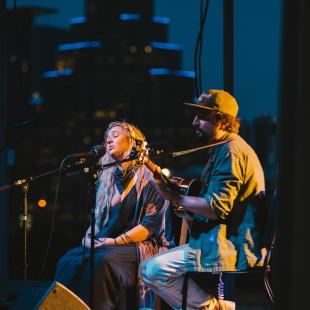 Other than the bands mentioned above, some of the nation's biggest folk music bands are based out of the Texas capital such as indie folk queen Christelle Bofale, a Congolese American songwriter whose lush vocals and calming soundscapes are inspired by her family's roots. Her debut EP Swim Team was once Waterloo Records's top-selling local record.
Other artists you might recognize include nationally regarded folk rock band Okkervil River, alternative folk behemoths the Band of Heathens, local folk fixture BettySoo, Americana folk queen Jaimee Harris, multi-instrumentalist Ben Kweller, Americana heartthrob Shakey Graves, and self-described "transcendental folk & stargaze surf" band the Deer.
Contributed by Nathalie Phan.