History
It was exactly August 29, 1991 when Austin claimed the bragging rights to being the "Live Music Capital of the World." The title was justified by the number of music venues per capita that the city boasted. At this period in time, Austin had built a history interwoven with various genres of music and the multiple cultures that inspired each genre: from Polka music rooted in the German tradition and performed at late 1800s-era biergartens such as Scholz Garten and the Scoot Inn; to the varied forms of Latin music such as conjunto and orquesta; to the jazz, blues, and R&B genres that were originally played and celebrated in Black-owned venues located on the East Side. All of the music that built Austin's reputation was borrowed from cultures that immigrated to Central Texas, cultures that originated from all over the world. Knowing this, it shouldn't be surprising that the term "world beat," which became standard music industry lingo used to describe foreign-influenced or foreign-based international folk genres, eventually came out of Austin.
Once the term "world music" was created in the 1960s (following the German equivalent of "Weltmusik" first coined in 1906), the general definition of the genre was mostly limited to folk and jazz music made outside of the Western Europe and America. After several generations of a wide legacy of musicians that belonged to a multitude of different cultures, Austin became more multicultural, and genres like reggae, Latin folk music, and traditional music from Asia began to develop. The same year that Austin was dubbed the Live Music Capital was the same year that the Recording Academy created a category for "Best World Music Album," further legitimizing the genre.
The road to establishing the "world beat" identity in Austin started in the '70s and '80s. Liberty Lunch, once located where Austin City Hall currently sits, operated as arguably one of Austin's most DIY venues in its history, and was one of the first venues to feature artists that performed world music. The Lunch, as locals used to call it, sat on land that was formerly an abandoned lumberyard. It had a makeshift roof made up of the demolished Armadillo World Headquarters's original steel beams, a step up from it formerly having no roof at all. In the toddler stage of its existence, crowds of 700-900 people danced on the bare dirt floor in front of its primitive stage before concrete was eventually poured in, the stage was replaced, and a wooden dance floor was installed. Frequent performers of the Lunch included bands such as Beto and the Fairlanes, a local world beat, Latin pop, jazz and salsa band, and The Lotions, known as Austin's premiere reggae band from the late '70s.
Following in the footsteps of the Lotions who set the scene for reggae in Austin were bands like Raggamassive, the Mau Mau Chaplains (made up of members of the Lotions), Wajumbe, and the legendary Killer Bees founded by Michael E. Johnson and Papa Mali (side note: Papa Mali's son Jake Miles of local indie pop band SMiiLE is currently an Austin music fixture). The band was active for many years and were successful in making their music an international export as they were one of the first American bands to perform at Reggae Sunsplash in Montego Bay, Jamaica in 1988.
Three years later following this momentum of locally-made foreign-influenced music, Austin-based DJ Dan Del Santo and his friend Joe Nick Patowski, made popular the use of the term "world beat," which sparked an adjacent political and socio-economic movement that parallelled the music. The term was widely used in the record industry throughout the '80s.
In the '90s, Latin dance music, inspired by various Latin cultures such as Brazil and Venezuela, made its start at clubs and restaurants along South Congress such as Club Islas (which later was replaced by Club Palmeras) and El Borinquen, a Puerto Rican cocina by day and a Latin dance hall by night. Other venues such as Calle Ocho, Miguel's La Bodega, La Zona Rosa, and the original Latina-owned El Sol y La Luna hosted bands of Latin American influence such as Ta Mère, Centzontle, Correo Aereo, and many, many others.
These venues featured music from everything "south of Tejano," as described by DJ John Wheat. Wheat, a musicologist at the University of Texas's Center for American History and the longtime percussionist for local Andean music band Toqui Amaru and Sambaxé, was the original host of the flagship Latin radio program Horizantes which began in 1975 and has been airing on KUT and KUTX for over 45 years.
Years later, after Michael Crockett took over Horizantes in 1989 along with producer and radio veteran Mike Quinn, the airwaves grew stronger with Latin influence with the debut of community-run KOOP FM. At some point, the station broadcasted over 10 programs that featured Latin and world music including some that were dedicated solely to the sounds of Cuba, Puerto Rico, and Andean folk.
Venues for Indie & Rock Music
Carnaval Brasileiro, the largest Carnaval outside of Brazil, was founded by homesick Brazilian college students in the 1975. Once the aforementioned Mike Quinn got involved with the festival in 1978, bringing over a thousand people to the event, the festival has been celebrated annually at various venues around the city.
One of the city's last remaining music venues that features original music on "Dirty Sixth" is Flamingo Cantina which opened in 1991 and has since remained one of the best venues for Latin, world beat, reggae and ska music.
Sahara Lounge, deep in East Austin, was founded in 2011 but had been the location of many venues before it such as the historic jazz and blues venue TC's Lounge which was open for 33 years before the Sahara took over. The venue is run by local world music royalty, a mother-son team made up of Eileen Bristol of Zoumountchi, the "Africa Night" house band at the Sahara, and her son Topaz McGarrigle of psychedelic afrobeat collective Golden Dawn Arkestra, an Austin staple.
More Essential Musicians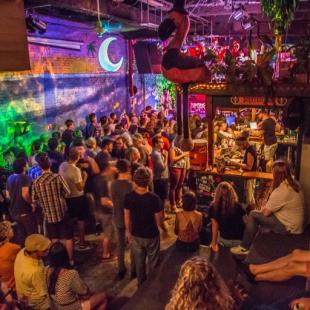 Aside from the many bands above, you should check out some of Austin's other many world music staples such as Colombian funk band Superfonicos, Latin psych-funk collective Brownout, Afrobrazilian fusion soul rocker Frederico7, award-winning Brazilian pianist Paula Maya, Afro-Latin brassy superband Cilantro Boombox, local Afro-Cuban heavyweight Rey Arteaga, and Brazilian vocalist Susanna Sharpe.
Contributed by Nathalie Phan.