History
Because of Austin's country music figureheads' inarguable importance in the history of country music, the city has cemented its place in Americana history.
One strange but true story is of country music superstar Hank Williams and rockabilly honky tonker Johnny Horton. Both are regarded as some of the most influential country artists of the century, and both men, while married to the same aspiring singer Billie Jean Jones, each played their last shows before their deaths at the same venue, Austin's own Skyline Club. While these fateful instances happened nearly a decade apart, it marked the historical significance of the Skyline Club which had opened in the 1940s and remained a hotspot for bands of all genres until the late '80s.
In addition to the Skyline, one of Austin's most monumental music venues in its history is the still-standing Broken Spoke, Austin's oldest honkytonk founded by James and Annetta White. Located on South Lamar, the Spoke was where country legends like George Strait and his Ace in the Hole band cut their teeth, along with other greats that frequented Austin such as Waylon Jennings, Kris Kristopherson, and pioneering female country singer Kitty Wells.
Eddie Wilson founded the revered Armadillo World Headquarters in 1970 and later bought the famous Threadgill's, the venue which famously helped launch Janis Joplin's career. During the '70s, a great migration made its way to Austin bringing with it stars from Nashville like outlaw country patriarch Willie Nelson who played at "the 'Dillo" to a mixed audience of liberal college students and country fans otherwise referred to as "hippies and rednecks." In addition to Nelson, a long list of musicians who happened to find themselves in the soon-to-be Live Music Capital such as Jerry Jeff Walker (who wrote the hit song "Mr. Bojangles"), Marcia Ball, Ray Wiley Hubbard, Asleep at the Wheel, and Michael Martin Murphy were all a part of the forming resistance against slick Nashville-centric country music and formed a new chapter of the genre, a crossover of country and rock music. The genre eventually developed into "progressive country rock" which to this day is one of the central sub-genres of modern-day Americana music.
In 1976, Nelson was present during the infancy of what is now the world's longest running music program on TV, Austin City Limits. Having been the inaugural guest of the program's pilot episode, Nelson was instrumental in creating the cosmic cowboy culture of Austin and showcasing it to the world. The show's theme song for the first quarter of a century was "London Homesick Blues" by local musician Gary P. Nunn. Today, you can find a statue of Nelson located outside of the current studio and theatre of Austin City Limits on Willie Nelson Boulevard.
Even in the last few decades, Austin has continued to produce some of the biggest stars in country music. Beginning in the 1980s to the present day, the local music stalwarts Joe Ely, Butch Hancock and Jimmie Dale Gilmore, made a name making rock-influenced country music. In the '90s, supergroup Texas Tornados formed as a fusion of Tejano, rock and country music and opened the decade with a Grammy win for Best Mexican/American Performance. The beloved Doug Sahm Hill is named after one of the founding members of the band.
Venues for Country Music
Aside from the aforementioned Broken Spoke, which is a reliable spot for great music and two-steppin', Austin is home to a number of historic venues for country music.
About 30 minutes southwest of Downtown sits Nutty Brown Amphitheater. Starting from the 1950s, the land where the venue now sits has been used for a number of different ventures including it's original business, a specialty flour and candy store named Nutty Brown Mills. Since then, it has metamorphosed into a number of things such as a car dealership, Western clothing store, barbershop and was even almost the location of a zoo before it was purchased. The music venue and restaurant as it stands today was founded in July of 2000. With its enormous oak-shaded patio and neon cowboy sign, the venue is the premier place for ticketed events such as live concerts for touring artists of renown such as Pat Green and Eli Young Band.
The White Horse has become the ultimate East Side destination for all drinking-age adults brought to you by club owner Denis O'Donnell. Whether you like to show off your dance moves on the venue's enormous dance floor or whether hanging out on the dog-friendly patio is more your style, the White Horse is the perfect way to perfect your "yee haw!" The venue features live music 7 nights a week. Bands such as Armadillo Road, JD Clark and the Stuck in the Mud Band, and fixture of the Austin music scene Kathryn Legendre are just a few examples of a good time at the White Horse.
O'Donnell recently opened up a sister venue to the White Horse called the Sagebrush located in South Austin. The saloon is affectionately known as "the place where dreams come to party" and featured well-known local country artists like Jonathan Terrell, Beth Chrisman, and the Golden Roses.
In addition to these venues, visitors should make stops at the historic Continental Club, play "Chicken Sh*t Bingo" at Little Longhorn Saloon, and make a day trip to the oldest dance hall in Texas, Gruene Hall, located right outside of Austin in neighboring New Braunfels.
More Essential Musicians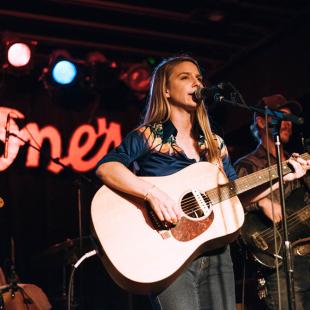 In addition to the local bands mentioned above, check out country rockers Reckless Kelly whose career prepared for liftoff shortly after performing at the inaugural Austin City Limits Festival in 2002 or local stalwart Dale Watson who shortly after relocating formed a backing band called The Lone Stars. Watson found immediate success after signing a record deal with Hightone and releasing his debut album "Cheatin' Heart Attack." Other noteworthy musicians in the country genre include local institutions such as Kelly Willis, Bruce Robison, Junior Brown, Carrie Rodriguez, and Ricky Trevino.
Contributed by Nathalie Phan.