History
Austin's pop scene is broad and includes a multitude of various influences. Local pop music reflects the city's love of crossing the boundaries of different genres and creating a wonderful and playful fusion of sounds. Whether it's just plain rock 'n' roll or endearing self-prescribed labels such as "art vomit" (if that sounds like your thing, check out local fusion band HYAH!), the city has become known for its fusion of music genres that make it so distinctly Austin.
The overall genre of pop has relatively remained the genre of the youth and was birthed in the mid 1950s. In Austin during that time, venues such as the Sportscenter and Skyline Lounge invited esteemed guests of budding fame such as Elvis Presley.
When Sportscenter was replaced with the much more well-known Armadillo World Headquarters in 1970, it became home to even more of Austin's greatest talents. The 'Dillo and its successor Threadgill's had a huge influence on forming Austin's unique brand of what would eventually become pop. It was here where local artists like Janis Joplin eventually became household names and where local bands began to play outside the boundaries of their respective genres. The resulting fusion between psychedelic rock and country music created the lovable "cosmic cowboy" identity that Austin is associated with today.
Thus, with Austin artists beginning to merge genres and color outside of the lines, Austin's own brand of "pop" music began to take shape. In the 1970s and '80s, Joe "King" Carrasco, the inventor of "Tex-Mex rock 'n' roll" was one of the first pioneers of the pop scene in the city. He combined "Nuevo Wavo" rock with Latin rhythms and created a fusion of Latin-esque psychedelic synth and rock 'n' roll. Carrasco saw a lot of success from his single "Party Weekend." Following that release, he was interviewed in Rolling Stone Magazine, featured on MTV, and performed on Saturday Night Live.
Of course, despite Carrasco and because of the local DIY counterculture that naturally rejected popular culture, Austin has always majorly been a city of bootstrapped independent musicians drawn to more rock and blues-heavy sounds. Famously, very early in her career before she became an Austin staple, the multi-talented Ruthie Foster rejected a record deal with Atlantic Records. The label wanted to cultivate her talents to drive her in a pop-oriented direction, but she refused and instead was determined to maintain the integrity of the American roots music that influenced her childhood.
Despite this rejection of pop culture, Austin has never been able to successfully escape it, building cultural institutions like Austin City Limits. Over the span of 900+ episodes, the television show became a fixture of American culture and the longest-running music program in the nation, earning it an induction in the Rock and Roll Hall of Fame. For the first 36 seasons, the show was hosted out of Studio 6A of the Communications Building at the University of Texas. Years later, it found a home in its new downtown location on a street now named Willie Nelson Boulevard, inspired by the local outlaw country pioneer who performed on the show's pilot episode and whose statue now sits in front of the Moody Theater. Today, the venue serves as the current home of ACL Live, and brings in some of Austin's biggest pop stars.
In the late '80s and through the '90s, Austin music evolved and rear-ended the archaic counterculture rejection of pop. Bands like Fastball, Spoon, Blue October, and Timbuk3 put Austin on the map and themselves on the Billboard charts with their special brand of alternative rock/pop music. Carlos Sosa's Grooveline Horns section began touring and recording with Bob Schneider's group Ugly Americans and later, national acts such as Maroon 5, Kelly Clarkson, Jason Mraz, and Zac Brown Band. In the 2000s, Los Lonely Boys put a cherry on top with their hit debut single "Heaven" which landed the band a Grammy nomination for "Best New Artist" in 2005 (losing to Maroon 5) and a win for the category of "Best Pop Performance by a Duo or Group with Vocals."
Venues for Pop Music
In 2002, pop music in Austin peaked in the advent of Austin City Limits Festival, named after the popular music program that reached international syndication. The longstanding flagship festival remains one of Austin's biggest annual attractions. The event features both local and national acts. In its inaugural year, the festival presented a multitude of local musicians who performed across a number of different genres such as the now-legendary but then-teenage Gary Clark Jr. Year after year, the festival began to book more pop acts and Austin's cross-genre pop sound aesthetic began to further develop. Now, each year, hundreds of thousands of music fans pilgrim to Austin's Zilker Park to see some of the nation and city's biggest pop artists perform.
If you're looking for a historic spot where you can grab cheap drinks, look no further than Hole in the Wall. Whether you want to prove your talents at karaoke, or leave the singing to the band, Hole in the Wall is an Austin staple. This legendary spot located at the heart of West Campus on the Drag may look unassuming but since opening in the mid-70s, it has been the common denominator in many nearly folkloric celebrity sightings: Natalie Portman playing a real-life pool shark; Quentin Tarantino heckling a band onstage; John Stamos inconspicuously showing off his skills on the drum set at a Sunday night jam. Not to mention, hometown heroes such as Gary Clark Jr., Spoon, Shakey Graves, and Black Joe Lewis have all cut their teeth at Hole in the Wall before graduating to much more prestigious stages nationwide.
Lastly, as an apparent display of how weird Austin can really get, Cheer Up Charlies is not only Red River's most poppin' adult playground with two stages, fresh cocktails, and a breezy patio, but it provides a stage for indie/pop bands at professional level and a dance floor for events like Neon Rainbows 90s Country Night where country meets queer. Get your two-steppin' on and your rainbow cowboy hats ready.
More Essential Musicians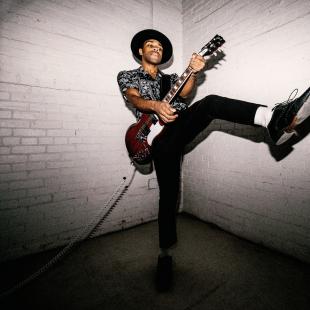 Aside from those mentioned above, check out some of the city's most popular pop artists such as the multi-talented one-man band Mobley, smooth crooner Molly Burch, indie pop giants Wild Child, it's sister project Sir Woman, local supergroup Sweet Spirit, pop-rocker Ben Kweller, and nominees of the Grammy category for "Best New Artist" in 2020 Black Pumas. Not to mention, the city is home to local emerging artists such as Missio, Max Frost, and Night Glitter.
Contributed by Nathalie Phan.