History
It wasn't until the late 1970s and early '80s that the musical genre and culture of hip-hop emerged like a tidal wave upon America. The genre has since only grown in popularity and now frequently dominates modern-day Billboard charts.
In Austin, leading the charge in the late '80s was the pioneering local hip-hop artist Donnell Robinson, known better by his stage name MC Overlord. Overlord, a St. Louis native, had moved to Austin for college but dropped out a year later to launch what would be a 30-year rap career.  While there were not many stages where rap was welcome, especially east of I-35, he boosted the careers of young hip-hop artists by featuring them at a downtown club called Hip Hop City.
Some of the other hip-hop venues of Austin's past worth mentioning include Red River's former uptown club Spiros, Hip Hop City's successor the Sanitarium, and the Catfish Station. The Catfish was one of the initial flagship hip-hop venues in Austin and had a good run from 1987 to 1995. SXSW's Andre Walker and music blogger Matt Sonzala were responsible for the initial bookings of hip-hop artists at the global music festival beginning in 1994 through the 2000s. Famously, the festival launched many music careers, including Erykah Free who was discovered at a showcase at the Catfish by a Universal Music scout and soon transformed into the Dallas legend Erykah Badu.
Crucial to the late '90s and early 2000s was a local promoting crew called Hip-Hop Mecca which was founded in 1997 by David Crump and Doug Mecca. The crew was famous for putting on roadshows and introducing the state and nation's burgeoning hip-hop scene to Austin in addition to local performers like DJ NickNack and MCs Nook and Smackola, the latter of which formed Austin's original Dirty Wormz with DJ Crash. The aforementioned MC Nook also known as Charles "Nook" Turner, founded an organization called Jump On It in 1996 with the intention of uniting the local community through entertainment, hosting summer music events for East Austin families. After being on hiatus for a few years, Nook continues to run Jump On It events with his wife to this day.
Another beloved Austin music fixture Terrany Johnson, otherwise known as Tee Double, continues to make music to this day. Tee founded a non-profit called the Urban Artist Alliance in 2012 to educate and inspire young generations of urban artists.
For years after the closing of the Catfish Station, it was rare to see hip-hop shows west of I-35 in the salad days of Austin hip-hop. However, there were a few places like the Black Cat Lounge, which showcased a wide variety of music in its 17-year run including rap shows, and Austin's infamous Back Room (currently Emo's East). Near the end of its time, the talent buyers at the Back Room started booking acts like Bun B, Devin the Dude, and local talent Bavu Blakes after several years of successful SXSW hip-hop showcases. Blakes built his own legacy in Austin as one of the first local hip-hop artists to play at ACL Festival. Blakes partnered with Tee Double, Traygod Shekhem, and multi-instrumental wizard D-Madness to host the weekly "Hip Hop Humpdays" events at Sixth Street's Mercury Lounge.
In the modern day musical landscape of Austin, hip-hop culture thrives. In 2010, the then-19-year-old Sascha Stone Guttfreund founded Scoremore Shows, now one of the largest hip-hop and EDM promoters in the state. Now under ownership of C3 Presents, Scoremore still books large acts for events and festivals such as JMBLYA and Mala Luna.
Venues for Hip Hop and R&B Music
In more recent years, Scratchouse, a recent victim of the 2020 pandemic, was widely known by the community for its electronic and hip-hop programming for the younger generation. Now that the club has closed, numerous others continue the legacy of local R&B and hip-hop.
Named after the manager of Austin's legendary Rome Inn club, C-Boy's Heart & Soul is a South Congress-area juke-joint featuring classic soul and R&B music onstage, a spacious and cool outdoor patio and an upstairs lounge called the "Jade Room," a nod to a former legendary Austin venue.
Sitting pretty in the historic Red River Cultural District is Empire Control Room & Garage where local promotion company Heard Presents hosts local artists in its smaller indoor listening room called the Empire Control Room and popular touring acts on the much larger stage outside in the Empire Garage.
While you're in town, plan a visit to shows at the genre-neutral Riverside institutions Come and Take it Live and Emo's, or see if there are shows happening at the Far Out Lounge down south, Rainey Street's Half-Step, or East Side gem Kenny Dorham's Backyard.
For a more casual listening experience, visitors of the Texas capital are welcome to tune into KUTX 98.9 FM for Austin's most popular hip-hop radio program called The Breaks hosted by Aaron "Fresh" Knight and Confucius Jones. The show covers everything from hip-hop history to music by the city's emerging hip-hop artists. Another important part of Austin's hip-hop culture is the city's oldest community-run station KAZI 88.7 FM, where the late DJ Southpaw coined the term "ATX." The station features R&B, hip-hop, soul and other genres.
More Essential Musicians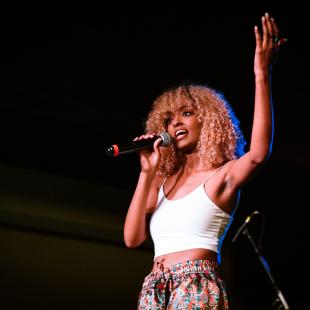 In addition to the endless list of artists named above, Austin is home to DJs such as Grammy-winning music veteran Rapid Ric, DJ Phyfteen, and the city's premier hip-hop DJ Hella Yella who began his career jockeying school dances only to become the first and only on-air mixer in the history of radio channel 102.3 The Beat.
While you may have heard of pop and R&B icons such as Nelly and Ciara, who were both born in the Austin area, the city has a lot more for you to discover such as local husband-and-wife duo Riders Against the Storm or popular local producer and artist Kydd Jones. Additionally, go listen to Blackillac, a duo made up of equal parts of local rappers ZEALE and Pharcyde under the guidance of hometown hero Gary Clark Jr. Other big names include gen-Z era Quin NFN and widely celebrated rap groups from the neighboring San Marcos area Brockhampton and PNTHN.
Worthy of mention, Austin's hip-hop community has grown to be more inclusive with a growing number of female rap and R&B artists leading the scene such as Mama Duke, Magna Carda, Eimaral Sol, Alesia Lani, and Melat.
Contributed by Nathalie Phan.