History
In the decadence of the late 1970s through the 80s, Austin had settled comfortably into its current brand of being the Live Music Capital of the World. Beyond Austin's trademark cosmic cowboy genre, the opposing punk rock and new wave genre began to bubble above the surface as campus mainstay live music venue Raul's. While the Skunks and the Violators were credited by some as the first two Austin punk bands, it was the headline-sparking arrest of Huns singer Phil Tolstead on stage in September of 1978 that proved to be the inaugural reception of Austin's punk scene. Later on, Raul's also saw the inception of local punk legends Big Boys, the Dicks, and the Butthole Surfers.
Out of the punk scene came post-punk genres with electronic elements, beginning an unstoppable era of synth-infused new wave. In the late '70s, a gay disco downtown called Rushes saw major success as people from all over the country visited to see the legendary queer black goddess of disco Grace Jones perform, but as the disco scene began to fade, a new club called Club Foot opened in its place and soon became a hotspot for local and touring punk and new wave bands including international treasures such as U2, R.E.M. and the Police.
Kerry Jaggers, local legend and famed club consultant, first DJed Club Foot and went on to establish a number of other venues across the country including Dallas' Starck Club, Houston's Rich's, Austin's Backstreet, and San Francisco's 1015 Folsom. Jaggers is widely credited for bringing the rave scene to Austin in the mid-'80s. To pinpoint the start of the new chapter of electronic dance music in Austin, a dance club called Halls hosted a mobile club-within-a-club called Club Iguana where ecstatic ravers and electronic dance fans alike regularly indulged themselves in the new era of electronic dance music.
Through the decades, other beloved clubs such as Carnaval, Basics, Club 404, Club Kaos, Cave Club, and Cannibal Club all saw the evolutions of several sub-genres of electronic dance music. Whether it was house music, afrobeat, goth, dark wave, industrial, or alternative electronic music, there were many strains of EDM that existed in the '80s and '90s and live on today.
Curse Mackey, DJ & electronic musician known for his work in industrial supergroup PIGFACE, has been in and out Austin long enough to see the clubs change constantly. However, niche genres like his own maintain strong local followings. Today, he performs worldwide as a solo artist and co-produces electronic/alternative band SINE with local dark wave queen Rona Rougeheart.
Roger Wilson, twice voted in local music polls as Austin's best club DJ, is also locally renowned for having a huge impact in the development of the electronic music scene in Austin. For over 30 years, Wilson has hosted a still-running weekly '80s dance party called Return to Planet 9. Though Austin's live music landscape has changed through the years, Wilson's dance parties remain the same. The musical savant has hosted the iconic event at nearly every dance club in Austin since 1989 such as Planetarium, Sanitarium, Acropolis, and Ohms, and now present-day dance clubs such as Drinks Lounge, Elysium, and Cheer Up Charlies.
Venues for Electronic & Dance Music
In more recent years, Austin's seen recent clubs such as Kingdom, Ethics, Barcelona, the Nook, and Plush provide endless entertainment for locals and visitors alike. Despite their recent closures, Austin has continued the electronic scene's legacy through other venues still open to visitors.
Vulcan Gas Company, named similarly to the original 1960s venue of the same name, hosts electronic artists regularly at its location on Dirty Sixth. With a combination of its massive 9,500 sq. ft. steampunk-interior and its state-of-the-art light and sound, Vulcan is the perfect venue to see both local and touring acts such the internationally renowned TOKiMONSTA, local house and techno DJ Lefty, and Chklte, one of the DJs behind local dance party crew BlackTone.
The longstanding Red River Cultural District artifact Elysium is coming up on its 20th year of hosting alternative electronic artists. Having been a series of dance clubs since the '70s, it is here where you can experience the alternative nightlife of Austin. For example, you can catch an event like the Edgar Allen Poe Ball where local DJs Crescendoll & Neph play your dark wave, gothic, synth, post punk, industrial and new wave favorites.
The newly opened tropical-themed Coconut Club is the new favorite hotspot for dancing in the Warehouse District. The club features a menu of healthy bar food inspired by island cuisines from around the world as well as local award-winning bartender and co-owner Brian Almaraz's cocktail menu of drinks made from fresh ingredients instead of syrups. It is here where one can get lost in the sounds of Austin's most infamousDJs. Chorizo Funk, ThankYouForSweating founder Charles Mxxn, joaqu.n, and DJ Breezah are local alumni of the club.
If you have time, also stop by #1 LGBTQ club Highland, get sweaty after-hours at Barbarella, and stop by NITE SCHOOL every 2nd Thursday at Red River's chillest hang spot Cheer Up Charlies for more of Austin's best electronic & dance music.
More Essential Musicians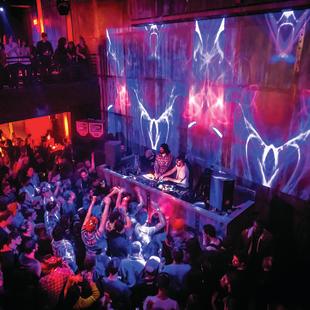 From the post-punk era of new wave to the current varied electronic dance scene of Austin, there are a number of local artists you should familiarize yourself with in addition to the ones listed above. For starters, record producer Giraffage resides in the Live Music Capital and has won praise by national and international media such as Pitchfork and THE FADER. Austin is also home to electronic alternative duo Missio, synth wave duo Night Drive, minimalist composer and one-man ambient band Bayonne, and boutique synth label HOLODECK Records whose cohort of artists includes Lou Rebecca, Emmy-winning synthwave quartet s u r v i v e (best known for composing the theme song and soundtrack of Netflix's Stranger Things), and Samantha Glass locally known for their drag-based performance art and dark wave music.
Contributed by Nathalie Phan.