History
The history of jazz in Austin stretches back to the height of legal segregation in the south, the 1920s. The Black community was largely forced to reside east of I-35. During this time, the city's social activities were strictly segregated by race. As a result, the East Side became rich with African American culture as residents of the community patronized the businesses within their own neighborhoods including some of the first Black-owned venues in Austin.
The famous and historic Victory Grill was among one of the venues in the area and today remains one of the last remaining original Chitlin' Circuit juke joints. While the space is now occupied by a southern food establishment called the Rolling Rooster, the restaurant still features a stage for jazz and blues, a nod to the original venue.
Other stages existed as clubs such as Charlie's Playhouse, Big Mary's/Alabama Club, Ernie's Chicken Shack, and Doris Miller Auditorium which was established in 1942 and is still a hub of entertainment and recreation for the East Austin community today. A part of the Chitlin' Circuit, touring acts such as Ella Fitzgerald and Ike & Tina Turner have graced the Miller Auditorium stage.
Further west at what is now the Red River Cultural District's Symphony Square, which was constructed in 1971 and originally designed as a southeastward extension of Waterloo Park, the New Orleans Club reigned as one of the most popular clubs during the 1950s and '60s. Over time, the venue developed a rich variety of music in addition to jazz, but it was here that now-legendary Black female jazz artist Ernie Mae Miller performed regularly. With a career spanning over 50 years, Miller was a child prodigy after learning to play the piano by the ripe age of 5 years. After having left Austin for a while, she returned and enrolled at Huston-Tillotson to study music and began her solo career as a jazz pianist and vocalist. In addition to having a residency at the New Orleans Club, Miller also performed at Flamingo Lounge and the popular Jade Room.
During the 1930s, swing music dominated the jazz scene. Austin native Teddy Wilson, one of the genre's most accomplished swing pianists, played with legends like Louis Armstrong, Billie Holiday, and Ella Fitzgerald. Later, Wilson joined the Benny Goodman Trio. Another Austin native, Oscar Moore, was known as the jazz guitarist for the Nat King Cole trio.
In 1963, a graduate of the music education program at Huston-Tillotson, Dr. James Polk emerged onto the music scene as a professional blues and jazz keyboardist. He is known for his work as an organist/pianist, writer, arranger and conductor of the Ray Charles Orchestra. His most recently formed jazz ensemble, Centerpeace, still performs regularly in Austin.
Jazz vocalist Tina Marsh was the leader of Austin's Creative Opportunity Orchestra, a pioneer in the Austin jazz music scene, from 1982 until her death in 2009. The Orchestra featured local and international jazz artists, bringing the entire arts community together with innovative compositions in avant-garde jazz and improvisational music. Find archives of Marsh's work at the Austin History Center and the Briscoe Center for American History at The University of Texas.
Austin native and trumpet player extraordinaire Martin Banks' bio reads like a who's who of jazz through the years, from swing through the avant garde of jazz. A graduate of East Austin's Anderson High School, Martin worked and toured with artists such as Ray Charles, Duke Ellington, Count Basie and others in the 1950s and '60s New York bebop scene. He returned to Austin in the 1980s, bringing his knowledge and soulful expertise back home to Austin and taught a whole generation of musicians - both on the bandstand and in the classrooms of Austin ISD.
One of the greatest musicians of the Austin jazz scene, pianist Rich Harney was a regular presence at the Elephant Room until his death in 2020. A prolific composer of swing and post-bop tunes, Harney was a brilliant jazz pianist, the first musician to play Austin's famed Liberty Lunch, winner of many local and national awards, and mentor to other local musicians.
Venues for Jazz Music
Beginning in 1968, during integration, Black residents were finally allowed to move to other parts of the city. The once lively East Side jazz scene somewhat subsided as clubs like Charlie's Playhouse began to shutter. However, local jazz music lives on, and there are a number of current venues that proudly serve as the modern-day flagships for jazz music in Austin.
A recent addition to the cool kids' club of venues, East Austin Piano Shop doubles as a livestreaming soundstage for jazz musician Collin Shook's nomadic jazz club concept Monks. Since its inception in September of 2016, Shook has curated over 100 one-of-a-kind pop-up experiences featuring Central Texas's mightiest jazz players. Frequent guests include jazz drummer Daniel Dufour, one of Austin's most gifted trombonists Andre Hayward, saxophone king Elias Haslanger, and the famed Black Pumas keyboardist JaRon Marshall.
Not to be forgotten are the wallpapered dollar bills within the cavernous basement that, since 1991, has been known as the infamous Elephant Room. Austin's busiest and most intimate jazz club is not one where jazz rookies are welcome; only Austin's most talented players are allowed onstage with names such as Ephraim Owens, Dr. James Polk, Michael Mordecai, Adrian Ruiz, and Jeff Hellmer.
Not far down the street from the Elephant Room is its downtown neighbor Parker Jazz Club. Known for its state-of-the-art listening room designed for the optimal live music experience, the club is owned by award-winning jazz vocalist and multi-instrumentalist Kris Kimura who named the venue after his son Parker. Touted as a world-class basement lounge designed "by musicians, for musicians," Parker hosts local guests such as Austin's "First Lady of Jazz" Pam Hart, alumni of the Broadway stage Kenny Williams, and Japanese jazz drummer Masumi Jones.
Named for the legendary jazz trumpeter and East Austinite, Kenny Dorham's Backyard is the shining beacon of the East End Cultural Heritage District of Austin. The outdoor venue is run by multi-disciplinary cultural arts non-profit DiverseArts and hosts events such as Austin Jazz and Arts Fest, East End Summer Music Series and the SoulFest. Musician Harold McMillan, Founder of DiverseArts and Operator of Kenny Dorham's Backyard, is also a jazz blues historian and an excellent resource for anything related to Austin music.
If you're lucky, you might stumble upon some great moments in talent discovery at a local jazz jam like the ones hosted at East Austin fixture Volstead Lounge. Formerly known as Stay Gold, the location of the Long Play Lounge East is where, in 2018, a young drummer named Greg Clifford was discovered by seasoned music veteran James Petralli of longstanding jazz-infused rock band White Denim. He went on to be White Denim's newest addition and has since gone on worldwide tours with the band.
More Essential Musicians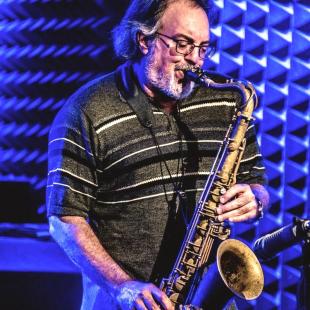 While you're at it, make sure to explore the sounds of other highly esteemed local jazz musicians. One of the most active and influential jazz artists today, is native Texan and local composer Alex Coke. The saxophone/flutist has called Austin stages home for more than 40 years, and is considered a leader and a teacher to both established and up and coming Austin artists.
Austin-based producer and bassist Nick Clark, whose resume includes his work with celebrity musicians such as Kanye West, H.E.R., Doja Cat, and Amine, also works with local talent such as Jackie Venson and Tameca Jones. Two-time Grammy-winning jazz drummer Brannen Temple has claimed legendary status as he has lent his skillful percussionary excellence to the famed Janet Jackson, Chaka Khan, the Chicks (f.k.a. The Dixie Chicks), and Austin legend Ruthie Foster.
Additionally, be sure to engulf yourself in the music of local fixtures such as saxophonist Gil Del Bosque, and the University of Texas's Butler School of Music alumni Sarah Milligan who co-founded non-profit Jazz Girls TX.
Contributed by Nathalie Phan.