Businesses Choosing Austin
Highly skilled and educated workforce? Check. Affordable operating costs? Check. Centrally located? Check. It's no wonder that so many businesses choose to make Austin their base.
In 2012, The Home Depot made a substantial investment in data science, innovation, technology and design by acquiring Austin-based BlackLocus, a start-up aimed at turning complex research and data into valuable insights, solutions and interfaces for businesses. Together, they formed the Home Depot Innovation Lab, hiring 500 Austin technology employees to explore exciting opportunities in the rapidly transforming retail space.
In 2018, the Army Futures Command (AFC) established operations in Austin, its first-ever major command center in an urban setting, in order to be close to technology innovators and researchers in one of the nation's fastest-growing technology cities. In its quest to modernize the Army through the development of new equipment and processes, the AFC has partnered with the University of Texas at Austin, which provides office space and research capabilities. The AFC also works out of local tech incubator the Capital Factory, enhancing its collaborative approach toward innovation.
In July 2020, innovative electric vehicle manufacturer Tesla announced that it had chosen Austin for its new $1.1 billion Gigafactory that will employ 5,000 people. Tesla's second auto manufacturing factory in the U.S. will produce pickup trucks, SUVs, luxury cars and heavy-duty semi trucks. Billionaire Elon Musk, co-founder and CEO of Tesla, is promising to build a stunning factory along the Colorado River, complete with a boardwalk and hike-and-bike trails that will be open to the public.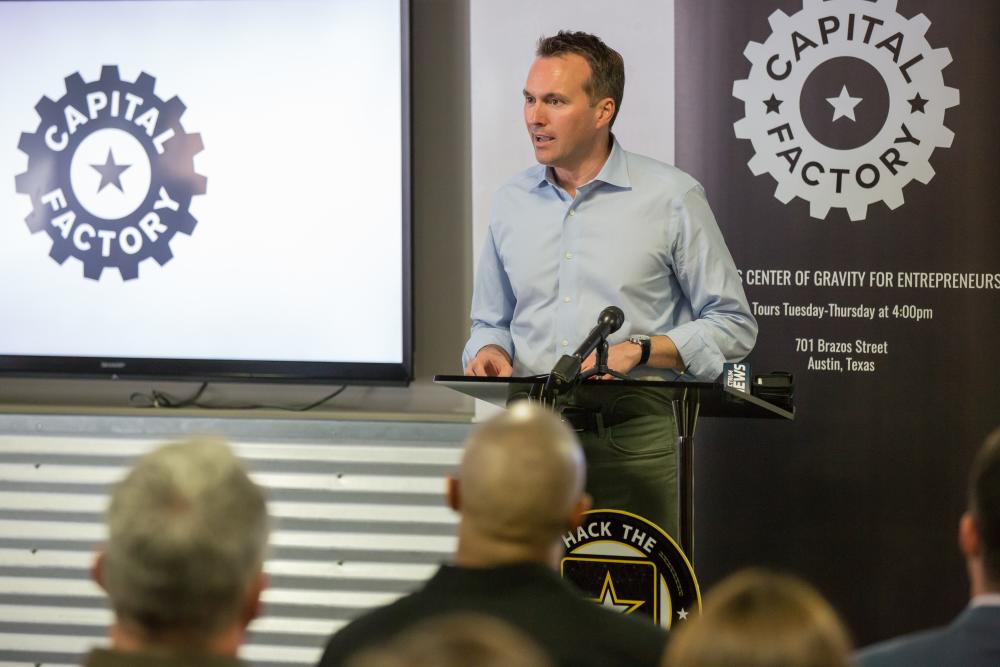 Courtesy of Capital Factory.
Business Spotlight: Capital Factory
701 Brazos St., Austin, TX 78701
www.capitalfactory.com
Declaring itself as "the center of gravity for entrepreneurs in Texas," the Capital Factory is the place in Austin for start-ups to get started. The Capital Factory works with everyone from first-time entrepreneurs to late-stage tech companies, matching them with investors, mentors, employees and customers.
The Capital Factory is located right in the middle of downtown Austin, housing hundreds of start-ups working in software, hardware and innovation. Through its vast network of resources, the Capital Factory provides start-ups with the tools they need to grow their company. This includes an inspiring coworking space that includes meeting rooms, event and classroom facilities, a VR Lab, an on-site gym, and a stocked kitchen with cold brew and local beer on tap. Some of Texas' top tech CEOs act as mentors, offering advice on everything from fundraising and recruiting to marketing and sales. The Capital Factory continuously introduces local angel investors to entrepreneurs through events and pitch competitions.
The Capital Factory also supports Austin's start-up ecosystem through partnerships with corporations, universities, government agencies, nonprofits, venture funds, service providers, member companies and other organizations in the community. Plus, the Capital Factory hosts hundreds of tech-focused events each year, with topics that range from cybersecurity to diversity and inclusion.
Besides being the place where the technology community comes together to learn and connect, the Capital Factory is also available for private events. Here you can hold classes, pitch sessions, hackathons, book signings, panel discussions, happy hours and more, with stunning views of the Texas Capitol as your backdrop. Group tours of the Capital Factory are also offered.