Visit Austin Celebrates National Travel and Tourism Week
"Spirit of Travel" with ATX From Home Campaign Featuring Week of Virtual Activities & Events, May 3-9, 2020
Visit Austin Foundation launches Insurance Marketplace
Austin, TX — National Travel and Tourism Week (NTTW), the annual celebration of the contributions and accomplishments of the U.S. travel industry, will spotlight resilience and hope in the face of the coronavirus pandemic with this year's theme: Spirit of Travel.
Celebrated annually the first full week in May, NTTW was created by Congress in 1983 to underscore the economic power of travel in the U.S. The 37th NTTW (May 3-9) arrives at an opportune moment to unite the industry, celebrate its indomitable spirit and elevate the role it will play in America's economic recovery.
Visit Austin is engaging our local community and future visitors through a variety of daily activities on our social channels and on VisitAustin.org, highlighting live music, local businesses and makers, cuisine, culture and more. Until we can celebrate together over a bowl of queso, we encourage people to Visit Austin From Home. Learn more about our daily schedule of events and activities (beginning Monday afternoon) at www.visitaustin.org/ATX-from-home.
"There's no doubt this has been an incredibly challenging time for our Austin hospitality industry, but we see National Travel and Tourism Week as an opportunity to remind our future visitors and our residents of the incredible spirit and resiliency of the travel industry and our workforce," said Tom Noonan, President and CEO of Visit Austin. "Since early March, the Visit Austin team has pivoted marketing efforts to focus on providing virtual activities for future trip planning and to support our local businesses," added Noonan.
"Another way we are assisting the hospitality workforce is through the Visit Austin Foundation and the newly launched Insurance Marketplace," said Noonan. 
The Visit Austin Foundation has launched an online insurance marketplace, in collaboration with an independent insurance broker. The marketplace provides a one-stop portal with expert agents to help evaluate a variety of plans to meet a range of needs for recently unemployed, part-time or contract workers and their families. Learn more at www.visitaustin.org/visit-austin-foundation/community-resources.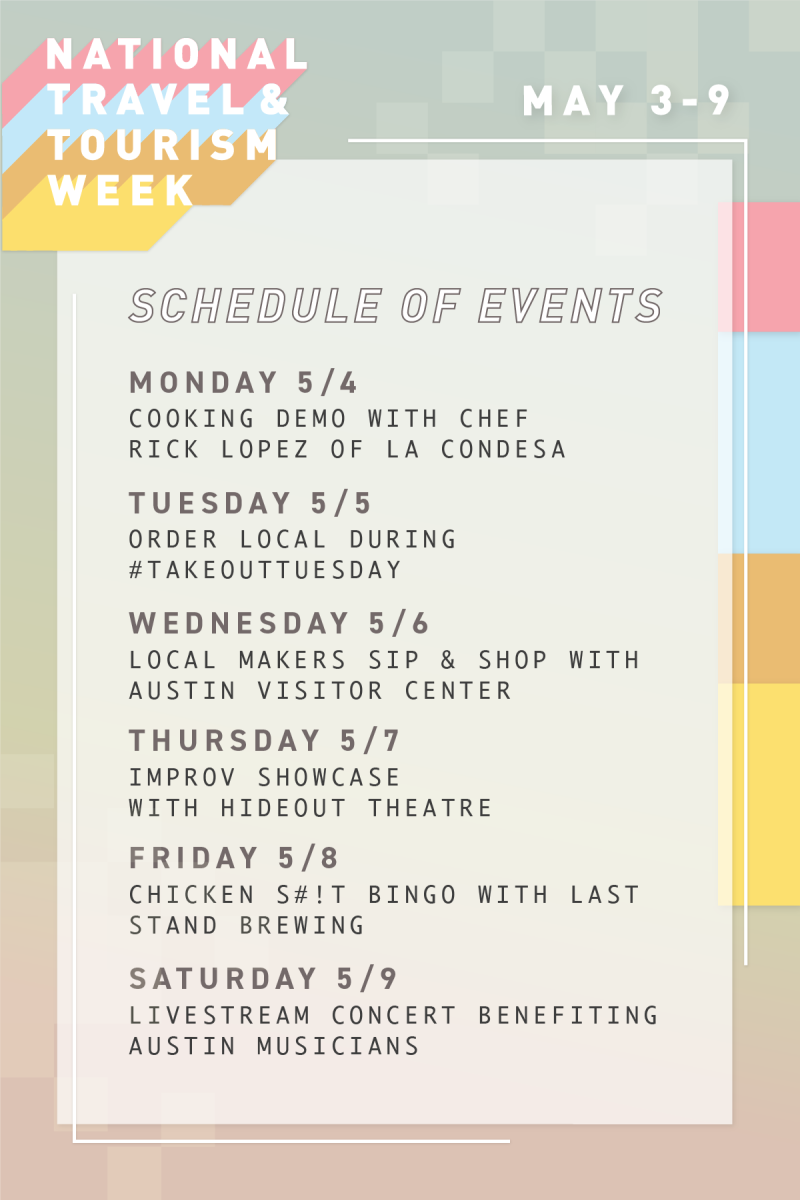 ###
About Visit Austin
Visit Austin is the official destination marketing and sales organization for the City of Austin. An accredited member of Destinations International, Visit Austin is charged with marketing Austin nationally and internationally as a premier business and leisure destination, thus enriching our community's overall quality of life.
About the Visit Austin Foundation
The mission of the Visit Austin Foundation is to develop and promote education, job training and career opportunities within the hospitality, music and tourism community in the greater Austin area. The Foundation is an independent, 501 (c) (3) public charity.