Austin Comedy Clubs & Festivals
Laughter might just be the best medicine. Have a good giggle at one of these Austin comedy clubs or events, where the humor flows freely.
Annual Comedy Festivals
Austin Sketch Fest
Austin Sketch Fest is a celebration of the best scripted comedy from Austin and beyond. The festival is produced, booked, and organized by ColdTowne Theater, a local icon in the improv, stand-up and sketch comedy scene. Previous guests include Latino Comedy Project, Master Pancake Theater, Atsuko Okatsuka and others.
Moontower Comedy and Oddity Fest
This is one of those Austin events you won't want to miss. The Moontower Comedy and Oddity Fest is a four-day extravaganza boasting an all-star lineup of more than 100 comedians from across the globe. Presented by the Paramount Theatre, this comedy festival offers humor for every type of fan, as national headliners, up-and-coming comics and local laughsters unleash hilarious wit in the form of musical comedy, stand-up, sketch and improv. Past festivals have showcased the likes of Martin Short, Kevin Smith, Maya Rudolph and many more.
Out of Bounds Comedy Festival
Out of Bounds is a week-long deep dive into all the comedy disciplines, featuring the largest and widest possible display of improv, stand-up, and sketch. Comedians from around the country show Austinites their comedy chops, performing alongside today's rising stars.
SXSW Comedy Festival
Growing from a one-night celebration of comedy's biggest names into a week-long whirlwind of a festival, the SXSW Comedy Festival presents uniquely diverse programming that highlights exceptional emerging and established talent. SXSW Comedy alumni include Hannibal Buress, Abbi Jacobson, Nick Kroll, Kathy Griffin and many more.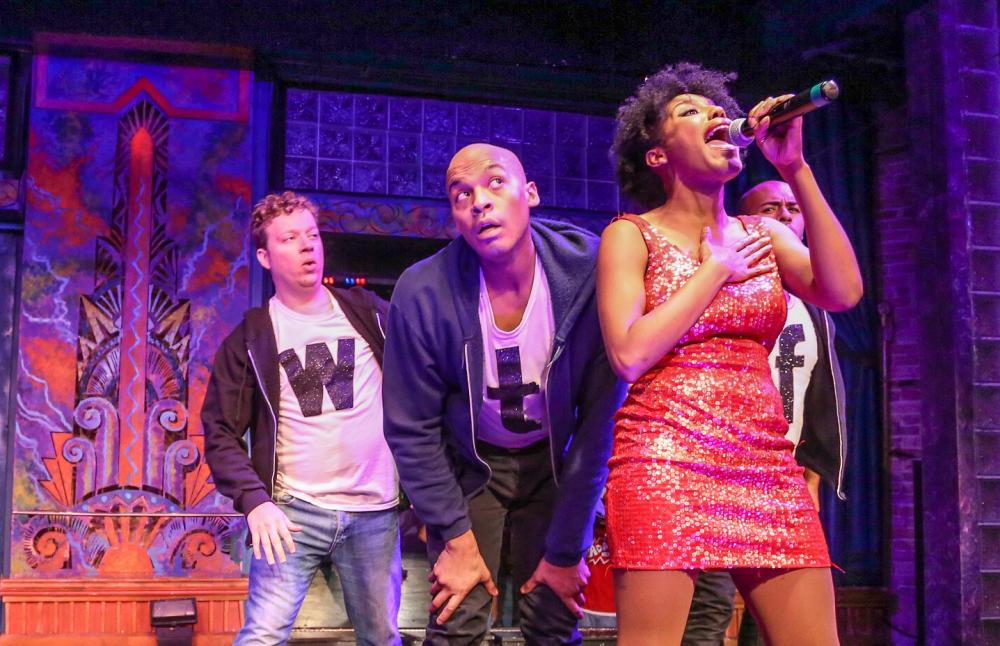 Courtesy of Esther's Follies.
Austin Comedy Clubs 
Try the Capital City Comedy Club for big-name headliners like Vanessa Gonzalez, Bill Bellamy and Phoebe Robinson and discover up-and-comers at Open Mic Sundays with just $2 admission (reopening Fall 2021).
For a sidesplitting show from the comfort of your own home, tune into the CTTV livestream from ColdTowne. With experimental improv, live podcasts, scripted readings and special guest characters, you'll find shows for everyone. The theatre also offers kid-friendly shows and audience members are often invited to participate.
Founded by legendary comedian Ronnie Velveeta, The Velveeta Room has been offering weekly stand up comedy showcases for 30+ years. The caliber of local and national comedy talent has established Velveeta Room as one of the top comedy clubs in Austin.
Did someone say musical comedy? At Esther's Follies, catch Austin's longest-running sketch comedy and musical revue, where musical numbers are interspersed between satirical sketches and magical illusions for an all-around good time (reopening Summer 2021).
After closing its doors in New York, The Creek and The Cave brought this legendary comedy venue to Austin in early 2021. This new comedy hot spot has both an indoor and outdoor stage, full bar and food offerings. Catch a steady lineup of shows from local comics to touring talents seven nights a week.
The Fallout Theater brings veteran performers and talented rookies to the local improv scene. Attend their weekly Sure Thing Stand-Up Comedy show or join an improv class - with four levels offered.
For an improv comedy club that promises a rollicking good time, plan an evening at The Hideout Theatre, where sharp-witted performers spin spontaneous jokes and plotlines with astounding ease, as they make up all their comedy, plays and sketches on the spot (offering regular virtual shows).
Open Mic Nights
Catch budding comedians and seasoned pros as they try out new material during an open mic night. Kick back in the relaxed patio atmosphere at Cherrywood Coffeehouse, which hosts one of the longest running open mic nights in Austin, every Tuesday night.
Find more comedy shows and open mic nights on our event calendar.