From major box office hits to cult classics, Austin has provided a spectacular landscape for filmmakers to bring their vision to life. Visitors have flocked to destinations featured in iconic locally made films like "Dazed and Confused" and "The Texas Chainsaw Massacre." With over 50 years of production, there are many film tourism locations in the Austin area to experience including those seen in "Everybody Wants Some!!"
About "Everybody Wants Some!!"
In Texas in the fall of 1980, college freshman Jake Bradford (Jenner), an all-state pitcher in high school, moves into an off-campus house with other members of the college baseball team including Finn (Powell), Glen (Hoechlin), Dale (Johnson), Kenny (Guzman), Beuter Brittain), and Charlie (Russell). A somewhat "spiritual sequel" to "Dazed and Confused," "Everybody Wants Some!!" has a similar hangout feel as the team moves in and parties over the last weekend before the semester starts. Misadventure and laughs ensue as the team gets to know each other. Jake also ventures out exploring campus culture including punk and theater parties where he meets Beverly (Deutch) a performing arts student at the college.
Details: Paramount Pictures / Rated R / 116 minutes / Comedy
Director: Richard Linklater
Cast: Blake Jenner, Zoey Deutch, Ryan Guzman, Tyler Hoechlin, Glen Powell, Will Brittain and Wyatt Russell
Streaming On: @YouTube, @PrimeVideo, @GooglePlay, @VuduFans, @MicrosoftStore, @iTunes, @Redbox
Locations
Scene: Southeast Texas University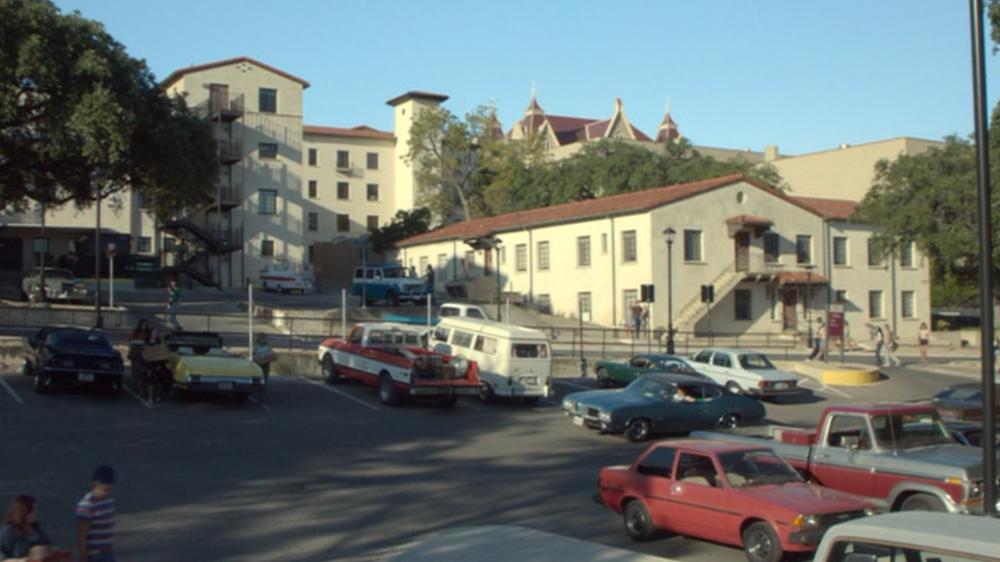 Shots of the characters cruisin' and walking along campus throughout the movie were filmed at Texas State University in San Marcos, like the scene where Jake (Jenner) arrives on campus. Near the end of the movie, the scene where Beverly (Deutch) and Jake are walking to class together was filmed on the northside of Flowers Hall. The Academic Services Building was featured in the background of the scene with Jake, Finn (Powell), Dale (Johnson) and Plummer (Baker) are walking along campus drag.
Location: Texas State University: 601 University Dr, San Marcos, TX 78666
 
Scene: Graham Hall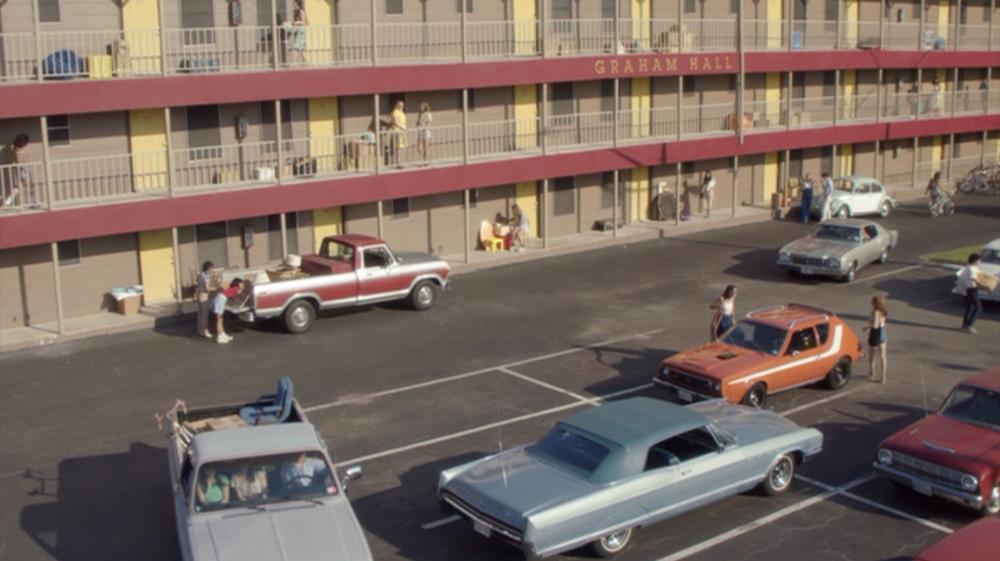 A maze of college students can be seen moving into their offsite dormitories as they unload their cars and lug their crates of vinyl, bags of clothes and furniture up the flights of stairs to their new abodes. The building is actually an apartment complex in the Cherrywood neighborhood of East Austin, right across from Bird Bird Biscuit.
Location: Volume Apartments (2604 Manor Rd, Austin, TX 78722)
 
Scene: The Swimming Hole
The scene where Jake (Jenner) and Beverly (Deutch) float the river in tubes at dusk was filmed at Blue Hole, one of the best swimming holes around Austin. Blue Hole is highly recommended if you want a tranquil and relaxing time surrounded by lush cypress trees and clear water!
Location: Blue Hole Regional Park (Blue Hole Ln, Wimberley, TX 78676)
Iconic Filming Location Map
Explore more iconic filming locations during your next visit to Austin. The Austin Film Tourism Guide has details on the where scenes from your favorite movie and television series were filmed in and around Austin.